Want more local news? ITV is going to provide it

Brian Butterworth published on UK Free TV
Last year, ITV plc put forward proposals to improve the locality of their regional news services - see ITV'S PROPOSALS FOR NATIONS AND REGIONS NEWS FOR A NEW CHANNEL 3 PSB LICENCE [pdf]. To do this, the length of these new regional programmes will be reduced.

Today, Ofcom has (see Ofcom - Ofcom sets out licence terms for ITV, STV, UTV and Channel 5) agreed to the proposals in principle, but has keep the obligation for a full half-hour of regional news for Granada, London.

The Border TV region, which straddles the England-Scotland border, has also been afforded special attention.


Two and half hours of regional news
When ITV implements the changes, the will be about 2 hours, 30 minutes of peak time regional news in each region. This will comprise of:
3 minutes weekday lunchtimes news (15 weekly minutes)
20 minutes weekday evening news (100 weekly minutes)
5 minutes weekday late news (25 weekly minutes)
5 minutes Saturday news
5 minutes Sunday news
There will also be 10 minutes daily of a super-regional programme, to make the 20 minute programme fit in the half-hour early evening slot. This will apply to the following areas:

Anglia East (Norwich) and Anglia
West
(
Cambridge
)
Calendar North (Leeds) and Calendar South (Hull)
Central West (Birmingham) and Central East (
Nottingham
)
Meridian South East (Maidstone) and Meridian South Coast and Thames Valley (Southampton). Note that Thames Valley gets 2 minutes per weekday opt-out.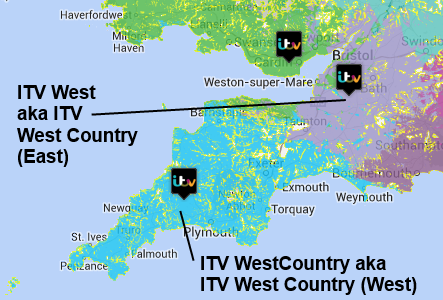 West Country
East (Bristol) and West Country West (Plymouth)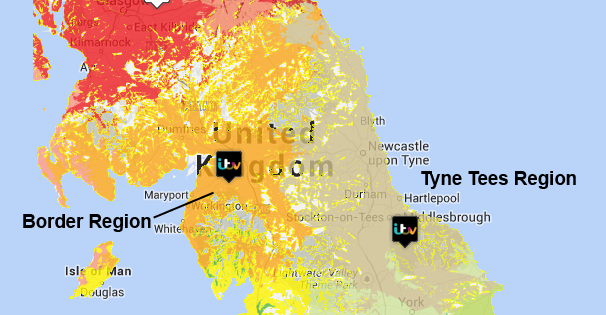 Tyne Tees
Region
Border area
The
Border Scotland
area will get 90 min a week of "non-news regional programming (including current affairs) a week, in or near peak-time, also with a particular focus on Scottish issues ", which may be shared with STV.
Three and a third hours of regional news
A few areas will keep the existing provision of half an hour of news during the weekday evening, getting:
3 minutes weekday lunchtimes news (15 weekly minutes)
30 minutes weekday evening news (150 weekly minutes)
5 minutes weekday late news (25 weekly minutes)
5 minutes Saturday news
5 minutes Sunday news
Granada (from Manchester)

London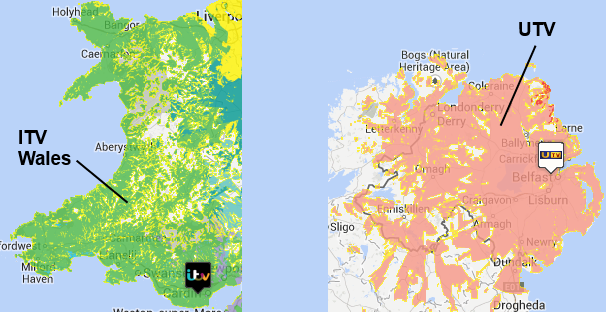 Wales
Provisions for Scotland
No changes are made for Scotland: the existing system of separate news programmes for the North (Grampian) and South (STV) licences, each with 5 minute daily opt-outs for the Glasgow/
Edinburgh
split and the Aberdeen/
Dundee
split will remain.
Comments
Saturday, 27 July 2013

itv propsals make sense but how before our poll tax broadcaster copies these and wastes more tax payers money

david's 66 posts
Sunday, 28 July 2013

At least for the Anglia, YTV and Central areas, it seems quite similar to what the BBC already does, with newsrooms in Norwich, Cambridge, Hull, Leeds and somewhere in the East Midlands (Nottingham?)

MJ Ray's 44 posts

MJ Ray: there will be a full posting about that tomorrow.

Briantist's 38,908 posts
Monday, 29 July 2013

Brian:- It looks from the map you've published as if Brighton is still in the S Coast region as far as ITV is concerned, rather than the SE region that BBC have transferred it to. Is that correct? (You can see that I never watch ITV news!).

Richard Davis's 26 posts

Richard Davis: Yes, that is correct. Whitehawk Hill moved to BBC South East at switchover, but ITV kept it in Meridian South Coast.

I've gone on about this at great length here -
How do the new ITV local news regions compare with the BBC? | TV channels | ukfree.tv - 11 years of independent, free digital TV advice .

Briantist's 38,908 posts

My referecne is the ITV site - http://www.itvmedia.co.uk….pdf .

Briantist's 38,908 posts
Wednesday, 31 July 2013
D
Des Collier
5:13 PM
Brigg

Thank heavens someone's seen sense at last,will be nice to have our own news on Calender again.

Des Collier's 2 posts
Des's:
map
D's Freeview map
terrain
D's terrain plot
waves
D's frequency data
D's Freeview Detailed Coverage
Select more comments
Your comment please