Why does BBC Worldwide not make more profit for the Licence Fee payer?

Brian Butterworth published on UK Free TV
Looking at the current disagreement between the BBC Trust (BBC Trust: Mark Thompson's claims are 'bizarre' - ITV News) and former Director General Mark Thompson ( Mark Thompson: Chris Patten misled parliament over BBC payoffs - Media - The Guardian ) has me thinking.

In particular the revelation the " BBC agreed to fund £687k payoff after executive's move to commercial arm - Media - theguardian.com "

"The BBC agreed to fund a redundancy payoff of nearly £700,000 to a former senior executive using licence fee money, after she moved to BBC Worldwide, the corporation's commercial arm. "

It has always struck me that BBC Worldwide seems to be operated as a plaything of the BBC management. So I have gone though the entire Annual Reports from BBC Worldwide (BBC Worldwide Annual Reviews) and plotted the income and profits. As they date back to 1995, I have adjusted the values using the Retail Prices Index.




It does appear that over the years, BBC Worldwide has tripled the income, but the return to the Licence Fee payer has been poor. Looking at the percentage profit made, you can see: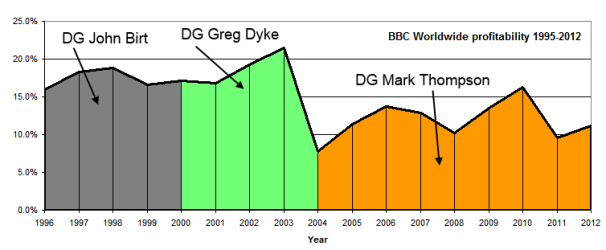 This does rather suggest that BBC Worldwide is performing poorly in terms of the income it makes to reduce the Licence Fee.

If BBC Worldwide had maintained the average performance between 1995 and 2003, which was 18% profit, the BBC would have had an extra income during Mark Thompson director-generalship of £595 million (at 2012 prices).

Which is rather more money than the alleged £30 million wasted on management payoffs.

But what can be done?

The best suggestion I can come up with is to convert BBC Worldwide into a public liability company, with perhaps 51% of the shares remaining with the BBC. You could argue that would provide a much needed cash reserve for the BBC's UK operations, and going forward BBC Worldwide plc might be keener to make a profit with shareholders, rather than BBC managers, keeping a watchful eye.

I would be interested to hear if anyone has any better ideas.
Comments
Friday, 6 September 2013

Wow Brian being critical of the BBC. I never thought I would see the day.

In my view the BBC should be very limited in the commercial operations it is involved with. It seems to me the sale and purchase of programs or the licencing of technology are legitimate operations for the BBC. The running of broadcasting outside the UK is not. I think BBC worldwide should be sold off and the BBC should sell its programing to the new company in the normal way.

You mention the problems at the BBC. In fact it's a bit like Watergate the coverup just keeps climbing up the management structure to the very top. A year ago people were asking if Murdoch was a suitable person to run Sky. Now the table has turned and we need to ask if Lord Patten is a suitable person to run the BBC.

Most quangos have been disolved but the BBC has some how managed to survive. Quangos are famed for bad management and non existant financial controls. Just how much longer can we put up with the BBC who now treat licence payers with contempt.

Trevor Harris's 367 posts

Trevor Harris: Technically speaking the BBC is not a quasi-autonomous non-governmental organisation, it is an fully-autonomous public corporation by royal charter.

I'm not sure if your suggestion that "the running of broadcasting outside the UK is not" something the BBC should do holds up to history: the BBC World Service has been running since 1932.

To be honest, I have never been a fan of the way that the BBC has been run since Greg Dyke left. It seems to me that the "office class" argument that has been put recently sums it up. BBC officer class enrages people, chief admits - Telegraph

I understand the argument that the BBC needs to pay people in senior positions the going rate for the job. I'm not so naive to think that only people who have their own private income already should be able to do it.

I'm not sure why you are laying this at Chris Patten's door? All this bad behaviour happened under the supervision of Michael Lyons and Michael Grade.

Briantist's 38,905 posts

I think the BBC world service was paid for by the Governement so did not affect licence payers. The Government has now forced the licence payer to pay which has no justification at all.

Salaries should reflect a persons true value to a company. I know the Bank of America had a pay structure for technical people which matched the most senior management salaries.

Trevor Harris's 367 posts

Trevor Harris: The BBC World service was operated by the BBC, but was funded until this year from a grant.

The BBC World Service Television (now BBC World) was always part of BBC Worldwide.

Briantist's 38,905 posts

Brian, I am afraid you are seeing the rotting away of a corrupt corporation that is the BBC - is is a gravy train fast running out of track.

Bob Meade's 30 posts

Bob Meade: I suspect that an overstatement. The BBC spends £3,318m last year on programmes, the question of 0.09% of that amount doesn't really suggest "rotting away".

I'm not saying the payments were right, but you need to keep things in proportion. It's less than 14p of each household's fee.

If anything, the battle between the Trust and the Management is what is SUPPOSED to happen.

Briantist's 38,905 posts

Having said that...

BBC director general under pressure over 'outrageous' pension payment | Media | The Guardian

Lord Hall, the BBC's director general who has promised to halt a culture of unwarranted payoffs for executives, is under pressure to repay an "outrageous" boost to his own pension when he left the corporation 12 years ago.

Hall was given £24,500 of public money in extra contributions on top of the BBC's contractual obligations when he resigned from the corporation to become Royal Opera House chief executive in 2001.

The payment was made to Hall in 2001 after he left his £204,000-a-year job as head of current affairs to join the Royal Opera House on what is believed to have been a higher salary. It was in addition to the BBC's contractual obligations.



Briantist's 38,905 posts
G
Graham Hall
5:47 PM
Sevenoaks

My question is what BBC worldwides' costs are? The programmes have been made, so all there should be is marketing costs and salaries. Why aren't the profits higher?

Graham Hall's 1 post
Graham's:
map
G's Freeview map
terrain
G's terrain plot
waves
G's frequency data
G's Freeview Detailed Coverage

Graham Hall: Well..

"Jeremy Clarkson, 53, is paid only about £1million a year by the broadcaster for his Top Gear shows. But he has made more than £14million, largely thanks to a controlling 30 per cent stake in the company Bedder 6 which owns the Top Gear brand. The BBC recently took full control of Bedder 6, meaning Clarkson, 53, was paid £8.4million on top of a £4.86million dividend payment."

EXCLUSIVE: BBC accused of being a 'secret state' as it refuses to reveal pay of top stars | UK | News | Daily Express

But generally, you are right. Aside from the fact that BBC Worldwide can't borrow (which saved it from the financial meltdown), you would expect a company that is selling stuff that has already been made and marketed to make a much, much better return.

Briantist's 38,905 posts

Brian, I think if anything I made an understatement regarding the BBC gravy train, next week will feature the Duel between Patten & Thompson, this will lead to further revalations about the "Corrupt corporation" - my prediction is the BBC as we know it will be on it's deathbed by 2015 & will be finished by 2017, perhaps replaced by a smaller, leaner PSB.

Bob Meade's 30 posts
Select more comments
Your comment please