What will we all soon be using the spaces in Freeview for?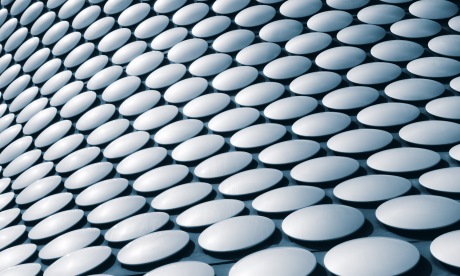 Steve Cannon
published on
UK Free TV
The traditional 21 to 68 channel allocation for UHF television signal has been familiar for most readers I'm sure. It's not that long ago that we were twiddling our knobs (pardon the expression!) to tune in channel 4 (and channel 5 if you could receive it) in the analogue days; I hesitate to use the phrase "good old days" though!

Allocating this amount of spectrum for 4 or 5 television channels seems over the top but the innovators back in the early days really had their work cut out for them to fit a monochrome television signal into as small transmission bandwidth as possible; this was compounded further with the introduction of PAL colour television which also had to fit into the existing spectrum. The intricacies of the PAL system and how they managed to do this I think is incredible; signal interleaving, delay lines, colour difference signals and many other innovative techniques was human ingenuity at its best. Enough reminiscing though?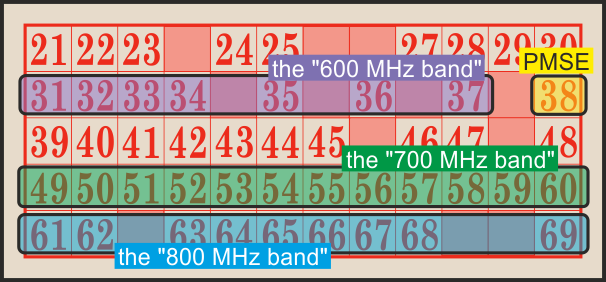 So now we are in the digital television age with hundreds of television channels to choose from (I do sometimes wonder whether there has been a backwards step in programme content though!) all having to co-exist with the analogue signals in the transition period of digital switchover but now solely providing our television viewing experience still in this vast bandwidth spectrum - albeit reduced with the implementation of 800MHz 4G transmissions last year. Do we really need this entire spectrum for digital television signals? Well the answer as we should already be aware is an emphatic "NO"!





4G is here to stay and the next spectrum clearance is just around the corner which will eat into the TV UHF spectrum at 700MHz with the potential for future mobile broadband (5G) services projected for around 2018. This will reduce the television spectrum further giving us Ch21 to Ch48 for television broadcasts but not for a few years. However, interesting things are also happening already in the Ch21 to Ch60 DTT spectrum with the advent of white space technology.

The DTT spectrum is very much sought after because it combines a wide coverage area with high bandwidth - exactly why broadcasters decided to use these frequencies for analogue television decades ago! Now, white space technology and white space devices (WSDs) are very clever; WSDs use frequencies that, in the locality of the device, are unused. This means that they can be interleaved in the DTT spectrum and can co-exist with DTT signals. This means that you could plonk WSDs in any area in the UK and they will work quite happily alongside DTT signals and shouldn't interfere with television signals. Time will tell on the latter point but if the impact of interference caused by 4G signals is anything to go by then we shouldn't be too worried.

OFCOM are currently road testing white space technology in various parts of the UK with various applications and with support from organisations including Microsoft, BT, Neul, Click4Internet, KTS and SineCom with the testing scheduled to be completed in spring this year. Impact on the signal reception industry of this testing appears to be minimal - as it should be due to the white space devices utilising unused DTT frequencies available in their locale.

The testing gives a good insight into how WSDs and the technology is likely to develop and how it is likely to emerge into all areas of the UK;


More information can be found at www.rdi-online.co.uk
Ofcom
and
Centre for White Space Communications
Comments
Saturday, 15 February 2014
Mark Agius
5:11 PM
Haywards Heath

Quotes:
Do we really need this entire spectrum for digital television signals?
Well the answer as we should already be aware is an emphatic "NO"!

If we did use the entire spectrum, then perhaps the entire country or at least more of the country could then receive a full Freeview service and not Freeview Light.

Mark Agius's 374 posts
Mark's:
map
M's Freeview map
terrain
M's terrain plot
waves
M's frequency data
M's Freeview Detailed Coverage

Mark Agius: How exactly will using 'the entire spectrum' enable people to get a full Freeview service?

MikeB's 2,579 posts
Tuesday, 18 February 2014

Mark Agius: As MikeB points to, Arqiva were offered the frequencies to extend the commercial multiplexes, for no extra charge.

They declined to ask for them because expanding the coverage for these multiplexes in terms of viewers would not allow them to charge the channel providers any more - the marginal cost per extra viewer was too high.

They would have had to - at least - double their costs to gain an extra 10 percentage points of viewers.

Briantist's 38,908 posts

Thinking aloud, surely those areas that were difficult to provide with UHF TV in the past (the 0.2% unserved by main or relay transmitters prior to DSO) will still be difficult to provide with signals? The primary reason was terrain, followed by big buildings and then distance to sparse populations. So those factors are still there and making DTT difficult in those same areas. Plus it is many of those areas that will be last to be provided, if ever, with an internet connection capable of giving viewable TV. Current DTT coverage is variously stated as being 98% or 99.2% (I'm not sure which is right, if any) so there is still a long way to go before DTT coverage is as much as it was claimed to be for analogue. So those unserved areas will not benefit from 'White Space' technologies if they can't get the transmissions anyway! What technology can achieve improves but that doesn't mean it will reach everyone. Example is that a great many medium and small villages and most hamlets are still on ADSL, let alone ADSL2+!
I think there is a very long way to go to have anything approaching a 'universal' provision. What is possible in more populated areas is inevitably slower to arrive in the less populated areas, hence Freeview 'Light' transmitters, and the very sparsely populated areas may never see such wonders either. And satellite does not always resolve the supply problem, again because of shielding by terrain and/or buildings or even forests!

MikeP's 3,056 posts

MikeP: The main reason for having cable AND satellite AND terrestrial AND internet platforms for TV is that none is suitable to provide blanket coverage.

Thankfully, the places were DTT does not reach (or only reaches with PSB) are usually rural and suitable for satellite reception.

Also, cable is a good choice in urban areas where satellite dishes can't (or won't) be fitted.

And the multiplicity of IP services (from fibre-optic to ADSL to Wifi and 3G, 4G) provide more coverage.

I don't think the "White Spaces" are intended to help areas not covered by DTT or DTT/COM.

The point - if there is one - is that is it possible to use UHF channels that can't be used for high power (ie, 200,000W) TV signals, but can be used and re-used for networks of Wifi hubs which are limited to 20 dBm (100 mW).

Yes, yes, they might get taken off air when there's Troposcopic Ducting.

Rural communities sometimes have excellent TV reception, as TV transmitters are located in the countryside.

It is generally the hilly and mountainous areas that are hard to serve with signals.

"Freeview Light" is not intended to provide 100% coverage, only 98% of the population. The remaining 2% are expected to stick up a dish.

Briantist's 38,908 posts
Wednesday, 19 February 2014

Briantist
It is the experience of years that not all locations are able to receive RF transmissions due to mainly terrain limitation but also buildings, etc. The 0.2% who were unable to get direct reception of any television service are the more remote rural locations that will not be getting any form of internet connectivity and do not benefit from satellite as they are unable to aim a dish at the 'birds' - again largely due to local or nearby terrain, such as mountains. So when you say "are usually rural and suitable for satellite reception" you are not taking into account the many years experience of such places. The most difficult ones are not able to get satellite, nor terrestrial transmissions at UHF (and often VHF is difficult) and are too far 'out of town' to have any foreseeable chance of getting anywhere near decent internet speeds. A friend lives in Snowdonia and doesn't get Freeview, nor VHF radio and has an internet connection that runs at 64kbps at best! They are too far away from their 'local' exchange for anything better! They read a lot of books though!

Unfortunately, Ofcom seem keen to move all 'television' away from RF transmission onto internet services around 2025-2035. But the point I was making is that such an idea has numerous pitfalls and some are, as yet, insurmountable.

MikeP's 3,056 posts
Your comment please