Were ... you watching UK Free TV from the Astra satellites until last week?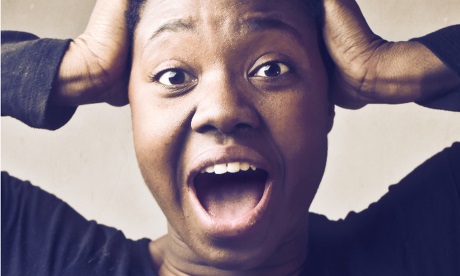 Brian Butterworth
published on
UK Free TV
In many ways, it was never meant to be. The "old" Astra 2D satellite had a special "UK beam" that was meant to keep the satellite signals for British viewers roughly within our archipelago of Northern European islands.

However, the signals from 2D spilled all over Europe. A normal sized dish would pick them up France, and a 1.2 meter dish got many ex-pats and Anglophiles their dose of BBC and ITV as far south as Lisbon and the Greek islands.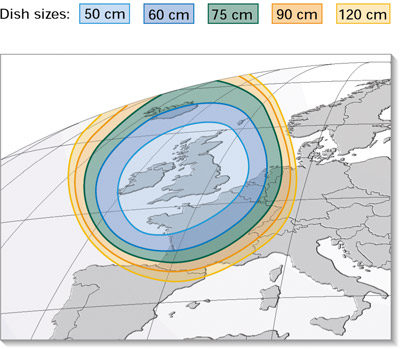 Former Astra 2D coverage

Unofficially this was OK. The BBC was well funded, the content providers didn't really mind too much and UK licence-fee payers got a taste of home when on holiday or on business "on the contentment".

(This was never a problem for BSkyB, who still use pan-European satellites, because they restrict their services by the use of viewing cards sent out to the homes of people who can call their call centre from a UK or Ireland landline or mobile phone).

However, the Astra 2D satellite was on it's last legs: launched in late 2000 it was designed to last 12 years. Two new "birds" (as they are called) were planned to replace it: Astra 2E and, yes you guessed it, Astra 2F ( see Good news for Freesat? Astra 2E satellite launched).

Because of delays in launching, the Astra 1N satellite was put into the "Astra 2" orbit, and the services were quietly moved from 2D to 1N (New Astra 1N satellite to offer more UK-focused capacity - and soon, BBC satellite services moving to Astra 1N on 24th February 2012 ).

In the last month, Astra got the 2E satellite into orbit, and have now switched the services from 1N to 2E (Lots of fixes and updates to UK Free TV including Astra 2E and Comux) .

As Astra 1N wasn't really designed to provide a UK spot-beam (as they are called) the supposedly UK-focused beams were as easy to get in the rest of the EU as they always had been from 2D.

However, Astra 2E and 2F now have excellent spot-beam focus.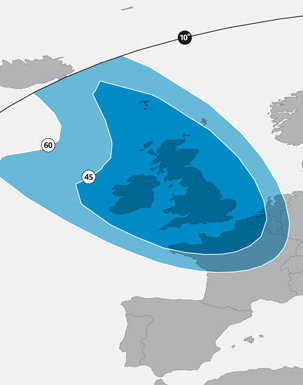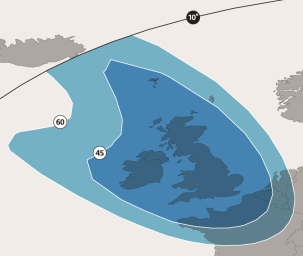 You can see details of which
channel
is on which bird here:
Satellite footprint maps
.
However, as
BBC and ITV satellite moves cut off expat viewers - Recombu
notes, this means that viewers outside the UK no longer can watch services they could.
Has this affected you? Comment below please!
Comments
Wednesday, 19 February 2014

Don't see how as it's the same signal from the same satellite.

Ian's 497 posts
Ian's:
map
I's Freeview map
terrain
I's terrain plot
waves
I's frequency data
I's Freeview Detailed Coverage
A
Anthony
5:55 PM
Accrington

Tony Hill: there is actually one or two locations across Europe getting these new satellites @ 28.2deg E with mixed results go to www.astra2.org and you'll find a map of where Astra 2E/Astra2F have been received.

Anthony's 70 posts
Anthony's:
map
A's Freeview map
terrain
A's terrain plot
waves
A's frequency data
A's Freeview Detailed Coverage
Thursday, 20 February 2014

Long overdue.Most expats dont pay the license fee.

DAVID's 6 posts

david if you are outside the uk you cannot pay the bbc licence fee! BBC Worldwide have pay-tv channels available on satellite/some cablenets/and mmds systems for people in continental Europe and beyond for expats to subscribe to. UK TV channels intended for the united kingdom on Astra 2 are not officially intended for reception outside it. The fact that one or two locations outside the UK are getting UK national tv services across Europe at all on Astra2 with a large size dish antenna is just a happy accident if not as widespread.

Anthony's 70 posts
Friday, 21 February 2014

A contact near Nice reported initial loss of signal on 2E, but recently most channels returned without any modification of the system. Perhaps Monaco expats have pulled a few strings :-)

michael's 860 posts
Saturday, 22 February 2014

Any reports on Astra 2E reception in Pyrenees Orientales, France? We are near Latour de France, about 35 km west of Perpignan. We lost our Freesat reception last year. Looking at the map we seem to be just about on the 150 cm limit for Astra 2E and I'm wondering whether it's worth the bother and cost of getting a bigger dish. Thanks for any information.

Ian's 2 posts
Sunday, 23 February 2014

Ian: whether you upgrade to a bigger dish is a personal choice but a bigger dish antenna would most certainly be needed down there for UK spotbeam channels on Astra 2. The focus of the beam falls much further north than you might like.

Anthony's 70 posts

Licence fee? There are lots of people who live in the UK and pay the Licence Fee but are not allowed to watch BBC programmes when holidaying/staying abroad. It's surely not beyond the wit of man to devise a 'log on' system for such occasions. At the very least this could easily be incorporated into BBC iplayer. It seems somewhat unfair to have paid the licence fee and then be refused access to the programmes that the fee pays for.

Ian's 3 posts

Ian the bbc has only programme broadcast rights to the united kingdom and as such is only intended for reception and viewing in that country;any accidental overspill whether that be via satellite or dtt reception to countries close to the uk is just accidental and unintentional.

Anthony's 70 posts
Monday, 24 February 2014

Ian - Friends living in France close to Geneva in Switzerland are (after an initial glitch), are continuing to receive OK reception with a Humax Freesat receiver and 80cm dish..

Les Nicol's 991 posts
Select more comments
Your comment please