An Independent Scot would still be able to watch the BBC on satellite, surely?

Brian Butterworth
published on
UK Free TV
Last year I had a brief look at What could happen to Freeview if Scotland voted to become independent?. Today it is worth speculating about the use of Freesat and Sky in Scotland following a Scottish split.

I'm pleased to see my earlier analysis of the situation is matched by top media pundit Steve Hewlett - Independence may bring more Scottish content - but can they afford the BBC? - Media - The Guardian .

The "current thinking" seems to be that the BBC will not operate in Scotland (unlike STV, Channel 4 and Channel 5 who will be given no change to their current status) and the BBC's Scottish assets (buildings, studios, radio stations) will be transferred ("seized" if you prefer) to a Scottish Broadcasting Corporation. The SBC would receive the Licence Fee income (you didn't think that was going to disappear in Scotland, did you?).

So, an obvious point is that the current satellite transmission arrangements for the BBC means that the whole range of services would be available to anyone with a satellite dish.

And the answer is yes - and no.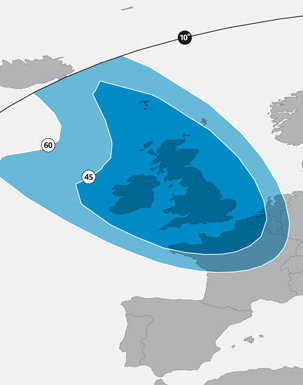 The BBC channels will be there unencrypted. The footprint (coverage area) will remain the same.

However, the programme guide (EPG) is under the control of Sky Subscriber Services Ltd (part of BSkyB) and Freesat (jointly owned by the BBC and ITV plc).

It seems quite likely that the Scottish government would require that the SBS services would appear in the EPG.

Even more likely is that the BBC, if they didn't receive the Licence Fee income from anyone in Scotland anymore, would request Sky and Freesat to remove the BBC TV and radio channels from the programme guide in Scotland.

The result would be that Scottish Sky and Freesat viewers would have to resort to the "other channels" menus on their boxes, and not have the ability to record programmes automatically on Sky+/Sky+HD.
Comments
Thursday, 6 March 2014
Stuart Owens
10:56 PM
Wrexham

Thanks for the info about Gibraltar.
It's a wonder the size of it that the actually need 1 VHF (didn't think VHF was still used for television these days) and 2 UHF frequencies for GBC TV.
Likewise with Radio Gibraltar that they actually need 3 FM and one MW frequency.
What is at the very top of The Rock?
Are those TV/Radio transmitting aerials?
If not, seems like a good place to put them to me!

Stuart Owens's 156 posts
Stuart's:
map
S's Freeview map
terrain
S's terrain plot
waves
S's frequency data
S's Freeview Detailed Coverage
Tuesday, 9 September 2014

Viewers in Scotland will be able to record BBC and ITV programmes with Freesat if we go independent, all you do is put in an English postcode to get them. I'm in Scotland and have Sky and Freesat and my Freesat box is tuned to an English postcode giving me ITV HD which I can't get on Sky.

Alan's 1 post
Select more comments
Your comment please