An Independent Scot would still be able to watch the BBC on satellite, surely?

Brian Butterworth
published on
UK Free TV
Last year I had a brief look at What could happen to Freeview if Scotland voted to become independent?. Today it is worth speculating about the use of Freesat and Sky in Scotland following a Scottish split.

I'm pleased to see my earlier analysis of the situation is matched by top media pundit Steve Hewlett - Independence may bring more Scottish content - but can they afford the BBC? - Media - The Guardian .

The "current thinking" seems to be that the BBC will not operate in Scotland (unlike STV, Channel 4 and Channel 5 who will be given no change to their current status) and the BBC's Scottish assets (buildings, studios, radio stations) will be transferred ("seized" if you prefer) to a Scottish Broadcasting Corporation. The SBC would receive the Licence Fee income (you didn't think that was going to disappear in Scotland, did you?).

So, an obvious point is that the current satellite transmission arrangements for the BBC means that the whole range of services would be available to anyone with a satellite dish.

And the answer is yes - and no.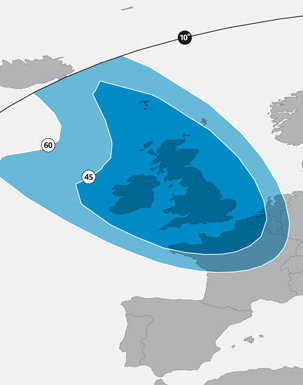 The BBC channels will be there unencrypted. The footprint (coverage area) will remain the same.

However, the programme guide (EPG) is under the control of Sky Subscriber Services Ltd (part of BSkyB) and Freesat (jointly owned by the BBC and ITV plc).

It seems quite likely that the Scottish government would require that the SBS services would appear in the EPG.

Even more likely is that the BBC, if they didn't receive the Licence Fee income from anyone in Scotland anymore, would request Sky and Freesat to remove the BBC TV and radio channels from the programme guide in Scotland.

The result would be that Scottish Sky and Freesat viewers would have to resort to the "other channels" menus on their boxes, and not have the ability to record programmes automatically on Sky+/Sky+HD.
Comments
Tuesday, 4 March 2014
T
Tony Hill
11:00 AM
Dorchester

BBC Alba to bite the dust?

Tony Hill's 65 posts
Tony's:
map
T's Freeview map
terrain
T's terrain plot
waves
T's frequency data
T's Freeview Detailed Coverage

Scotland shouldn't be allowed to break away from the UK, simple as that! There are too many countries on Planet Earth as it is. Look at the the silly little countries dotted around Europe, i.e. Vatican City, Monaco, San Marino, Liechtenstein, Andorra and Grand Duchy of Luxembourg. They're all so pathetically minute it's a farce and an insult to call those countries. Vatican City and Monaco are so ridiculously infinitesimal it's a comical joke to call them countries. See the comments I've posted in this thread here.

RCCGB FORUM :: European Microstates

I've said in various other places on the web that they should be merged into larger neighbouring countries. The UK as a whole (England, Scotland, Wales, Northern Ireland) is already quite a small country, splitting Scotland off to become a country in its own right would create another ridiculously small country.

Nicholas Willmott's 80 posts

If Scotland want to split and the majority vote for it I hope they are successful, they cant do much worse.

Ian's 497 posts
Ian's:
map
I's Freeview map
terrain
I's terrain plot
waves
I's frequency data
I's Freeview Detailed Coverage
Stuart Owens
11:46 PM
Wrexham

Reading this reminded me about something I always wondered about when I recently watched "Gibraltar-Britain In The Sun" on Channel 5.
Are all the main 5 PSB UK channels available in Gibraltar?
If so, are they available by Satellite, Cable or Terrestrial?
And what BBC/ITV regions do they get?
And what about other UK territories?
Does anyone know?

Stuart Owens's 156 posts
Stuart's:
map
S's Freeview map
terrain
S's terrain plot
waves
S's frequency data
S's Freeview Detailed Coverage
Wednesday, 5 March 2014

Stuart Owens: According to Communications in Gibraltar - Wikipedia, the free encyclopedia

"Television[edit]
Television broadcast stations: 1 (plus three low-power repeaters) (2002)

Television Licences: 7,452 (2002) Requirement abolished (2007).

GBC Television is operated by the Gibraltar Broadcasting Corporation (GBC) is transmitted on VHF Channel 12 with UHF repeaters on 56 and 53.

Until 1999, GBC retransmitted BBC Prime, but was relaunched as a community-based service focusing on local news and other items of local interest. GBC programming starts at around 19:30 and finishes before midnight with the most popular programme being the local news bulletin, News Watch at 20:30. During the day fillers and the sound of GBC radio are transmitted.

The station was funded by a mix of advertising, government funding, and an annual television licence fee. In June 2006, the licence was abolished by the Government. A new general manager was appointed in 2010 with a mandate to develop the station to meet future requirements of the community.

The majority of homes also have access to satellite television with mostly United Kingdom channels. Gibraltar also receives Spanish national digital television and radio stations, as well as Spanish digital regional (from Andalusia) and local stations (from the Campo de Gibraltar area)."

Briantist's 38,899 posts

Terrestial channels in NI acknowledge Scottish viewers in SW Scotland and various messages and invitations to partake in competitions are directed to this audience.So whatever happens in September BBC will continue to broadcast to SW Scotland.

Richard's 98 posts

Richard: You probably find that they might just not get mentioned.

Like the way that BBC Scotland's weather forecast maps don't have England on them?

Briantist's 38,899 posts

Tony Hill: BBC Alba is funded by the Scottish Government in the main part, so it will just get a new name.

Briantist's 38,899 posts
Thursday, 6 March 2014
Stuart Owens
10:56 PM
Wrexham

Thanks for the info about Gibraltar.
It's a wonder the size of it that the actually need 1 VHF (didn't think VHF was still used for television these days) and 2 UHF frequencies for GBC TV.
Likewise with Radio Gibraltar that they actually need 3 FM and one MW frequency.
What is at the very top of The Rock?
Are those TV/Radio transmitting aerials?
If not, seems like a good place to put them to me!

Stuart Owens's 156 posts
Stuart's:
map
S's Freeview map
terrain
S's terrain plot
waves
S's frequency data
S's Freeview Detailed Coverage
Select more comments
Your comment please