If the Licence Fee is frozen for 5 more years how could the BBC reshape itself?

Brian Butterworth
published on
UK Free TV
It looks like the current "age of austerity" might continue for a few more years. It seems likely that the negotiations for the renewal of the BBC Charter, which happens every ten years, may see the level of the Licence Fee fixed for another five years.

This means, with inflation, that the income to the organization is going to fall in real terms: the BBC will have less money to spend.

They could cut a little from everyone's budget: this has been the "salami slicing" policy in the past, but the new men at the top think that this has gone too far: any more will visibly reduce the quality of the output. Therefore the option is to cut one or more stations entirely.

The starting point must be the long-standing mission of the BBC: to inform, educate and entertain. In practice "informing" means providing an impartial new service that keeps everyone in the know about what is new in the world.

The "educate" means programmes that teach you about the world: science, art, history, natural history, business and so on.

The "entertain" part of the proposal is that you should, as part of the mix, hear music, watch drama and laugh at comedy.

So, here is a little exercise in "being Director General for the day". You have reached the supermarket checkout with the whole basket of BBC radio and TV stations, but you don't have enough money to pay for them all: which one will you put back on the shelf?

It is always easy to say "I don't watch this, so close it": but such selfish arguments always look self-serving. If you are being the DG, you have a responsibly to everyone in he UK, not just your own personal taste.

To kick off the exercise, I have made my proposals to save £400 million.

I would very much like to hear what your choices would be, if you were in charge.

If you want to check my figures see: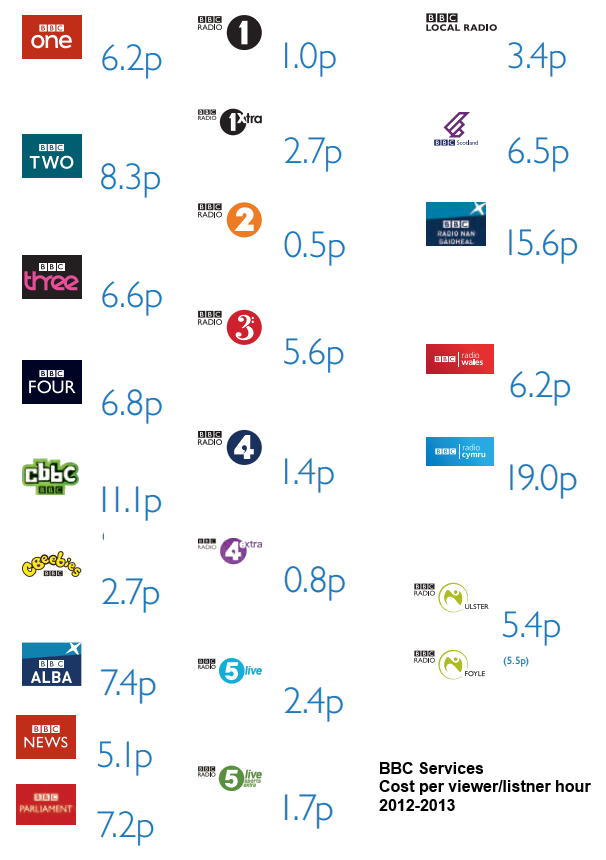 BBC One
This is where most of the BBC's budget goes and where most of the viewing happens. Given that the BBC has a mission to "inform, educate and entertain", then BBC One should continue to chase ratings with the best quality drama, factual and documentary programmes. The many viewers means that BBC One costs 6.2p per viewer-hour on average with EastEnders being
really
good value for money at 3.5p per viewer-hour.
BBC One Regional News
However, the provision of local news in England and the news
services
for Scotland,
Wales
and Northern
Ireland
are hideously expensive to provide and broadcast (especially on
satellite
). I would consider these services obvious choice for cutbacks or closure: running 18 services in parallel just eats into the budget. What the budget is exactly we don't know, as the BBC never publishes the figures.
BBC Two
BBC Two
is an expensive service to provide at 8.3p per viewer-hour and provides little that is distinctive. The budget of £404 million (plus £138 for transmission and infrastructure) needs radical rethinking.
The budget should be cut back considerably and savings made on distribution. A few programmes should be moved: Newsnight to
BBC News
, The Daily Politics, Horizon and Top Gear to BBC One.
The
channel
should be repurposed to fit the needs of the not-served black, Asian and minority ethnic audiences (see
Stephen Lawrence's mother urges change 'at the top' over media diversity - Media - theguardian.com
) mixed with brining the cultures of Scotland, Wales and Northern Ireland to the whole of the UK.
Cutting the budget to £200 million (plus £18 for distribution and infrastructure) would still provide a programming budget of four times that of
BBC Four
.
BBC Three
Taking the channel online in 2015 is a poor move: it disenfranchises the poorest people within the target demographic. The savings made from closing the regional news services and repurposing BBC Two would easily save
BBC Three
.
I know that many people don't like BBC Three: this seems fine to me, young people should be objectionable to their elders.
At 6.6p per viewer hour, BBC three is good value for money.
BBC Four
If the BBC Four budget was boosted by cutting back of BBC Two, then finding a small budget increase to boost the hour-long documentaries on this channel would see a suitable use of savings.
At 6.8p per viewer hour, BBC four is also good value for money.
Cbeebies/CBBC
At only 2.7p per viewer-hour
Cbeebies
is very cost effective. The
CBBC
channel is quite expensive at 11.1p, but the value of an advertising-free service for school-age children cannot be underestimated.
BBC News
The news channel is at the core of what the BBC does. Costing 5.1p per viewer-hour, it is also exceptionally good value for money.
BBC Parliament
This under watched channel costs 7.2p per viewer hour. The channel was taken on by the BBC when the old non-BBC version hit the buffers. The arguments about democracy aside, it is hard to see how this channel can be kept but BBC three closed.
BBC Radios 1, 2, 6 Music
Given that these stations cost between 0.5p (Radio 2) and 1p (Radios 1, 6) per listener hour, it is hard to see how they are not exceptionally good value for money.
BBC 1Xtra, 4Extra, Asian Network
1Xtra radio
station
costs 2.7p per listener hour: but serves an important demographic. 4Extra comes in at 0.8p per listener hour; an effective use of the speech archive not provided though a commercial service. The Asian
network
is more expensive per listener hour.
BBC Radio 4
The speech radio service is good value at 1.4p per listener hour. However, the drama output ("The Archers", "15 Minute Drama", "Afternoon Drama" and "Classic serial") is of a poor
standard
and lack distinctiveness: and costs a lot of money: 40 times what 1Xtra takes.
BBC Radio 3
This service should clearly be closed: It is horrendously expensive at 5.6p per listener hour and does little for British culture. The current listeners have a long-running commercial station to move to, or if their tastes are more sophisticated there are many online services. The £54.3 million (plus £29.2 for the BBC's Orchestras) would be much better spent on boosting the BBC Four TV service.
Some Radio 3 speech programmes ("The Essay") could find a natural home in the slots vacated on Radio 4 for drama.
BBC Radio 5 Live
This is a distinctive national service that costs just 2.4p per listener hour.
An argument could be made to move the station back to being a more news, less sport network as the commercial
TalkSport
service could serve these listeners.
However, sports fans pay the licence fee and sport is part of British culture.
BBC Local and regional radio
If the regional news services are removed from BBC One, then a boost to the local radio services would seem a good use for some of the money saved. In particular the services being added to
Freeview
and satellite for better access and be better online.
However the services outside England need to reduce their costs to match the 3.4p per listener hour. These range from Ulster (5.4p), Wales (6.2p), Scotland (6.5p), Gaelic (15.6p) to Welsh (19.0p).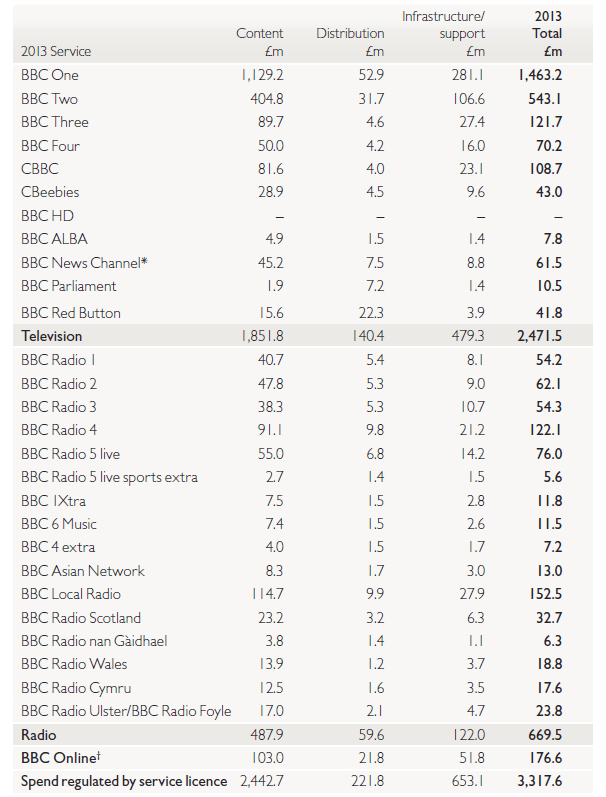 Comments
Monday, 10 March 2014

Charles Stuart: Sorry to jump in here, but I think you haven't quite grasped the rebuttal to your point about "during school hours".

If you have a look at School Holidays and Term Dates 2014-2015 you will see that each bit of the UK has wildy different school holidays. It's almost impossible to pick a date and say that's it is not a school holiday somewhere in the Kingdom.

In addition, what about kids who are off sick? I recall having several long periods off sick from school (german measles, mumps etc). Are you going to insist that sick children can't watch TV?

Seems very uncharitable of you.

As four your rather odd Soviet comments about actors pay: I'm guessing you've not heard of PACT Home - Pact or Equity Home - Equity ?

Also, I'm guessing you don't know of the WOCC either

"The independent quota remains legally binding on the BBC - written into the Communications Act, and into the BBC's "agreement" with the government."

http://www.bbc.co.uk/comm…html

"How Big is The WoCC?

Overall, the WoCC is 25% of our total programme needs and represents about £250m of our business.

In some genres it is higher than others.

This 25% is over and above our commitments to in-house production and the 25% guaranteed to the independent sector. "

Briantist's 38,908 posts

Briantist: There is also another problem with having CBeebies basically codesharing with CBBC during a school day slot - what happens at 4pm? If you have a 4 year old and an 8 year old, who both want to watch their programme, someone is going lose. Now within a family you could say that one will watch CBeebies programmes recorded earlier or watch on another TV, but try doing that nationwide. And what about school holidays or weekends? More trouble than its worth.

Ultimately, the biggests costs of any TV channel is the content - not the electricity bill.

Carrying on from Brianists comments about Pact and Equity, the idea of a BBC 'Rep' company came up a little while ago on Britimovie BBC and iTV - Hollywood Style Studio System? . Its never really happened, for excellent reasons.
Quite apart from the BBC having to pay at least Equity rates anyway, such a system would have people on contract (and being paid) whether they were working or not (which would be wasteful). Also, would a 'rep' actor be right for a role ('no, but he's on contract, so we'll have to use him'), would they be allowed outside work, and would'nt you get a bit sick of seeing the same character actors in everything?

Actors are freelancers, hired to do a particular job - a vastly more flexible and cost effective system than the one you suggest. ITV tried a 'golden handcuffs' approach with certain big name actors from 1997-2002, and it was an expensive flop. Now its true that big name light entertainment people do get signed for a certain number of years, but generally for good commercial reasons.

Writers certainly tend to be freelance, as are a significant number of on screen/on air talent. Your local weather presenter is highly likely to be, as are many sports presenters, news presnters, comedians, etc. Michael and you have this idea that the BBC can slash costs by paying people vastly less than the going rate. The BBC already tends to pay less than the rest, but talent tends to like working for the BBC, because of what they do, but if you think you can pay a skilled broadcaster relatively little just for the love of working for the BBC, you will be disappointed.

In fact wages are often quite low


Broadcast presenter: Salary and conditions


|

Prospects.ac.uk
- and even in 2011, over 95% of people employed by the BBC in one way or another (including extras) earnt less than £50,000. I suspect the averge figure for most on screen talent might be lower than this.

Michael: Brianst mentioned WoCC - check out the credits for Spooks, Downton Abbey, Sherlock, Call the Midwife, New Tricks and Line of Duty on IMDB - some are BBC productions, some ITV and some independent. All of them have similar credits, no matter who makes them. They cost what they cost.







MikeB's 2,579 posts
Tuesday, 11 March 2014

DISCRIMINATION OF BBC THREE TELEVISION VIEWERS.
The only viewers in Britain who are forced to pay twice with the licence fee charge and then a broadband charge to allow access to BBC Three television programming from autumn 2015.. Surely, that is a contradiction of a public service ethos!!.

There is always this banging of the big bass drum with criticism of internet radio over DAB where the former requires an additional charge while the latter DAB radio services are free at point of reception. So why discriminate against less well off young people who like BBC Three and are forced to pay an additional price to receive it?

Wllie Bone's 58 posts

Do all services need to be on 24 hours a day? , what do you all think? .

Desmond Collier's 171 posts

How much dose BBC news 24 cost?

Ian's 497 posts
Ian's:
map
I's Freeview map
terrain
I's terrain plot
waves
I's frequency data
I's Freeview Detailed Coverage

In 2012, the BBC News Channel cost £57.5m per year. However, bear in mind that the BBC1 bulletins are basically an extention of that, albeit with a different presenter. And remember that we are paying BBC people to gather news 24 hours a day, so we might as well watch it...

MikeB's 2,579 posts
Friday, 14 March 2014

Perhaps the answer to your 'gun to the head' question is not one of cutting 'content' but cutting 'distribution and infrastructure/support costs'? The consolidation of channels... going back to 2 or 3 channels... I think this may have been thought of already though...

Perhaps it is prudent to redefine the main BBC1 and BBC2 channels, close BBC3, 4, CBBC and CBeebies and time stretch the content destined for BBC3, BBC4, CBBC and CBeebies across the BBC1 and 2 schedule and reduce the repeat schedule? e.g. the 1hr show you would have watched at 8pm on BBC3 could be shown at 11pm on BBC1. A PVR could record the show for you if this is an inconvenient time; or it is available on the iPlayer.

Careful planning and prioritisation of post-watershed programming and time-critical 'event' content would be required. So the 'PG' science documentary that would normally be shown at 9pm on BBC2 to catch the viewers who don't want to watch the 'original drama' on BBC1 might get bumped to midnight displacing an American TV movie or repeat from earlier in the week (that could have been recorded anyway). Now you can watch the documentary tomorrow on your PVR or the iPlayer. Better still the iPlayer will already give you the option to watch it now!

The CBBC channel could have a dedicated slot weekdays between 4pm and 7pm on BBC2 like it used to, and some variability at weekends. And where do you put CBeebies? This may be a difficult one to work so it may not be viable.

So with only 2 or 3 main HD/SD channels running the Beeb can save @50m on distribution but the content will still be produced, meeting the BBC's public service remit and keeping everyone happy.

Is this worth it? Or are there really not enough hours in the day? Perhaps cutting down to just 2 channels is too harsh so lets just cut one channel...

We should probably choose to cut one channel that is watched by modern, young, technically savvy viewers with a broadband connection to warrant this option...

I suspect the best option has already been chosen.

Greg's 2 posts
Sunday, 16 March 2014

Rob: I would get rid of BBC parliament as who really watch that its a load of repeats and honestly its for MPs who want to show boat themselves.then put BBC 1+ on there then leave bbc 3 alone and its 24 hour channel on BBC parliament....

Rob's 17 posts
Select more comments
Your comment please