BBC 2017: Which of these 14 options is best to collect 4 billion quid a year?

Brian Butterworth
published on
UK Free TV
In the first part of this analysis, I am providing a decision grid to look at the possible funding methods for the BBC.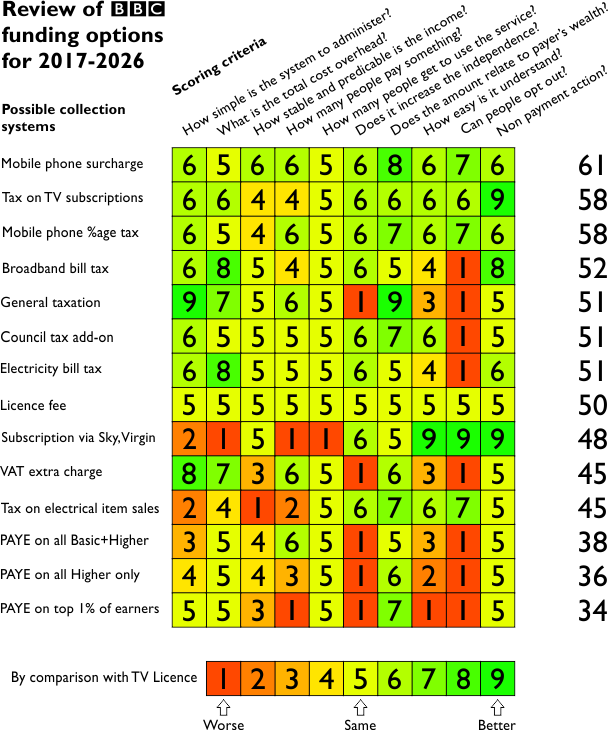 The scoring criteria are described below. I will return to each method in detail in the coming days.

As ever, I would love to know what you think!


How simple is the system to administer?
The score here relates to if the system proposed is easier or harder to provide than the one used by TV Licensing at the moment.
What is the total cost overhead?
A high score indicates that the money raised will go to programmes, rather than administration. A low values suggests higher admin costs than the
TV Licence
.
How stable and predicable is the income from the system?
This relates to how reliable the income stream will be. The TV Licence is based on the number of UK households, a value that changes little. The score for this section relates to the predictability of income.
How many people pay something towards the system?
The current system has one payment per household. A higher score indicates the burden is shared out more evenly, a low value if it places a burden on fewer people.
How many people get to use the service?
The current system provides service to everyone who has a TV or a radio. The score here is lower if less people will be using the BBC.
How does the system increase the independence of the BBC from the state?
The TV Licence has some distance between the state that authorizes the collection of the fee and the use by the BBC to make programmes. A low score is given to systems where politicians could hold sway over the BBC.
How does the amount each person pays relate to their wealth?
The current system is based around households, not the wealth of the payer. The score here is higher when richer people contribute more and poorer people less.
How easy is it for the public to understand how they pay for the BBC?
The TV Licence system provides a reasonable linkage between payer and service. A high score here relates to the system proposed providing a more comprehensible link between payment and provision.
How do people opt out of the system if they don't wish to take part?
You can opt out of paying for the BBC is you select to not have a TV. The score here is low if the proposed system has no opt-out for those who oppose the service.
What happens to people who don not pay?
The current system has the backing of criminal sanction. The score here relates to the change in the officiousness of the non-payment punishment.
Comments
Sunday, 30 March 2014

I read the threatening letters they send through the post cost millions.

What is the wages bill for the enforcement officers?

Why not put £10 on all new TVs and other receiving equipment like lap tops etc

Michael's 368 posts
Monday, 31 March 2014

I agree the idea that Sky/Virgin and BT and Talk Talk collecting the payment for BBC but what about people who don't want to subscribe to any of those services? Some tv's have C.A card slots for Pay tv but not all PVR's have that card slot.. so therefore people will have to change their boxes or get a add on box like sky did in the late 80's for pay tv..

Shame they didnt standardise the system so you have a product to use pay tv or not.. .. What about the freesat viewers? will they have to change their boxes to sky box or get another box with pay tv card slot....... there will be alot of unhappy people who have to pay out for a pay tv box

Rob's 17 posts

Rob: Your right, the technical/commercial problems with using a subscription model means it just isn't viable at present.

'The license fee has to go and be replaced by an easy to administer form of mass funding that bears some relationship to income without being subject to political manipulation. '

Try to find one! Anthing to do with government revenue (Council tax, PAYE, general taxation) means that government has direct control over the finances of a broadcaster, and thus its editorial line. Advertising is a finite resource, so if you get the BBC to show ads, that has an impact on other players.

As for Michael's idea of 'Why not put £10 on all new TVs and other receiving equipment like lap tops etc' - thats the gross profit margin on a new laptop or TV. Good luck with getting the BRC to agree to that, and of course annual revenue is dependent on both the amount of spending on devices in any one year, and the desire of government to pass on the full amount they collect.

And is it really the case that ' threatening letters they send through the post cost millions', or is this just handwaving?

MikeB's 2,579 posts
Tuesday, 1 April 2014

I think I read it costs about £6 Million pounds per year

Michael's 368 posts

Meaning sending threatening letters

Michael's 368 posts

Michael: the total collection cost for the licence fee is £111 a year, or about £4 per home.

Given that 3% of homes claim not to have a television. That is about 0.78m homes to be sent letters. Given the cost of postage... £6m seems a reasonable guess. £7.70 for six letters, quite reasonable.

Briantist's 38,899 posts

"Why not put £10 on all new TVs and other receiving equipment like lap tops etc" it's worth noting that £10 peer sale won't raise anything really....

Briantist's 38,899 posts

Michael: " sending threatening letters"

I've seen these letters.... They are clearly worded, but they are only a threat if you have a television and are telling them your don't.


Briantist's 38,899 posts
Wednesday, 2 April 2014

The term "TV Licence" could be changed to e.g. "Transmission Licence", covering everyone who benefits from a transmission signal which has to be administered by OFCOM. This would expand the number of subscribers with the inclusion of those who claim they don't have a TV, but who do have radio, broadband & mobile phones etc

Brightonian's 4 posts
Wednesday, 11 March 2015

An interesting thought: How many TV sets in current use have the facility to use any form of Conditional Access Control system built in?
I have not seen any TV on sale in the UK that has that already built in and enabled, though some designs can have such fitted during manufacture (and possibly as a retro-fit after market addition). So the fact that Sky have such a system built-in to their boxes so that they have control over whether you can watch anything and what you can watch means they have the expense of collecting the subscriptions and managing the system. So if the BBC funding were to go towards a subscription controlled access model then all TVs would need some form of access control - which is not currently fitted as standard in the UK. And how does that fit with a Public Service Broadcasting (PSB) model?

MikeP's 3,056 posts
Select more comments
Your comment please