More digital radio stations. Ofcom - finally - proposes DAB+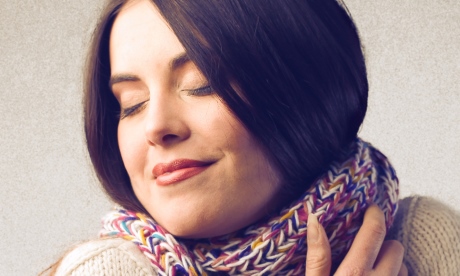 Brian Butterworth
published on
UK Free TV
From the new consultation document, Broadcast Digital Radio Technical Codes and Guidance Consultation on updates and amendments

The proposal is to allow the use of the High-Efficiency Advanced Audio Coding in addition to the MPEG-1 Audio Layer II that is used to encode the sound into the DAB broadcast. It does not change the fundamental levels, which remains Orthogonal frequency-division multiplexing.

Ofcom says, in Section 2 Introduction of alternative audio encoding: DAB+

2.4 Use of HE-AAC encoded services within a DAB multiplex has been termed DAB+. The benefits of DAB+ are that it enables audio services to be broadcast at a higher sound quality for a given bitrate than MP2 or to fit additional services into a multiplex at a lower bitrate than MP2 but with equivalent quality. This provides the opportunity to carry many more services and/or better audio quality for services operating in the same spectral occupancy.

2.5 In our 2007 consultation The Future of Radio we said that adoption of DAB+ could be desirable if this was the future direction of DAB across the world. DAB+ is now being adopted in many countries across Europe as well as Australia and other parts of the world.

2.7 It is likely that a complet change to DAB+ in the UK would be a longer term transition that would take into account the installed base of DAB-only receivers in the UK and the current relatively low level of penetration of sets that are compatible with DAB+. It is however likely to be beneficial to include the DAB+ standard into the Digital Code and to permit its limited deployment now and therefore enable the future wider adoption of the technology in the UK.

2.10 Inclusion of DAB+ in the Digital Radio Technical Code does not provide consent for services on existing multiplexes to switch to DAB+. Ofcom would however consider requests for services to switch to DAB+ from operators of existing multiplexes, taking into account the reasons for the request and the potential impact upon listeners that such a change would entail.

I am going to make a guess that this is going to please all the readers of UK Free TV!
Comments
Saturday, 19 April 2014

I always knew that DAB+ would be the preferred "once and for all" digital radio format.
The biggest and most obvious clue was the DAB+ symbol which has been stamped on the fascias of all new digital recivers over the last few years.

Alvin Pritchard's 40 posts
Sunday, 20 April 2014

@Mark

My point was that it is very unlikely anyone will go for DAB+.

trevorjharris's 367 posts

Stan Droitwich 200Hz/1500m was also used in the war to transmit morse to Bomber Command on operations when the Germans were trying to jam it. Apparently whatever they did could not totally cover it.

I simply do not believe the claims that without ancient valves it is impossible to transmit on LW frequencies.

LW penetrates into thje continent - maybe BBC don't care about those users.

But it is also used for the Shipping Forecast - apparently also for receivability at a distance.

And finally we need it as an emergency service for its robustness if complex networks fail.

Steve P's 1,173 posts

Steve P
The BBC's Long Wave transmitter was not the only BBC transmitter used in WW2 to assist. Their Band 1 television transmitter was also used to rebroadcast and confuse the Germans' Radar information, which successfully prevented bombing in built up areas.
Although it was always said, originally, that Ally Pally ceased transmission (and, therefore BBC television) during the war, for fear that the enemy would home in on the signal, to direct them to London. This never made sense to me, because only a few miles away, the BBC continued to broadcast from its Medium Wave transmitters, at Brookman's Park, which again, position wise, would have been just as helpful to the enemy as Ally Pally as a homing device for the London area.

PETER HUGHES's 13 posts

Briantist:
"I am going to make a guess that this is going to please all the readers of UK Free TV."
You can never please everybody, but just hope to please as many as possible.

Mark Agius's 374 posts

Going a bit off topic we should test the USA's HD Radio system for AM / MW here...DRM did and never will take off, yes it is like the Betamax of digital broadcasting...in it's hay day and that was'nt too long ago, it quite novel to here DW etc on shortwave with TDF and some German stations all in stereo :)

Dave's 126 posts

TDF was on 999khz btw, only 8kw from Paris

Dave's 126 posts
Monday, 21 April 2014

Dave: I found it very surreal to find this DRM poster in the BBC Cafe when I went to the recording of Hitchhiker's Live a few weeks ago.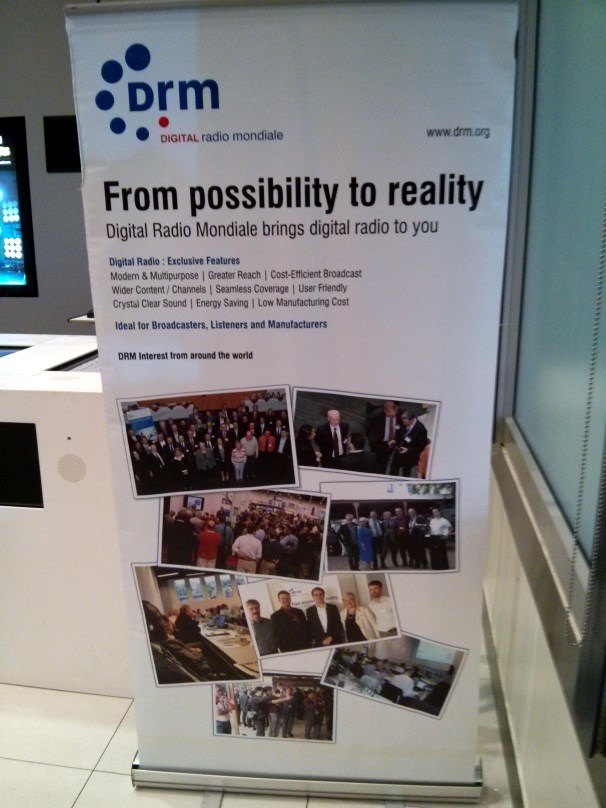 Briantist's 38,902 posts

@Alvin Pritchard: My guess is that we will start seeing DAB+ stations being introduced slowly: possibly for "side stations" such as Kistory or those serving a non-English language section of the population.

It's hard to know what the level of DAB+ enabled sets is.

Briantist's 38,902 posts
Tuesday, 22 April 2014
A
Anthony
9:17 AM
Accrington

DAB is poor quality and not very robust in built up areas or hilly mountaineous zones.

Anthony's 70 posts
Anthony's:
map
A's Freeview map
terrain
A's terrain plot
waves
A's frequency data
A's Freeview Detailed Coverage
Select more comments
Your comment please