BBC Productions: will it be Arqiva mark two in 2017?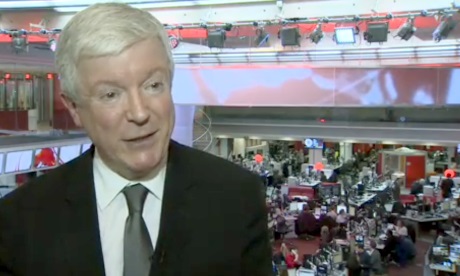 Brian Butterworth
published on
UK Free TV
The much covered announcement [1] was to say that in the future, the BBC would stop using a virtual market system to provide competition between in-house programme makers and those outside.

This would be implemented mainly for TV first, and would be considered soon for radio and online. Newsgathering was excluded from the proposals.

There has already been much comment written about the joy of the independent sector and a few rather moot (and silly) comments from Channel 4.

So, I will look at the most obvious parallel to this for the broadcaster known as Auntie.

Back on 28th February 1997, BBC Transmission became Castle Transmission International (CTI) as a result of privatisation. This raised £244 million "to help fund its plans for the digital age" [3]. This is £388m at 2014 prices.

The assets then passed to National Grid plc in 2004 for £1.1 billion (£1.47bn 2014), and were bought by Arqiva on 3 April 2007 for £2.5billion (after inflation £3.4billion). [4]




So, the big question for Tony Hall has to be: how much is BBC Productions to be sold off for in 2017?

Because you can not help noticing that the BBC now spends £222m a year on distribution. Which is ironic, because that is, in cash terms, what it got from privatizing BBC Transmission back in 1997.

The joy of the TV and radio production industry suggests that the upcoming sale of BBC Productions to market will result in a freeze of the TV Licence in the short term, and the long-term transfer of value away from the BBC.

A cynical person might also wish to look at the immediate loss of "a billion pounds" when Royal Mail plc was created. [5]

[1]
BBC producers may make TV shows for rival broadcasters | Media | The Guardian
BBC could start making shows for foreign and UK broadcast rivals as part of Director-General competitive revolution - TV & Radio - Arts and Entertainment - The Independent
RadioToday | Radio Indies respond to Tony Hall speech
A seismic change for British TV | News | Broadcast
Lord Burns sounds note of caution over BBC plans | News | Broadcast
Hall: BBC must compete or compare to survive
The industry reacts: TV execs on BBC quota plans | News | Broadcast
Tony Hall: speech in full | News | Broadcast
BBC TV production plans welcomed by indie trade body as historic | Media | theguardian.com
Channel 4 chair fears for indies over BBC production plans | Media | theguardian.com
BBCs TV production shakeup could extend to news, radio and online | Media | theguardian.com
Tony Halls BBC compete or compare speech - full text | Media | theguardian.com
BBC production plans an historic moment
BBC radio must follow TV lead | News | Broadcast
[2] BBCeng.info Recollections of BBC engineering from 1922 to 1997
[3] Timeline of the BBC - Wikipedia, the free encyclopedia
[4] Historic inflation calculator: how the value of money has changed since 1900 | This is Money
[4] http://www2.nationalgrid.com/WorkArea/DownloadAsset.aspx?id=24109
[5] Taxpayers left to count the £1bn cost of Royal Mail privatisation - Yorkshire Post
Comments
Thursday, 7 August 2014

"Because you can not help noticing that the BBC now spends £222m a year on distribution. Which is ironic, because that is, in cash terms, what it got from privatizing BBC Transmission back in 1997."

The most imporant aspect which is not being highlighted is that that 222 million a year is now going to a private corporation and from the profit it makes on that 222 million, some of it goes into the pockets of the senior management and directors as bonuses as well as the dividend cheques of the stockholders.

Even better that most of those stockholders are not United Kingdom of Great Britain and Northern Ireland citizens (the majority stockholder of Arquiva beiing Canada Pension Plan Investment Board) so money is being funneled overseas.

Surely this policy of redistributing public money from the license fee to the bank accounts of private individuals is just what any good Conservative or [right wing] Liberal should applaud and praise Margaret Thatcher and John Major for their policy of piecemeal privatization of the BBC?

Now if only David Cameron had the intelligence and political backbone to privatize more of the BBC and get more public money diverted into the pockets of overseas stockholders, his re-election would be guaranteed and his place in history as being a true capitalist would be assured.

Friedon Miltman's 1 post
Friday, 22 August 2014

Quite agree with you Friedon the BBC should be privatized and we can be finaly free of the compulsory license fee. More pensions funds will be able to benifit and the government will benifit from the large amount of corperation tax.

trevorjharris's 367 posts

trevorjharris: Your particular world view tends to lead you on a particular direction. Try reading Friedon's post again and imagine him being sarcastic...

BTW - nice job Friedon!

MikeB's 2,579 posts

MikeB really. It sounded a good idea and everybody wins. We might even get some decent programs. The last few months has been dominated by sports and repeats. Another benefit would be the proceeds of the sale which would help to repay some of the national debt which Gorden Brown left us.

trevorjharris's 367 posts

trevorjharris: We've had the World Cup, etc, but there was plenty of other things available, and there were no more repeats than at any other time. Brianist has repeatedly demonstrated that a 'sell-off' would be pointless and economically only bring in a very limited amount of money, even if it were possible.

Of course, the fact that you couldn't work out that Friedon Milton was being sarcastic (the name might have been a giveaway) and was doing what is often called a 'Poe' shows that you have a one track mind. There is none so blind as whose refuse to see.

MikeB's 2,579 posts

trevorjharris: erm, just looked at the listings for Sky1 today, 22nd August 2014, all the programs are repeats!

KMJ,Derby's 1,811 posts

KMJ,Derby: But, but that cannot be....Sky is perfect!

MikeB's 2,579 posts
Monday, 25 August 2014

I do not believe Sky is perfect but they do produce some excellant programes. The coverage of F1 is miles better than that of the BBC. Sky news is ahead of the BBC news which is now very dumbed down

The real issue is the BBC licence fee which means BBC income is limited. If the BBC was set free from the restrictions of the licence fee it would be free to create better programs.


trevorjharris's 367 posts
Select more comments
Your comment please