TV and radio demographics: a BBC time bomb?

Brian Butterworth
published on
UK Free TV
Is TV now an old people thing?
If you are a provider of television, you might need to watch out. This graph spells doom
It shows that whilst "all adults" spent 90% of the screen time with things we know as television (69% live, 16% recorded, 5% on-demand), but those aged 11-15 are only watching 68%, which is a quarter less.
BBC too old?
"Average (median) age of the BBC One viewer is now 59, up from 56 in 2010/11, average (median) age of BBC Two viewer is now 60, up from 58 in 2010/11."
It seems quite shocking that the BBC two main channels median age profile is almost two decades above that of the population as a whole. People point to the death of newspapers, but if the BBC doesn't resolve this problem and soon, then the BBC will just remain for pensioners?
Young people today….
Here is another chart from the recent BBC Trust report. It shows that weekly reach is dropping in those at and below the median age, as low as two in three for 2013-14.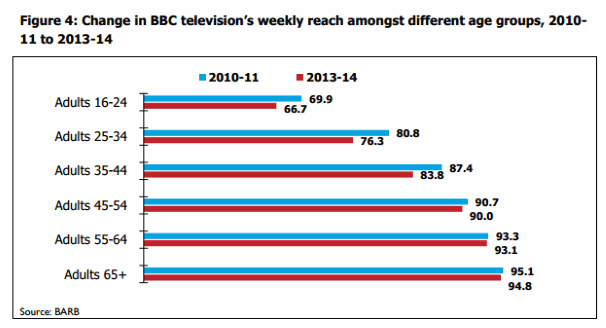 And, compiled from my pile of Broadcast Magazines, here is the situation for the 16-34s in May to November 2014. This time is shows share, rather than reach which seems to be bumping around the 20% mark.
I can't see myself how a channel for old people (that's BBC 1+1) will do anything other than shed another 2.5% from the BBC's share of 16-34s TV time.
The TV set problem for the BBC
As things stand, it is the ownership of devices that can be used to watch or record live TV that requires payment of the TV Licence for a household.
What happened in the past is that - looking at the population as a whole – TV viewing would drop off as they became teenagers, and then they would return to the fold in their 20s.
Here you can see that television is no longer something done on a TV set for the 16-24s.
It is interesting to see that the 16-24s don't use their TVs for radio – whereas that accounts for 15% of the over 65s.
Channel profiles
This Ofcom chart shows the age and sex profile for a selection of TV stations:
Kids don't want to listen to a radio
A funny thing happened when the BBC put out a children's service on Radio 4 Extra. It turns out that it was being listen to by pensioners, who liked the idea of children's radio. So few actual children were listening the show is being canned.
The same problem is happening to Radio 1. Back in 1993, Matthew Bannister revamped Radio 1 and re-found a young audience. However, efforts to do this today are a failure as young people are not interested in radio, hence the idea of making Radio 1 a TV channel.
Research – further reading
Ofcom | The Communications Market 2014 (August)
Ofcom Digital Day 2014 Results from the children's diary study
BBC Trust - BBC Television's performance remains very strong overall, but there are challenges to be tackled, Trust review finds
BBC Trust Service Review of BBC Television: BC One, BBC Two, BBC Three & BBC Four July 2014
Comments
Wednesday, 26 November 2014

For my sins I'm the oldest person at my place of work and the only one who owns a TV. All six of my co-workers (some with kids) have no intention of owning a TV.

They do however, all watch TV via internet catch-up services on their laptops and tablets. And some have said they'd only be interested in purchasing a larger screen if it offered 'Smart' services with no TV tuner!

Sufficed to say, the idea of (being forced into) purchasing a TV licence is lost on young people, indeed they'd rather use the money on a monthly Netflix and/or Amazon Prime subscription instead. Meaning such a mind-set does not bode well for the BBC!

SeeMoreDigital's 5 posts

SeeMoreDigital: Its a good point - my children certainly dont think it unusual to watch TV via catchup or on the laptop.

Yet, there is another trend, which is that the size of TV's has increased. The single most popular TV the firm I work for sold last year was a 46in Samsung. 5 years ago, I suspect it was perhaps a 40, and certainly the 32in TV's which were at the front of the display 6 years ago have now been shunted off to a corner, because they are basically now bedroom TV's for most people.

So whilst we want to watch TV on bigger screens, we also want to watch them on smaller ones...

I suspect that nobody really wants to watch the final of Strictly or the X-Factor on a 15in laptop or 8in Ipad, when they could watch it on a 50in screen, and thats certainly not going to be the case for 4K. What might be occuring is that the ease of viewing on phones, etc means that the market is more complex, with a greater mixture of viewing platforms and habits. And much the same could be said of music. You watch the final on the 50in, tweet on the Ipad, and perhaps look at something else at the same time.

Of course the age problem isn't just for the BBC - its every broadcaster, although perhaps if BBC3 hadn't been left to die because of budget cuts, then possibly the 16-34 demographic (always the most difficult to capture) might like the BBC a little more. Content is content, its monertising it which is perhaps the problem. Even Netflix has to get its content from somewhere.

As for the Radio 4 extra (actually Radio 7 at the time) kids programmes, pretty much nobody knew they were on. My kids quite liked them, but frankly, thats what Cbeebies is for. I doubt that most kids since about 1970 have listened to kids progs on radio, so I'm not sure what they were thinking.

As for young people not wanting to pay for a licence, Stephen Fry got some flak the other day for pointing out that many seem to think that everything on the web should be free, just because they've paid their ISP. Content costs, and someone has to pay. If we followed the German/Swiss model, and forced everyone to get a licence if they had a computer capable of watching TV (or just make sure that Iplayer could only be viewed if you have a licence), would we see a change?

MikeB's 2,579 posts

Brianist: I was in a hurry typing, so I forgot to thank you for your excellent (if slightly depressing) analysis. It did make me want to ask several questions.

Firstly, is there any data as to whether this trend away from TV viewing will be a permanent state? Its early days, but is there evidence from perhaps Finland or the US that people dont just use tablets, etc to watch, but return to the main TV? To be fair, I suggested this kind of trend in relation to analogue radio some months ago - that once people use digital means, they dont go back, but hopefully it might be slightly different with TV!

Or if they do use different ways of watching, are they moving away from the usual providers, and going towards ITunes, Amazon, Netflix, etc, or just watching much the same thing?

Is there any old data of how earlier generations dealt with this demographic ? 16-34 has always been a tough one to crack, but is there any evidence that their viewing habits became more uniform as they got older?

What will be the impact on other broadcasters? What is ITV and C4 doing? And has such a shift already impacted advertising revenue?

I did notice two things. One is the increased amount of gaming in the 16-24 age group - some 9%, and thats not going to get smaller (if my kids are any guide). However, in the 25-35, that percentage falls to 7%, and , and by the 35-44 range its pretty much back to the average. Gaming will be more popular as time goes on, but as you get kids, you dont have time to do very much at all....

The second is that 11-15 year olds tend to watch much more Youtube etc than either the 6-11 group, or all adults. Thats not surprising - 11-15 year olds are more likely to have mobiles, and to watch rubbish on them!

The graphs show two things, which are slightly contradictory. One is that we have ever more things to do with our leisure time, and TV has to compete (as film found out in the 1940's) . However, thanks to technology, we can now game, text and watch TV at times when we couldn't before. Perhaps the two trends might balance each other out!


MikeB's 2,579 posts
Friday, 19 December 2014

Would be nice if BBC iplayer radio actually worked most of the time. I have had to contact them several times in the last month alone because for some reason a program was not available, the last fault is that most programs from Wednesday and some from Thursday on 4 extra are not available on any device. I just don't think the Beeb give a monkies any more. While I would really miss BBC radio I cant see it surviving and neither can I see the licence fee surviving. Unless the people slashing budgets start slashing top end pay packets.

Ian's 497 posts
Ian's:
map
I's Freeview map
terrain
I's terrain plot
waves
I's frequency data
I's Freeview Detailed Coverage
Tuesday, 23 December 2014

For me as a kid I did watch TV but know I mostly go online and the tv license problem is a big one as I lived in the states where many have TV and watch more thanks yo true free tv.

John Smith b's 1 post
Tuesday, 3 February 2015
F
Fred Perkins
11:38 AM
Richmond

In the great debate on "Is broadcast TV being replaced by VOD?" I think there's a fundamental error in the arguments advanced by both extremes in the debate.

VoD and linear TV are NOT in competition, nor are they mutually exclusive. They COMPLEMENT each other. Much noise is being created by those (particularly the mobile telcos and VoD suppliers) that try to convince us that the world is about to abandon linear TV and switch entirely to OnDemand.

This flawed thinking is exemplified by Brian's excellent piece on the BBC3 story, and this debate on TV and Radio demographics.

Back in the days when we had only 5 or less channels, the broadcasters' assumption was that they had to capture the audience early in the evening, and then they would 'hold' them all night.

Now that even the poorest-served viewers have 100 or so channels to choose from, that proposition is fatally flawed. Viewers no longer watch CHANNELS, they watch PROGRAMMES. There is no loyalty to the channel beyond (or even during) the current programme.

Further, we have for years (particularly on Sky) had the ability to timeshift WHEN we view a programme, or how we can cope with multiple programmes we want to watch, which are broadcast at the same time.

"On Demand" actually covers several quite different viewer preferences. It covers timeshifting, advert avoidance, catchup, programme clash situations before we even get into "new" VoD industry driven areas like binge series viewing, or non-TV material. All of which traditional linear TV broadcasters are responding to, much better integrated than the multiplicity of upstarts offering non-standard mechanisms and total confusion as to just what you can get

The additional surge of provision of all the above via mobile or iPad is another diversion driven by telcos desperately giving away or heavily subsidising "anywhere, any device" viewing, as they battle to ultimately gain new revenue streams... yet for the most part, their business models are flawed and distorted (bribing you to take their broadband or mobile services in return for some 'free' content that is available whenever and wherever you want).

All of the current offerings ultimately still depend on the traditional TV broadcast model on which they depend for content. While the VoD and "Connected TV" proponents can selectively interpret statistics, the amount of linear TV viewing has barely changed. The new "consumption" of TV PROGRAMMES is incremental, rather than substitional.

Even the kids and millenials appreciate that "TV" loses almost all of its social networking value if everyone is viewing a programme at different times.

And above all, using IP to deliver broadcast TV to millions on a VoD basis is ludicrously inefficient, and beyond the capabilities of existing broadband or mobile networks.

So, let's not put too much emphasis on 'trends' reported in the behaviour of younger people. Their behaviour is largely driven by what is "free" (or paid for by their parents). And neither of these scenarios will continue to exist when they leave the family nest, and ultimately start their own families. This same generation will also, we all must hope, mature into a a more 'thinking' demograph, rather than one bent on instant gratification and interaction on every front.

Fred Perkins's 1 post
Fred's:
map
F's Freeview map
terrain
F's terrain plot
waves
F's frequency data
F's Freeview Detailed Coverage
Your comment please