What is in store for the next round of BBC cuts?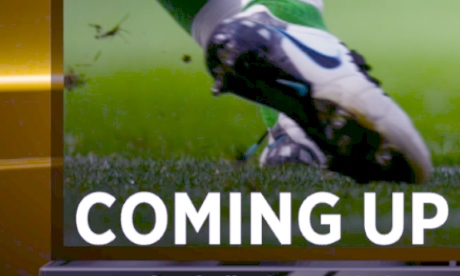 Brian Butterworth
published on
UK Free TV
Perhaps one should not be suspicious, but Anne Bulford's "Driving efficiency" report[1] was published by Reform, rather than the BBC and it missed out one rather important graphic[2], which I have shown here: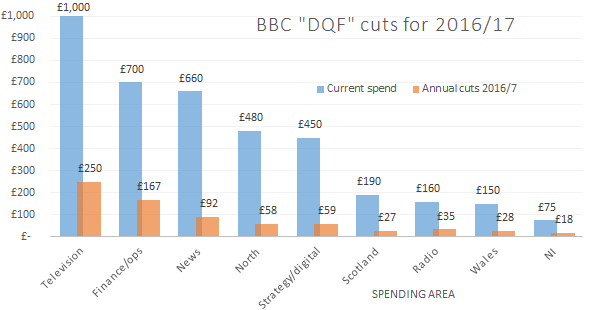 Let's explore what this means. Here from my earlier posting are the costs per hour and the total annual costs of various BBC services.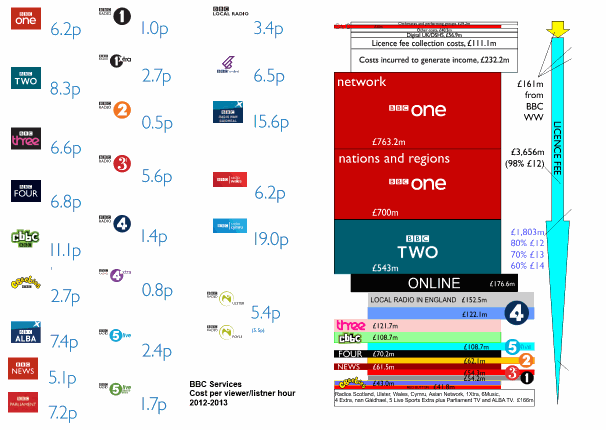 The BBC is going to have to take tough decisions because this amount of money cannot be saved without some services going off air or being cut considerably.
£35m a year from Radio
If Radio 4 is protected, I suspect that this means that Radio 3 will be reduced by two-thirds to a peak hour's service, plus the possible "merger" of 1Xtra into Radio 1. Other possibilities might be the "merger" of Radio 3 and 4, with classical music being reduced to The Proms and selected other evenings.
More networking of BBC Local radio in England, using Radio 5 Live as a sustaining feed.
£250m a year from television (not sports, news or Children's)
With BBC One being generally efficient, the cuts could be achieved by making BBC Two a less extensive service (perhaps making half of peak as repeats), with the parallel closure of BBC 4, replacing the channel with a cheap BBC Two+1.
Cut back of BBC regional news to evening programme only and reduction in length of programme to 20 minutes daily, much in line what ITV has done. Also the merge-back of the Oxfordshire service into South Today and the recombination of Look East into a single programme.
£92m a year from News
General cut of 14% from the scope of programmes.
£58m a year from "BBC North" (Sports, Children's, 5 Live)
Probably cuts like closing of Breakfast at weekends and holidays and reduction in weekday hours, large reduction in CBBC budget, overnight service from 5 Live and so forth. Or moving 5 Live to just relay the TV News channel outside Breakfast and Drivetime news shows.
Given the cost of sports right, perhaps the reduction in scope will mean cutting back BBC Sport to just sports news?
£59m a year from Strategy/Digital
Reduction in scope of new services.
£27m a year from Scotland
Closing of expensive drama, River City plus "merger" of BBC Scotland and Gaelic radio service. Reduction in Scottish news to 20 minutes evening weekdays.
£28m a year from BBC Wales
Cut of welsh-language drama, "merger" of Welsh and English language radio services. Reduction in Welsh news to 20 minutes evening weekdays.
£18m a year from BBC NI
Reduction in NI news to 20 minutes evening weekdays.
£167m a year from finance and operations
This is mainly the cost of workplaces, technology and distribution. Distribution needs to take the most and this will no doubt mean the closing of AM radio, possible move the remains of Radio 3 to digital only.
[1]
Driving efficiency at the BBC: To deliver quality content for the Licence Fee payer -November 2014 [pdf]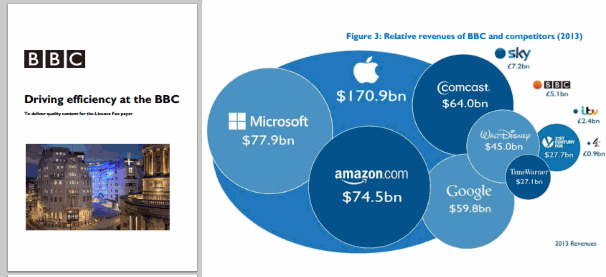 [2] From http://www.broadcastnow.co.uk/broadcasters/bbc-hints-at-savings-focus/5080644.article but with corrections.
Over to you
Try and imaging, rather than what you personally like, but what you think would be best for the country as a whole.
Comments
Monday, 8 December 2014

It is some years since I was last at Droitwich and things may have changed now that Arquiva owns all the radio and TV infrastructure but the long wave transmission had for many years been of more use for its data transmissions (from which the BBC received an income) than for the broadcast service - apart from the cricket in the days before digital transmissions.

In the longer term the LW problem will probably solve itself when the operator runs out of its supply of valves for the transmitter - Burghead and Westerglen are unlikely to be of much use on their own.

Chris G's 7 posts

The tv licence is for having a TV the money from the licence goes to BBC. I don,t think ITV ch5 get anything from it. So all the cuts they are planning effect their staff not other channels. Itv do not get money from me because I bought something. Their money comes from their advertisers and programs they sell. Oh sorry I bought a tin of jeyes fluid today Itv must get some of that ?????????????

john Martin's 6 posts

john Martin: As you said, there is an extra fee on top of everything that is advertised on TV, this is how you fund those broadcasters with adverts.

Or do you think "advertisers" send money to the TV companies out of the goodness of their collective hearts?

Briantist's 38,908 posts

John Martin: If you bought Jeyes Fluid from a chain store or supermarket, then part of that cash went towards their marketing budget - in the case of a supermarket, that will included a TV ad spend. And Jeyes Fluid did start advertising on TV in 2011 - they spent half a million that year. And since they are part of a group that makes other products, if they are advertised on TV, then your cash possibly went towards that too.

There are certain saloon bar myths - thats anyone can read the news, be a standup comedian or be a teacher. That the weather forcast is never right, and that anyone could sort out government spending, and that they are never ever swayed in any way by advertising. None of these things are true.

MikeB's 2,579 posts
Tuesday, 9 December 2014

No I don,t think they pay money for nothing. But every advert is paid for by someone and the longer and when it is shown is influenced by who pays the most. But it ain,t coming out of my TV licence at £140 a time.
Who pays you Brian? mmmmmmmmmmm

john Martin's 6 posts
Wednesday, 10 December 2014

I would bring back closedowns overnight on BBC One and BBC Two and stop having an overnight loop of programme previews on BBC Two and stop having a simulcast coverage from BBC News and BBC World overnight on BBC One. BBC Radio 1 3 and 4 and Five Live would also closedown overnight with 18h a day programming 6am-12midnight 7 days a week. 1 Extra would disappear from the dial entirely as would Radio 4 Extra. BBC Local Radio would revert back to carrying BBC Radio 2 in the evenings when local programmes are finished for the day ie after Saturday Sport finishes 6pm, final local news and weather then station jingle, goodnight and joining Radio 2 (like many local stations used to do) and give BBC Local Radio the option finish at various times early or late during the week handing over to R2 overnight).

Anthony's 52 posts
Thursday, 11 December 2014

Cut backs are not the answer. This will just degrade BBC output to an even lower quality. The only solution is to
abandon the licence fee and free the BBC to raise income by other means. The sale of the BBC would also raise a significant amount to set against the deficite.

trevorjharrris's 367 posts

Anthony

I don't agree with your assessment. You appear to be ignoring the many people who work shift patterns, such as medical staff, firefighters, and many other professions and occupations. These people have just as much need to watch TV programmes but can't while they are working or sleeping. So the nighttime services are often useful for them. For example, a firefighter would work a shift from 8 AM to 4 PM one week, 4 PM to 12 PM (midnight) another week and 12 midnight to 8 AM another week. Others have different shift patterns but they all have the same problem of watching TV at times when many other people are either at work or asleep.
Add to that the fact that it doesn't actually cost much to keep the servicves going overnight. The programmes already exist so no extra cost there. The transmitters are kept running as they are more efficient and reliable when left 'switched on'. Turniong them off at night is definitely not a good idea.

MikeP's 3,056 posts

MikeP: Agreed - there does seem to be an obsession with turning off transmissions late at night, as though it will save any money. Apparently Harry Warner used to go round the Warner Bros lot turning off the lights at night that had been accidently left on. It might have made him feel better, but in the grand scheme of things, it made no difference to the bottom line.

And there are lots of people who are up at all hours, as well as those who missed recording something the first time round - they get a second chance.

MikeB's 2,579 posts
Friday, 12 December 2014

BUT more and more people have the various on-demand services to catch up;bbciplayer for tv/radio itvplayer 4oD Demand5 and many many others;surely that's a good a reason as any to not have TV/Radio services 24:7.

Anthony's 52 posts
Select more comments
Your comment please