BBC Three week: the history of BBC Three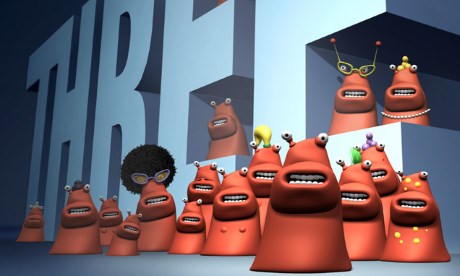 Brian Butterworth
published on
UK Free TV
Extending Choice
The story of BBC Three starts 22 years ago in a document called "Extending Choice". Five years before the Freeview broadcasting standard was first published,
"the spectrum currently used to provide four existing terrestrial television services might also be able to accommodate four digital HDTV services or many more digital TV services of a quality comparable with the existing services."
It wasn't seen at this stage that digital TV would be used for anything other than high-definition widescreen versions of the existing channels. The only extra service at this time was
"..channels which use the BBC archives. For example, the collaborative venture with Thames Television to launch UK Gold on the Astra satellite. "
And "A continuous news channel", which eventually started November 1997.
BBC Choice
BBC Choice started broadcasting before there were receivers to watch it, 23rd September 1998 being before the 1st October launch of Sky Digital and 15th November start of ONdigital.
From the start the channel was used for CBBC during the daytime.
The evening was a third mixed-schedule channel, in the same vein as BBC One and Two. This continued until June 1999 when BBC Knowledge started. However both channels were run with small bugets and the only two shows of any note are were Liquid News , EastEnders Revealed.
The TV market 1998-2002
The availability of extra bandwidth without the budget for channels provided a stressful time for broadcasters.
The ITV companies had hoped that their pay terrestrial TV platform would provide a good income, but this didn't prove to be the case: Sky Digital provided a much better choice for a lower initial cost, and only Sky had genuine premium movie and sports services and US-imports.
Without viewers, the BBC didn't furnish BBC Choice or BBC Knowledge with enough money, and they both ended up with branded-repeat schedules which were the prototype for the later UK History and the like.
Freeview reboot
With subscription evicted from digital terrestrial, the BBC under DG Dyke, broke their services into bits. BBC News 24 continued, with Choice and Knowledge broken into CBBC, CBeebies in the day and BBC Three and Four in the evening.
The re launch of BBC choice as BBC 3 was delayed as the culture secretary wished to have her input into the new channel.
The idea for BBC Three was to create a channel focused around a demographic that tv channels have always found hard to reach: young adults.
The proposal was - indeed is - a mixed schedule of comedy and factual programming for the 18 to 30s with a splash of news and some narrative repeats (of EastEnders mainly).
But as a digital channel the service would be an add-on to other viewing. Unlike the main channels that run a schedule that you are expected to watch from start to finished, as a dip in service - like BBC FOUR - the same content is played many times over.
The pink era
The channel has a makeover in 2008, with new graphics.
Critics would point to the unstable of the programmes for older viewers, but this was the whole point! Others would wilfully misunderstand the need for repeats.
Some critical points were valid: outside the one minute news updates the channel has no live content which makes it feel "dead", and am attempt at EPG headline grabbing programme names ("f**k off I'm a Hairy Woman!") could have worked better. For many people the channel is nothing more than Family Guy and EastEnders repeats.
Then the 2010 Licence fee settlement led to Delivery Quality First and cuts: out went drama from the digital channels. The channels break-out successes (such as Russell Howards Good News) have made it BBC Two or (Little Britain) BBC One.
We are now left with a decision to " take the channel online " .
Is this the vanguard of an on demand future... Or the axing of a mistake?
Comments
Monday, 2 February 2015

Typos???

Critics would point to the unstable ....

should that be "unsuitability"??

and am attempt should be "an attempt"?

Neil Bell's 106 posts
Thursday, 14 January 2016

PENDELIS:

This is not an appropriate post for this website.

MikeP's 3,056 posts
Thursday, 4 August 2016

Selina:

Firstly your posting is totally inappropriate on this technical website. Secondly, it is rude to 'shiut', as the use of all capitals is interpreted.

MikeP's 3,056 posts

Selina : Hi, Selina. You have abused and misused this UKFREE.TV website. This site is specifically for people who are seeking technical assistance on the reception of UK broadcast television and/or radio channels. If someone has been turned down when applying for a loan in the UK, that person needs to contact one of the three UK registered 'credit reference agencies' (aka CRAs), which are 'Equifax', 'Experian' and CallCredit'. The details of any and all of these are freely available on the internet. Alternatively one may join clearscore.com free of charge in order to obtain one's credit score 'free for life'. The credit reference agencies to which I have referred in this post explain to you the reason(s) for one's possessing a low credit score and then go on to inform you of actions to be taken to improve the credit score so that one can be favourably considered for substantial loans. This all takes time, Selina and one cannot expect instant results, even if one's daughter is very ill. If you are a UK resident and possess British Nationality and Citizenship the National Health Service will provide health-care for your daughter without your having to spend a penny of your own money. Bearing in mind your posting refers to currency amounts in 'euro' units of currency, I suspect you are not posting from within the UK. I hope the information here might help you in the future, but please remember that this website is abut tv and radio reception, not aout credit ratings, bank loans or health care! Richard, Norwich.

Richard Cooper's 466 posts

Richard Cooper: Have you all noticed how much more spam this site is getting, even compared with a year ago. Any ideas why?

MikeB's 2,579 posts
Monday, 19 March 2018

Like everything else in this country, the site doesn't work right.
Or just blame it on the Russians or North Koreans like everyone else.

Robert's 76 posts
Your comment please