BBC Three: Online only is right - if and only if -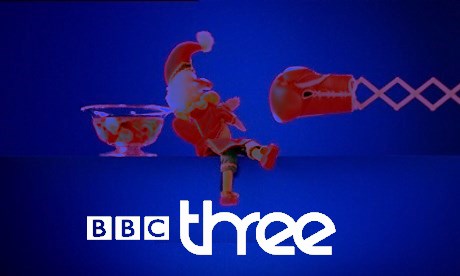 Brian Butterworth
published on
UK Free TV
It is Friday 7th February 2025..
Finding a TV set
You are visiting an elderly relative and find in an upstairs room a smallish flat-screen that seems to be without a wireless internet connection. With considerable nostalgia you turn it on and discover that it still seems to be connected to an aerial.
The screen comes on and there is a basic static message saying that "this channel has closed". Undeterred you remember there was a GUIDE key on the remote and hunt around, first for the remote and then for the button.
The guide seems to consist of small selection of channels. Turning to the first, BBC 1 you catch the middle of a lively presentation showing you how to get the My BBC application on any number of devices. This is followed by an hour long drama that was released to the BBC iPlayer this very week.
Going up a channel finds the BBC News channel, looking much like it always has, but with regular prompts to press and click things that cause the words "not available on television" to appear on your screen.
The next channel, ITV, is much as it ever was: soaps and adverts.
Channel 4 is a static graphic saying you should be using 4OD, and the fifth channel the Viacorp player.
The rest of the channel slots are empty, save for the odd one with a static banner.
Sky not in the Sky.
The dishes went as soon as they came. Strong minded as ever, Sky Television executives realised they had passed the point where satellite distribution was unprofitable, the company rolled the whole customer base to internet TV in less time than they took going from analogue to digital. Seeing off the competition from Netflix, Sky did a well-engineered pivot.
Mobile broadband
The steady growth of mobile broadband over the last decade means you can get any TV show ever created at the touch of a button. Many people pay for basic services from Sky, Spotify TV and Apple for vast archives backed up with a lot of US and UK sourced drama and movies. Quite a lot of people pay for football channels as extras, or other sports too.
Some content is free (YouTube) and ad-funded.
At last, the BBC Three question
Does the pull of people from broadcast TV – with the offer to "buy this and save £150" – erode the licence fee? Do the government in power allow for the BBC to be funded another way?
Is BBC Three a ten-year selection of content that as grown and grown over the years?
Or is a long-forgotten channel, in an era where they have passed?
Will the BBC iPlayer still be creating £3,000m every year of content in many genres … or just a run-down news station?
So
The only question is – is the BBC Three proposal just a money saving sop, or is it an investment in an library of content?
Comments
Monday, 9 February 2015

Thats ok if you got a decent broadband and smart tv with wifi or internet port. but if your in a area that broadband is not so good..... i think people in those areas will lose out.. I am ok because i have Youview and 100Mb broadband with cable tv provider... just broadband only cannot afford tv boxes did have 4 cable boxes.. had to get rid as the cost went up to £100 per month!! so gone freeview now...

rob's 171 posts

One big problem with Sky Via Internet no subtitles........ i had a lot of deaf friends complained about that.. as alot of them live in flats where sky dishes are not allowed.. its a nice idea but please Mr Sky provide Subtitles.... we deaf don't ask for alot in life...

rob's 171 posts
Thursday, 12 February 2015

In my opinion it is wrong to discontinue BBC3 broadcasts in order to save money to fund online content. I pay my licence fee for broadcasts, and my money should not be used to finance online services. They should be funded in other ways, including advertising if necessary.

You also don't need a BBC1+1 channel if there are iPlayer services available as you can easily scroll back on your set top box. I know that not all programs are available on iPlayer, but if you remember to set your PVR then there is still no need for a +1 channel.

Eric Brightwell's 1 post
Monday, 2 March 2015

@ Eric Brightwell

Not everyone has PVR recorder.... Unless TV makers put in PVR inside the TV set then everyone be able to record free-view or free sat services.

The broadcasters are shifting over the Internet content as people can choose when they want to watch TV. I think personally it is too soon to go that way, unless BT and Virgin expands their broadband to cover all over UK then that's when it should happen.. I heard a rumor in 2020 that the channel group C/D will be sold off to mobile broad band... I think that's bad idea we have already lost a chunk of TV spectrum at it is

Rob's 171 posts

Is the BBC Three proposal just a money saving sop, or is it an investment in a library of content?

A bit of both with a short term sop to save money while the virtual library is the longer term goal
i.e. the library is the arcadia of digital broadcasting, I think!

Almost coinciding with this feature, a Sky engineer vistied recently to replace my old satellite dish.
We chatted away on the prospects of aerial installation services and so on and his viewpoint was
''satellite installers will become history, only if fast broadband does become available to all.''

Back to BBC 3, for this service could be following in the footsteps of the BBC For Schools &
Colleges output. The BBC Schools audio and video library content as far as I am aware, has not
diminished over the years, even though its presence on linear tv was discontinued some time ago..

I do not think it is the end of the line for BBC 3, it may eventually be joined by BBC 4 & BBC
Parliament as a starter!

Willie Bone's 58 posts
Your comment please