Licence fee replacements: All-homes broadcast contribution?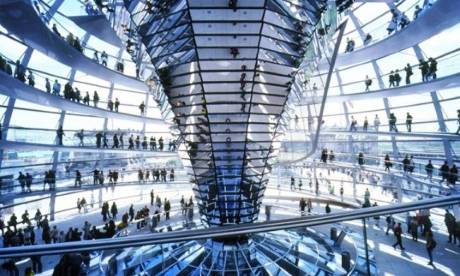 Brian Butterworth
published on
UK Free TV
(Some of this comes directly from a transalation of http://www.rundfunkbeitrag.de)
Citizens
You get an email.
The email says that that it is from the multimedia media contribution service.
It says that, following the 2016 Communications Act, the TV Licence has been abolished, and replaced with a mandatory payment called the multimedia media contribution (MMC).
Following the link, you see
MMC: EASY FOR ALL.
Who has to pay the broadcasting fee?
Citizens, companies and institutions as well as institutions of public welfare pay to broadcast contribution and thus share the funding of public service broadcasting.
Is the broadcast contribution to a tax?
The broadcasting fee is not a tax but a contribution to the levy legal sense.
For citizens the simple rule applies: One household - one contribution - no matter how many people live there, and how many TVs are available. In other words, families, shared apartments, and unmarried couples pay a contribution.
This charge, the site says, is now levied on an annual basis on all households in the UK. Unlike the old scheme, it says, the MMC does not have to prove anything beyond the existence of the household.
The government is still paying for any home where one or more members is aged 74 or older. This can be claimed, as before, by providing a national insurance number. The old TV Licence system has passed all known qualifying households over the MMCS.
The fee is set at £150 per household.
The first year
If the property had a TV Licence covering the last year of operation, the MMC in the first year starts from the date the TVL expired.
If you have any of the following, you can apply for an exemption / reduction
Retired and getting financial support;
Job seekers;
Full time students not living with their parents.
Asylum Seekers;
Receiving benefits for full time care;
Receiving state nursing care or war benefits;
In an inpatient facility;
Deafblind, blind or more than 60% visually impaired;
Disabled persons (pay only one-third contribution)
MMC for Companies and Institutions
Companies and institutions participate in the funding of public service broadcasting.
For hotel and guest rooms and apartments of the new monthly broadcast fee is also £4.
MMC Institutions of public welfare
Institutions of public interest such as schools and non-profit associations and foundations, as well as firefighters, police, army, civil defence and disaster protection pay a maximum of a broadcast monthly contribution of £13 per month per establishment.
Would this work in the UK?
Making the payment come from all 26.4m households – rather than those with a TV – will reduce the collection costs.
However it does little to make the tax more progressive.
Comments
Wednesday, 4 November 2015

MikeB: Jeremy Benthams philosophy of the greatest good for the greatest number is somewhat flawed. By his rationale, it is more important that justice is seen to be done, rather than necessarily being achieved. Everyone is happier (except the innocent individual who is incarcerated) if they believe that Justice has been done. Would you be prepared to go to prison for a crime you did not commit so that Justice is perceived to have been achieved, by the greatest number?

I am not at all convinced that the greatest good is necessarily achieved by this system. I'm also finding it hard to reconcile your claim to to wish to look at the 'facts' when your argument is riddled with speculation and anecdotal evidence.

I believe that the key fact here is origin of the TV Licence. The ear marked tax was an extremely fair method to fund the BBC when it was the only broadcaster. However it became inappropriate at the time of the launch of ITV when it became a viewing permit fee as well. In a perfect world it would then have stopped being a tax and become a subscription fee because at that time it became clear that the BBC does not have all the answers.

In the same way that I have a choice whether or not to buy a newspaper I can choose to watch television, or not. I then have the choice of which newspaper to buy. I am not required by law to purchase a specific state approved newspaper first and then, if I can still afford it, the subsequent newspaper of my choice.

While I do believe, as you very kindly reminded me, that the BBC does produce some fantastic quality programs, I also believe that, as a Public Service Broadcaster, it's role should be to fill any gaps that are either unfulfilled or inadequately fulfilled by the alternative options. It is not in the Public interest to subsidise the BBC to show sporting events for example, as the recent ITV coverage of Rugby World Cup demonstrated, there are others who are more than capable. Equally, externally produced programs like The Voice have no place on BBC under the current funding model. The BBC would have us believe that it is and should continue to be a universal competitor to Independent Broadcasters, I disagree. That merely serves to inappropriately inflate the BBC and the Licence Fee we pay.

RichardW's 8 posts
Tuesday, 8 December 2015

Will the discount for black and white TVs still apply?
If so, at what rate do those who have no TV pay: at the colour rate (for not having a colour TV), or at the black and white rate (for not having a BW TV)?

Mark's 1 post

Mark: In 2013, there were just 13, 202 B & W licences issued - Official TV Licensing website - TV Licensing: Black and white is still alright , and just over 11,000 in 2013/14 - Official TV Licensing website - Licences facts and figures . Losing 2,000 odd a year, your looking at them all vanishing by about 2021

Since the idea of a single change is just one possiblity, its not really worth worrying about.

MikeB's 2,579 posts
Wednesday, 23 March 2016
D
donald kirkbride
11:54 AM

anyone aware that the epg listings on freeview have been given the wrong start times starting from sunday march 27 breakfast news 5-9am wrong it should be 6-9am obviously whoever put in the programme information because they were told the clocks go forward at 1am on sunday morning automatically thought that the start times move back one hour
all bbc channels appear to be this way including bbc radio 4 broadcasting house apparently has a new start time of 8am instead of 9am , yet the tv guide for freeview and the tv guide on bbc iplayer show the correct times thats as maybe but the coming weeks programmes are still at the wrong start times which makes the freeview box timer setting totally useless does it not?
ive emailed broadcasting house programme on bbc radio 4 but either they have completely ignored the email or its been deleted as the programme times have still not been sorted its the same every year when the clocks change perhaps someone should give the person who makes this mistake every year a talking to about how the clocks change in march and october but the programme times stay exactly the same
no doubt some twit will email me and tell me the engineers solution is reboot your freeview box well let me tell you rebooting the box does not reset the epg the problem is inputting not recieving output

donald kirkbride's 37 posts

donald kirkbride: it might be because it wont show the correct times until the clocks go forward saturday night/sunday morning

Loretta Sharman's 1 post
Monday, 13 June 2016
R
Robert Teasdale
10:26 AM

I am having problems with Signal Strength on the HD Channels 56.57.58 from the Waltham transmitter. I have excellent signal strength of above 90% on the remaining channels 29.31.37.49.54. Signal Quality on all channels is at or about 100%. I have recently had a Wide Gain aerial fitted but the installer has left the previously fitted external Signal Amplifier on the mast. My question is the amplifier causing the problem as I see from a previous article that if receiving too high a Freeview signal on the other channels maybe effecting the quality of signal on the HD channels.Your comments appreciated. Just another point here is that I have a Humax fitted this was not a problem when retuning TV after new aerial fitted.

Robert Teasdale's 1 post
Select more comments
Your comment please