Which 29 stars wrote Prime Minister Cameron to ask him to protect the BBC?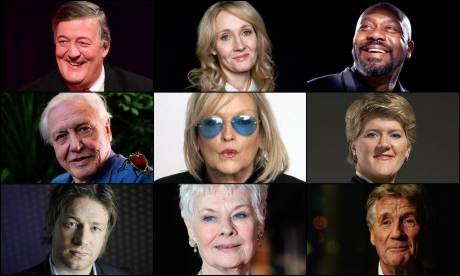 Brian Butterworth
published on
UK Free TV
Dear Prime Minister,
We have seen that the Government has pledged to modernise the licence fee, return funding that had been diverted to pay for broadband roll-out, and increase the licence fee in line with inflation in return for the BBC taking on the costs of licence fees for the over-75s.
The Government and the BBC are now entering the charter review.
We are writing to place on record at the very start of the process our concern that nothing should be done to diminish the BBC or turn it into a narrowly focused market-failure broadcaster.
In our view, a diminished BBC would simply mean a diminished Britain.
The BBC is a very precious institution. Like all organisations, it has its faults but it is overwhelmingly a creative force for good.
Britain's creative economy is growing and enjoying unprecedented success.
The BBC is at the heart of this as the global showcase for our creative industries.
The BBC is trusted and loved at home by British audiences and is the envy of the world abroad.
During the course of the Charter, we will continue to make the case for a strong BBC at the centre of British life and will be vocal in making the case for the BBC as it approaches its centenary.
Yours sincerely,
Clara Amfo, David Attenborough, Clare Balding, Melvyn Bragg, Brian Cox, Daniel Craig, Richard Curtis, Judi Dench, Chris Evans, Stephen Fry, Nick Grimshaw, Miranda Hart, Lenny Henry, Gary Lineker, Michael McIntyre, Steven Moffat, Trevor Nelson, Annie Nightingale, Graham Norton, Jamie Oliver, Michael Palin, Adil Ray, JK Rowling, Mark Rylance, Simon Schama, David Walliams, Rachel Weisz, Claudia Winkleman, Reggie Yates.
Comments
Monday, 10 August 2015

Nick: Facts really are an alien concept for you, aren't they?

OK, so you hate Eastenders, The Voice and Strictly - but these are all big ratings winners for the BBC, two of which are on a Saturday night and are certainly classed as family entertainment. Which proves you totally wrong. Just watch something else at that time if you dont like them.

Xmas 2014 was 63% repeats ACROSS ALL FOUR MAIN CHANNELS Christmas TV repeats raised in Parliament - BBC News . That included ITV, which basically showed the cheapest programming it could reasonably get away with, on the reasonable grounds that commercially, it doesn't make sense to spend a fortune.

The BBC actually explained what they show over Christmas, and why http://www.bbc.co.uk/blog…51f. They spend far more on Xmas programming than the rest of the channels.

And you can't complain that there are no classic comedies shown on the BBC (there are, starting with Dad's Army and Only Fools and Horses this week, plus Yes Minister, Allo Allo and Are You Being Served on BBC2 just this afternoon), and then complain about too many repeats!

BTW - Neo liberal's believe in free market capitalism and the deregulation of the state https://en.wikipedia.org/…ism, whilst 'lefties' (how charmingly old school that word is) most certainly don't. If you going to mindlessly insult people, at least try to get the terms you use vaguely correct.

'Facepalm's all round, I think.



MikeB's 2,579 posts
Tuesday, 11 August 2015

I am in favour of maintaining standards at the BBC but I cannot condone taxing people to pay for what is principally an organization which provides entertainment. Its wrong in principle to compulsorily force people to pay for entertainment which they may not use. The BBC can maintain its income by advertising between programmes, not during, since its high quality output should attract plenty of advertisers who may pay a premium to the BBC channels which have very good listening/viewing ratings.

Ray Baldacchino's 9 posts

Ray Baldacchino: Except 97% of us watch that 'entertainment' on a regular basis, without be coerced into doing so. And how about if we turn your arguement around. People pay for Sky, and it mostly shows entertainment, therefore it cannot show anything factual or serious. Does that sound logical? No, so why should the BBC not be allowed to show anything entertaining?

And your derping about advertising. Brianist has shown over and over again that even if the BBC took all the TV advertising review for the UK, it still would not come even close to covering the cost of running the BBC, and would bankrupt all the other advertising based broadcasters as well.

MikeB's 2,579 posts
Sunday, 16 August 2015

MikeB: Do you work for the BBC? I don't find Eastenders, The Voice and Strictly entertaining at all. I'm quite normal, so many others probably feel the same way. Eastenders is not an entertainment, it is a 're-education' by the left.
I don't care if the other channels used a lot of repeats at Xmas, the BBC is paid for by the public and they deserve a better service. The BBC get more than 3.5 billion a year. Maybe if they cut some of the 200 plus managers who get paid more then the PM might help.
You didn't understand my point about the classic comedies. I'm talking about NEW comedies. There is nothing new up to the standard that you list and hasn't been for years.
I have no idea what you last paragraph is about. It is now well understood on many internet sources that the 'left' have taken the BBC over, especially the news and political programs. Nigel Farage has come out publicly on this, for example, and I trust his analysis over yours..
My proof that the BBC can't hack it are the 1000 plus licence holders not renewing their licence PER DAY.
The BBC is now up against a lot of competition, especially from streamed sources, yet they remain arrogant and pump out what they think we like. This is a typical government run organisation, who get their money ia a non-competitive way and think they can do what they like. Fortunately, they are killing themselves off, and the sooner the better.
You accuse me of 'mindlessly insult people'. I suppose your comments 'Facts really are an alien concept for you,' and 'Face palm's all round, I think' are not insulting?

Nick's 58 posts
M
MikeB
10:36 PM
Macclesfield

Nick: I dont work for the BBC - in fact I complained to them the other week about the rubbish radio programme on the Met Office by that prize idiot Quintin Letts.

You dont find Eastenders, etc entertaining? So what? I dont watch Eastenders either, dont really care about the Voice, although my family loves Strictly. The reality is that Strictly got over ten million viewers each time it was on in late 2014, so the fact that you dont like it is just one of those things. A lot of people do. In fact, if you bother to look at the Barb figures for Nov 2014, you'll see that Strictly took the first and second spot for all viewing. I assume you think they were all abnormal?

And as for Eastenders being some sort of crypto-communist agitprop, anyone suggesting that is going to need some more Bacofoil for that tinfoil hat. The writers actually have been using Classical Greek plays as a template for a while - are they secertly trying to make us worship Zeus as well?

If you think the BBC should show nothing but original programming at Christmas on all channels, can you please explain what they are doing to do the rest of the year for money? Original programming costs a lot, and frankly, the BBC shows far more of it at Christmas than anyone else.

The 'paid more than the PM' line is such a cliche, its almost beyond belief. I've often wondered if the papers would use it as much if they had to print the salary of the columnist using it, the pay of the papers editor and the tax status of the newspapers owner - probably not. In fact the BBC is currently trimming down the number of managers, and you havn't asked the number of managers at ITV, C4, C5 and Sky who are also paid more than the PM - that would be an interesting question.

Classic comedies? Before people get fuzzy about the past, think about the fact that Dads Army ran from 1968 until 1977, Are you Being Served ran from 1972 until 1985, Yes Minster from 1980 until 1986 (included Yes Prime Minster), Only Fools and Horses from 1981 until 2003, and Allo Allo from 1982 until 1992. So you taking about 5 comedies over 35 years! If you look at the number of comedies made in that time, the vast majority will be totally forgotten, because they failed. TV producers know this, which is why ITV just gave up for some years, and even now have just the one (Vicious). C5 doesn't bother, so if its wasn't for the BBC and C4, there would be nothing.

The BBC currently have Mrs Browns Boys (rubbish, but really popular), Bad Education, Crims, Mountain Goats (looked rubbish), and Some Girls on Iplayer. I loved Bluestone 42, and there are others as well. Don't like them? Humour is a very individual thing, hence the adage that laughter is priceless, but comedy should be cheap.

'It is now well understood on many internet sources that the 'left' have taken the BBC over, especially the news and political programs'. Its also possible to discover on the web that Hitler's brain is alive and well, living in a jar inside the hollow bit inside the South Pole, that 9/11 was ordered by the Freemasons, and that 10 ffot high blooddrinking aliens are ruling us, disguised as senior politicians and the like (including Prince Philip, so who knows!). Just because its on the web, does not make it true. If your refering to biasedbbc and the like, the last time I looked at that site, I came away with the impression that it was populated by the ideologically driven, possibly paranoid, very possibly insane, and in the case of some comments on one thread, overtly racist.

In fact I posted on this site last year links to research which showed the opposite, that the BBC was actually fair conservative in its reporting. If Nigal Farage thinks the BBC is so biased against him, then why is he the single most invited politician on Questiontime? And since he accused a whole audience of being leftwing during one of the election debates, is he that trustworthy a source?

1000 people a day giving up paying the licence fee? In fact the thruth is a bit different:

' The 1,000 figure comes from a Barb survey which measured the number of households that claim to have no TV, or say they haven't watched it in the past six months. While it is true that number has gone up by 500,000 between the third quarter of 2013 and the fourth quarter of 2014 (hence the 1,000 a day figure), 200,000 of those are new households and the survey makes no reference to whether or not any of those homes watch TV live or catch-up on other devices such as laptops or mobiles or whether they pay a licence fee.'

TV licence loophole exploited by viewers and the BBC's critics | Media | The Guardian

In reality, the number of licence fee payers actually went up slightly at the end of the financial year, and of course the fairly awful 'agreement' with the government means that the catchup loophole will be closed. Saying people are not paying the licence fee if they can get away with it is a bit like saying that people dont believe in governments if they try to avoid paying income tax.

'The BBC is now up against a lot of competition, especially from streamed sources, yet they remain arrogant and pump out what they think we like.' This really made me laugh. Damn them for forcing people to watch programmes like Bake Off, which I know my wife only watches because there is someone behind her with a gun. Oh wait, in the real worl, Bakeoff got a 41.8% share of the TV audience, with 8.9m viewers The Great British Bake Off takes the biscuit with 8.9m viewers | Media | The Guardian

Yes, they are really making us watch stuff like Sherlock, Wolf Hall, Eastenders, Countryfile, Atlantic, etc. Its worth pointing out that ITV's biggest audience, apart from Corrie and Emmerdale for the last Barb figures (pre Bakeoff) was Vera - 3.11m. All of BBC1 top 30 got more than that, as did Dragons Den on BBC2. BBC1 alone got a 19.96% share Viewing summary - BARB

I suspect ITV etc are very glad they get their money in a non competative way, else they would be bankrupt.

'Facts are an alien concept' is an accurate description of your view of the BBC - since they have no basis in reality, and easily checked reality at that. If your going to come on a public forum and spout obvious nonsense, expect pushback. Frankly, after your most recent effort, I'd have to say 'double facepalm', if only for trusting Nigal Farage's judgement!


MikeB's 2,579 posts
MikeB's:
map
M's Freeview map
terrain
M's terrain plot
waves
M's frequency data
M's Freeview Detailed Coverage
Saturday, 22 August 2015

MikeB: We'll have to totally agree to totally disagree. You don't work for the BBC? You seem to have a lot of facts and figures. I'm glad to say the BBC is dying and the sooner the better. Their left wing agenda is obvious, I cannot converse with you if you cannot see it. I find it a disgrace that people are threatened and placed in fear that if they don't pay the licence they will be taken to court, all because they had the audacity to watch a TV. Not exactly a criminal act, is it. They get more than a burglar. It's the fact that they think people are made to pay, then they will watch the propaganda transmitted into their living rooms. And you are supporting this in what is supposed to be a free country.
Don't bother replying, you're not 'getting though'.

Nick's 58 posts
M
MikeB
9:21 PM
Macclesfield

Nick: No, I dont working for the BBC (wish I did), nor do I know anyone who does.

As for those pesky figures and facts, thats comes from 'reading' and 'research'. As Steven Colbert put it, 'facts have a liberal bias' - sorry about that.

Is watching a TV audacious? I thought it was a normal activity, but one which does does need to be paid for in some way. I'm sure some would say that putting on illegal Sky content in a pub was audacious, but Sky will get you for it, fine you a lot of money, and possibly seek to have the landlords licences (and livelihood) taken away Glasgow pub fined over £70,000 for illegally showing Sky Sports (From Evening Times) (goggle Sky Sports illegal pubs - thats the tip of the iceberg) . The BBC only take you to court of you've been very silly, and you have to be truely stupid to end up in prison.

If its propaganda, its very popular propaganda. BTW - is Mary Berry part of the effort? Shaun the Sheep? The judges of Strictly? I think we should be told...


MikeB's 2,579 posts
MikeB's:
map
M's Freeview map
terrain
M's terrain plot
waves
M's frequency data
M's Freeview Detailed Coverage
Sunday, 23 August 2015

Nick:
Further to that said by MikeB, you are required by law to have a TV licence if you watch or record live TV programmes, see http://www.tvlicensing.co…one.
That being the case it is entirely proper for those evading the law to receive a penalty when they are discovered and appear before a Court.
As regards BBC 'bias' I find they do display some leaning towards the views more to the left of centre than to the right, they are not completely unbiased in my view. In their pre-election coverage in News and Current Affairs programmes they were decidedly selective of stories that were anti-UKIP, anti-Tory, pro-Labour, pro-SNP, etc. They are especially selective when it comes to covering many matters of science, demonstrated by their refusal to include unbelievers in global warning in any discussion on the matter (science is not a democracy, a majority can easily be wrong as they were about the 'flat earth theory').

MikeP's 215 posts

MikeP: Audacious was used in a particular context and was relevant. I'm well aware of the law. I think it is wrong that people can be fined for just watching a TV. I don't like TV licensing attitude. They assume we watch and so pursue us. They have no rights over us yet put on this act that they do. The way they behave should be regulated much better. Ref lefty bias, just tune into Newsnight each evening, or just watch the News.
You watch it if you want. I want it shut down. I also find it sickening that I was paying for an institution that was using paedophiles, for decades. According to one particular witness this was all known yet nothing was done about it. You watch it. I won't.

Nick's 58 posts
M
MikeB
1:49 PM
Macclesfield

MikeP: When it comes to bias, remember that the SNP were very unhappy with BBC coverage over the referendum (as Nick Robinson has detailed), and Labour certainly were very angry at the BBC's obsession with any deal that labour might or might not do with the SNP, coverage which arguably may have lost them many possible seats in England. In other words, perception is everything. I've long thought that the BBC has bee playing it safe for some years, and largely following the news agenda of the newspapers (try listening to the World Serice after the Today programme - a totally different agenda and running order). Since the bulk of daily newspapers in the UK are Conservative papers, its easy to see how the news agenda can be skewed in one way or another.

I'm sorry, but have to totally disagree about the BBC's coverage of climate change. In reality, its coverage of such an important and multi faceted subject is generally woeful, certainly in its news coverage, but even in features its made just one programme (for BBC4) explicitly about it in the past two years. At best it covers it only when it has to, and despite having been warned in two reports about about 'false balance', it still continues to portray basic climate science as something over which there is still scientific 'debate'.

In reality, the percentage of actual climate scientists who agree that man is warming the climate runs around 97% or more, and every sciencetific institution in the world holds to that position. Since the basis of climate change comes largely from the effect that CO2 has on IR radiation, something discovered by Tyndall in 1864, thats not 'controversial' (as that idiot Letts argued the other week on his programme about the Met Office), thats just physics. If you want an example of what would happen if the BBC had the correct 'weighting' of scientists talking about climate change, then look at a piece John Oliver did on HBO earlier this year, which rightly went viral -

Last Week Tonight with John Oliver: Climate Change Debate (HBO) - YouTube

Fortunately, the BBC does not allow anti-vaxx people, homeopaths or faith healers to take part in serious medical discussions, so why would they allow people on who either dont understand the science, or dont want to? People can believe what they like, but as Neil deGrasse Tyson says, 'The good thing about science is that it's true whether or not you believe in it.'

There are actually loads of excellent websites with authorative and peer reviewed links. The Royal Society has a lot of excellent material, produced in part with the US Academy of Science. There is of course the Met Office, NASA, etc.There is What We Know , from the AAAS, and Realclimate has for years had real climate scientists debating and answering questions. SkepticalScience.com has long been a go to site, not only for its mythbusting explainations, but also for news and the history of climate science. The Carbon Brief is very useful as well, and there are many others, such as Tamino's blog.

Foe those wanting a lovely screen saver, and want to see just how complex the earths climate system is, I'd recommend earth :: a global map of wind, weather, and ocean conditions - 'a visualization of global weather conditions forecast by supercomputers updated every three hours'. NOAA also now have one called Weatherview, which is great, but does take a little longer to load : A New NOAA Weather Model Shows Animated Storms and City Lights - CityLab

Both highly recommended.

MikeB's 2,579 posts
MikeB's:
map
M's Freeview map
terrain
M's terrain plot
waves
M's frequency data
M's Freeview Detailed Coverage
Select more comments
Your comment please