Which 29 stars wrote Prime Minister Cameron to ask him to protect the BBC?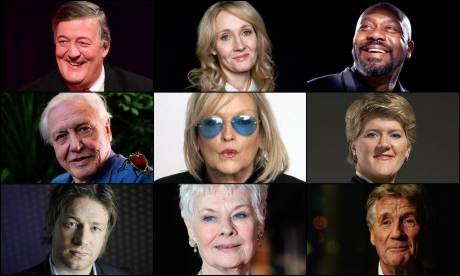 Brian Butterworth
published on
UK Free TV
Dear Prime Minister,
We have seen that the Government has pledged to modernise the licence fee, return funding that had been diverted to pay for broadband roll-out, and increase the licence fee in line with inflation in return for the BBC taking on the costs of licence fees for the over-75s.
The Government and the BBC are now entering the charter review.
We are writing to place on record at the very start of the process our concern that nothing should be done to diminish the BBC or turn it into a narrowly focused market-failure broadcaster.
In our view, a diminished BBC would simply mean a diminished Britain.
The BBC is a very precious institution. Like all organisations, it has its faults but it is overwhelmingly a creative force for good.
Britain's creative economy is growing and enjoying unprecedented success.
The BBC is at the heart of this as the global showcase for our creative industries.
The BBC is trusted and loved at home by British audiences and is the envy of the world abroad.
During the course of the Charter, we will continue to make the case for a strong BBC at the centre of British life and will be vocal in making the case for the BBC as it approaches its centenary.
Yours sincerely,
Clara Amfo, David Attenborough, Clare Balding, Melvyn Bragg, Brian Cox, Daniel Craig, Richard Curtis, Judi Dench, Chris Evans, Stephen Fry, Nick Grimshaw, Miranda Hart, Lenny Henry, Gary Lineker, Michael McIntyre, Steven Moffat, Trevor Nelson, Annie Nightingale, Graham Norton, Jamie Oliver, Michael Palin, Adil Ray, JK Rowling, Mark Rylance, Simon Schama, David Walliams, Rachel Weisz, Claudia Winkleman, Reggie Yates.
Comments
Sunday, 30 August 2015

MikeB: Even if you don't watch it, you get pestered for the TV tax, the assumption is you do watch it. The tactics are 'bully boy' and it's a disgrace this is allowed to happen. For all you words I find the BBC biased, a poor entertainer and is not worth the money. The occasional program I do watch I can use iplayer and I listen to the radio a lot. Non od these need payment. The old format of television is becoming out of date. There is so much more on the internet and other sources of entertainment. And a lot of people agree with me. I see far more arguments against the BBC on the internet than the occasional person like you who is for it.
I stick to my argument, they should be shut down. They are an organisation that has money automatically fed to them whatever they do, and so they go off on their own tangents. Answer if you like, but you are not swaying me one iota.

Nick's 58 posts
M
MikeB
6:14 PM
Macclesfield

Nick: Somehow, I doubt I could sway you in any way. I would of course argue that you view of the BBC are at odds with the facts, but your entitled to your opinions.

However, two things did jump out when reading your last post.
Firstly, 'The occasional program I do watch I can use iplayer and I listen to the radio a lot. Non od these need payment. '.
Setting aside the question of why you are watching/listening to an organisation you cannot abide, its worth pointing out that niether Iplayer or the radio are actually free. Yes, they are free at the point of use, but someone has to pay for that content to be made. In the case of Iplayer, the loophole will hopefully be closed very soon, and you will require a licence to download, in exactly the same way you do to watch live. Of course you cannot encrypt or block radio signals, so if you are listening to the BBC's excellent radio output, we are all still paying for it.

The second thing is 'I see far more arguments against the BBC on the internet than the occasional person like you who is for it. ' . All polling shows that the BBC is really very popular, with 69% supporting the licence fee (and possibly much higher than that, judging by the recent experiment). BBC news is far more trusted than the press, and certainly far more than politicians.

Its relatively easy to find many adverse comments about the BBC, and there are several sites which are just anti-BBC. However, if people are happy about something, they are generally far less likely to comment than the people who are unhappy in some way. And of course if your looking for anti-BBC comments, than you can be subject to 'comfirmation bias' - you tend to see what your looking for. I would suggest that online is not a reflection of the real world.

MikeB's 2,579 posts
MikeB's:
map
M's Freeview map
terrain
M's terrain plot
waves
M's frequency data
M's Freeview Detailed Coverage
Wednesday, 2 September 2015

MikeB: Watching one or two programs on iplayer does not take away that I cannot abide all of the news and political programs. I mostly just watch Dad's Army, but that was made before the lefty-liberal elite took over. The BBC's radio is rubbish. Radio 1 was always a joke, after the great pirates were shut down. Radio 2 is made on the cheap. I stream radio channels off the internet and they are commercial stations, so I'm not paying 145 quid to watch DA on iplayer. The BBC news is telling half the brain dead what to think. If you were to watch, say, RT, you'd see what was really happening in the world.
The latest Comres poll shows 52% in favour of scrapping the licence fee.
http://order-order.com/20…3ejA

In fact, don't bother answering me, go to the above site and take on the BBC knockers there. You will have a field-day.

Nick's 58 posts
Thursday, 3 September 2015
M
MikeB
1:46 PM
Macclesfield

Nick: For someone who doesn't feel that a reply is warrented (as you've said in at least one previous post), why do reply to me? However, lets go through your comment.

Firstly, the phrase 'lefty-liberal elite' is unhelpful. Its not quite a Goodwin, but it brings an ideological viewpoint which is unneeded. Whatever you thoughts on BBC News, are you aware that RT is funded and controlled by the Russian State? And has featured guests and programming which has led to questions of impartiality from Ofcom, etc?

If you dont like BBC Radio, thats up to you, but RAJAR figures say that for the last quarter, BBC stations got 55% of the audience, with commercials making up the rest, but a 65% audience reach. Radio 1 alone got 19%, and Radio 2 got 28%. That 'cheap' station is the single most popular station in the UK. The largest commercial network (Heart) got 17%
RAJAR


Personally, I dont like all of BBC Radio either, but Radio 4 is a gem, 4 extra is very good, and I'm just getting into Radio 6 (according to CompareMy Radio, they are the only ones to play The Indigo Girls, so thats a plus). The World Service is superb, and its great to be able to listen to it all day on DAB etc, rather than having to listen to it during the night, as we used to have to do.

The commercial stations are frankly a bit samey. My wife listens to Heart, but the playlist is pretty limited ('more music choice' - dont think so), and Smooth is fine for about a hour, but its playlist is amazingly small. BBC figures confirm that even Radio 2 at drivetime has a bigger playlist than any of the major commercials, and Radio 1 and 6 certainly do Is Radio 1 too similar to commercial stations? | Media | The Guardian & Boaden defends distinctiveness of BBC radio | RadioToday . And nobody else seems to be doing Norweign Jazz How 6 Music Defined The Music We Listen To Today

Thats fine for the commercial stations - they have to earn a crust, and there is plenty out there on the internet. However, as a quote from this article shows, the commercial view is that 'A successful national radio entrepreneur I talked to told me that he made his station work by having a very limited playlist, which was then repeated throughout the day. That's the polar opposite to 6 Music's approach. ' BBC - Gomp/arts: Are you sending out an SOS for 6 Music? . Thats why we pay our licence fee. And the excellent 'Compare My Radio' (which I hadn't heard of before, and something that Brianist should be using whenever this sort of discussion comes up) points up the same thing - Comparing: Capital FM to BBC Radio 1 - Compare My Radio . And also refutes the idea that Radio 1 and 2 have a large cross over playlist - data says otherwise - Comparing: BBC Radio 1 to BBC Radio 2 - Compare My Radio

But people do like BBC radio, judging by the number of listeners. And the recent 'deprivation' experiment showed the same thing - that people liked the better mix of music, etc. Reluctant licence fee payers don't like life without the BBC after all | Media | The Guardian . BTW - I notice that our very own Brianist was the first comment!

Ok - so what about that poll? Firstly, its over a year old, most polling puts licence fee supporters at nearer 70% (and ultimately nearer 90% if you look at the 'deprivation survey') and the questions are a bit suggestive. 'The current system of a compulsory licence fee paid by individuals who watch live television' - compulsory is correct, but it also sounds coercive. If you'd changed it to 'that we all pay equally', you might get a different answer. And of course the 'live television' bit is basically obsolete.

Of course people are going to say they want subscription or adverts if you ask them (to be fair the 'abolish the BBC' question did sort of point out the consequences), because thats seemingly easy, and the bulk of the press continually suggests this. Once you point out the costs of going with a subscription model (how would that even work with radio?), and the shortcomings of advertising, then I suspect that most people would change their minds. And remember thats just one poll (from a organisation that claimed it got the closest in predicting the General Election result, but actually got the Tory share wrong by 2.7% and Labour by 2.9%). What does the bulk of polling say?

Did you actually read the website that you linked to? Guido is pretty well known for his style of coverage (UK Drudge Report?) and is hosted by The Sun , but the comments are not just 'BBC knockers', they are actually really unpleasant.

There are comments such as: 'had we arrested and shot in perfectly cold blood all the socialist bastards that could be found anywhere, between about 1884 and 1920.',
'The BBC is populated with shirtlifters, peedos liars and noncing lefties. Nuke them from orbit, it's the only way to be sure.',
'Making themselves the official PR agency for third world immigration invasion was the last straw' &
'The UK's record on refugees isn't good. After all we were daft enough to admit Milliband and son in 1940' (since Ralph Miliband volunteered to be parachuted into Belgium to help the Resistance, served in the Royal Navy, and had a number of relatives and close friends murdered in the Holocaust, this last comment seems particularly tasteless). Some comments are actually worse.

I dont want to have a 'field day', I just hope that such ignorance and bigotry is limited to a tiny part of the population.

MikeB's 2,579 posts
MikeB's:
map
M's Freeview map
terrain
M's terrain plot
waves
M's frequency data
M's Freeview Detailed Coverage
Select more comments
Your comment please