Fixing the Freesat Freetime internet connection problem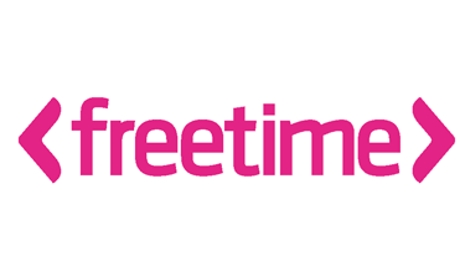 Brian Butterworth
published on
UK Free TV
If the online services have worked in the past, but not today, here's how to fix the problem. Once done the box will continue to work until the Freesat box is powered off.
Step 1. Press the "Settings" button on the remote control.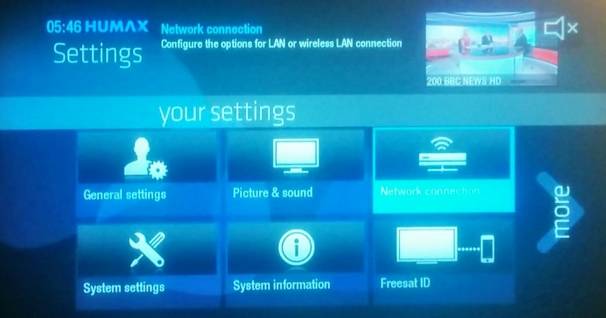 Use the right arrow to select "Network connection" and press "OK".
Step 2 On the "Broadband connection screen"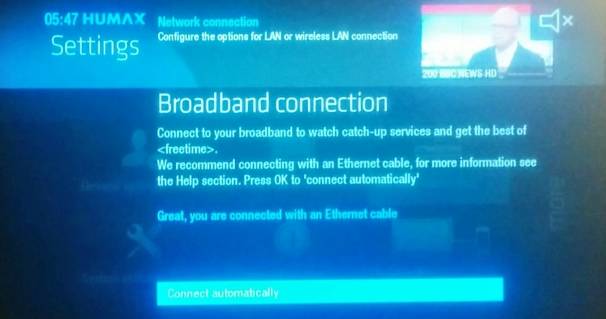 Press OK to select "Connect automatically".
Step 3 See the "Great You're connected" screen.
This means everything is OK.
Step 4 Press the "freesat button" and scroll to "On Demand" and press OK
Everything will be fine until the box is powered off.
Comments
Monday, 16 October 2017

Alan Claridge: You would need a USB DVB-S2 satellite tuner such as the one at the link below, which needs to be connected to a satellite dish pointing at the 28E orbital position (you can reuse the existing dish and cabling if your property has previously had Sky). You won't receive Freesat as such, but you'll be able to receive all the free to air (FTA) channels which are available on Freesat.

Hauppauge PCTV DVB-S2 Stick 461e Computer TV Tuners - Black: Amazon.co.uk: Computers & Accessories

StevensOnln1's 3,567 posts
Monday, 27 November 2017

I have done a full reset, and followed your above instructions but when I go to on demand it keeps saying "on demand is not currently available ", everything else is working fine. All software is up to date?

Roger Berry's 1 post

my on line services have been off for the last two days, both on demand and showcase, the box would not connect automatically managed to connect manually but still no online services, I put the google DNs in as the secondary and now can get showcase, on demand now has icons but if I select any of them it says the link is not working.

One other thing all recording failed on Saturday with no error messages, box has been restarted a number of times, I can see the box connected to the router and can ping the box ip address, I do have a broadband connection on both my phone an laptop

Tom Davies's 1 post

Tom Davies: That sounds like an internet problem, not a TV problem.

MikeB's 2,579 posts

Roger Berry:
a) have you connected the box to the router?
b) how old is the box - the software might be the latest, but that might be old.

MikeB's 2,579 posts
Tuesday, 28 November 2017

Tried all the above. Internet is ok, tv channels coming through but no on demand!!...the box is only 7 months old and has all new updates etc. Says available in 1minute but that minute never comes grrrr.... It wasn't a cheap box to buy and ditched sky for this.. Please help..

Gail burtonshaw's 1 post

I'm having the same problem. No on demand or showcase service. Followed instructions and all us ok. It's getting on my nerves

Jean Palmer's 1 post

Jean Palmer: Go to the manufacturers website /forum, you might get help there.

MikeB's 2,579 posts
Wednesday, 24 January 2018

Been using the Freesat HUMAX box for several years trouble free. Last night tried to access iplayer but a message cam up Sorry, no internet connection has been connected.
Tried going through settings; network connection,connect automatically, but still no joy, same message of no internet connection. Tried turning everything off including router but to no avail. Obviously there is an internet connection as I am acccessing internet with iPad/computer. Read that going back to factory settings may be an option but also noted that this option was not satisfactory- do you lose all the recorded programmes if you opt for this strategy?

Chris's 1 post

Chris: Have you tried again this morning? There could have been some kind of fault at the BBC's end last night.

StevensOnln1's 3,567 posts
Select more comments
Your comment please