To join, leave or change ukfree.tv updates by email, enter your email address here:
#GreatBBC campaign launched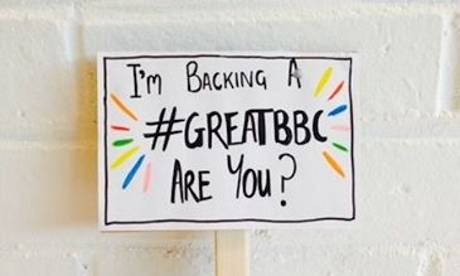 Brian Butterworth
published on
UK Free TV
The website is http://site.greatbbc.com/
They've create a video featuring a number of well know celebrities.
Don't let the BBC become a memory: A short film by Simon Curtis for the Great BBC Campaign
They have listed a number of ways to get involved with their campaign:
Comments
Sunday, 27 March 2016

You are joking. Nick Robinson has changed sides.

Nick's 61 posts
Bronze
Tuesday, 29 March 2016

hi.bbc.mr.d.roughley/requests.the.re.activation.of.th.red.button.for.uk.tv.youtube/apk/bbc.channels/connec.1.ch.225/SM-TV/areial.sat.freeview/as.the.new.bbc.tv.uk/channels/youtube/apk//?executives-of the.BBC/i would/like to make my google/dev apk /the best darn youtube app their can be as competitors dion g rewind & red keep me rattled a little to say the least but although my app is now back on google pages as ovcours the best .i thought maybe should we make the best of all british devmts and install .say/?BBC.YORKSHIRE i did however consider possible loss our countrys bbc may loos /like the need for schedule for our favorite programs& tv magazines would be pointless and ovcourse on demand as whith youtubes bbc.uk ive adapted use of youtubes browser we can wach what we want any old time/also iplayer icon you sent mefrom north doesnt seem to be #libe open screen although it is round though /as an app developer i always wanted the best wigit icon you can have #live video icon/and as i like v.reality imaging some crazy wormholes would look brillianton the div home screen amongst all othersi prommised google/dev an app of the future and something this wicked would be what i need /thank.you bbc.darren.roughley& plz dont tell my uncle dean @ dales tv /by

darren.roughley's 5 posts
darren.roughley's:
Freeview map
terrain plot
frequency data
R&TI Service
digitaluk trade
DAB coverage
Select more comments
Your comment please