Five tips for when you are buying a new TV to watch Freeview or Freesat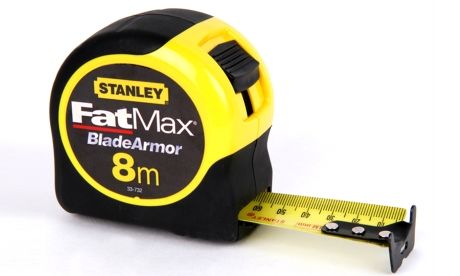 Brian Butterworth
published on
UK Free TV

Why do TV stores have a layout that makes it hard to view televisions from a "sofa" distance?
Tip 1: Measure the distance from your sofa to the set at home and then replicate it in the store
Retail stores show the TVs on sale in a way that is somewhat different to how they are seen from a living room sofa.
Remember that you should view a TV with your eyes in the centre. If you're looking down, or looking up, then you won't be able to see what the set looks like in normal use.
The following table shows four optimal distances** in meters to be from a widescreen TV set. The first "typical" value (shown in green) is the distance away you need to see all of the screen without having to move your head.
"HD" is the viewing distance to see the benefit of Full HD ("1080p"). Cinema is the distance you should be for optimal viewing of movies. The "UHD" distance is how close you need to be to distinguish ("4k") UHD from Full HD.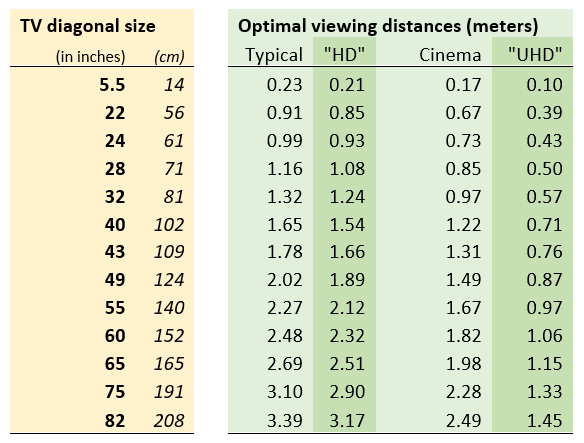 If your set is 3.5 meters away from the sofa, it won't look any better to you HD than standard defintion, even it is an "82 inch" model.
Tip 2: Considering your lighting conditions?
You never see TV sets for sale close to exterior windows. They are almost always at the back of the store where the lighting is constant … and low.
You might have a room like this at home, but if you don't you might want to consider that the TV could also be in a well sunlit room when it's being used, or is used to watch summer sport such as Wimbledon.
The less dark the viewing room, the less benefit you are going to be able to get from new technologies such as HDR (where you can see extra detail when pausing some movies). If it's a general use set in a well lit family area, paying extra for HDR or UHD may never be beneficial.
Tip 3: Can you see the TV you want to buy with live Freeview or Freesat channels?
When you visit, I bet that all the sets are showing wonderful looking mountains, or time-delay aerial city shots or clips from animated movies.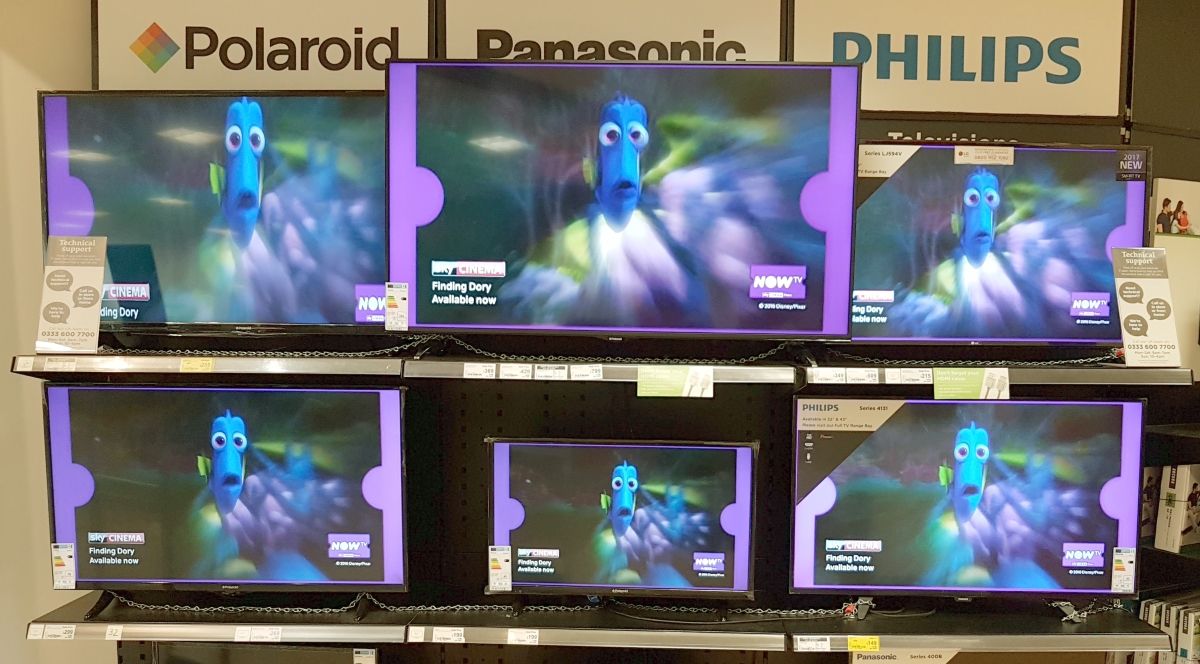 If you want a TV at home to watch Homes Under the Hammer or Dave Gorman: Modern Life is Goodish or Judge Judy – ask the store to show you BBC One, Dave or CBS Reality live from Freeview or Freesat.
Tip 4: Does your TV need to be "Smart"?
The problem with buying a "smart" TV is the screen will last much longer than the "smart" bits - the built-in apps it will age badly because you can't replace the built-in computer they run on.
The software apps on mobile phones are updated daily whilst the software on a "smart" TV gathers virtual dust. Touchscreen mobile phones have brilliant interfaces, smart TVs with their clunky, fiddly remote controls have the worst interfaces ever invented.
You might like to consider not worrying about a "smart" TV and use a £30-ish streaming-device such as Chromecast or Amazon Fire stick, Apple TV or Roku. You can then use the much more conveniennt (Android or Apple) tablet or phone to select things you want to watch. If and when the streaming box goes out of date it's another £30-ish: you won't need to throw away a whole TV set to get "smart" software upgrades.
Tip 5: Use external speakers
Physics says that it is impossible to make a TV flat and get good sound from it.
So, don't worry too much about the sound the TV makes in the store, as you won't be using it: either use an existing stereo or a sound-bar. A good one should last for many years.
What do you think? Do you have better tips? Tell me in the comments below.
** Note: use this equation to calculate viewing distance, d, from diagonal screen size w, using g=30 (mixed usage), 32 (Full HD), 40 (cinema) or 64 (Ultra HD).
Comments
Monday, 30 October 2017

MikeP: I might have confused you! Support for iPlayer has been discontinued on my TV (I do use it on my PC & Tablet. I was able to access iPlayer on the TV on a thu the mains Ethernet link, but since October last year I get an error message saying it is no longer supported on my TV model.

Anyway I now have a Firestick which solves the problem

Bryan

Dr Bryan Roe's 5 posts

Dr Bryan Roe: Good - easy to use and reasonably priced. And of course the most recent versions of Panasonic/Humax PVR's will have Freeview Play (go back on the guide 7 days), plus extra tuners and wifi.

A good thing about buying a decent TV from a decent brand is the growing room. I dont expect the smart features to last forever (my 6 year old Ipod Touch's apps often started to go a couple of years after I got it), or even the Freeview tuner, but with a decent picture and a fair number of HDMI's, you can just upgrade for years.

MikeB's 2,579 posts

Dr Brian Roe:

It is not that the BBC have ceased support of the iPlayer, but your TV supplier has ceased support. So your comment about the BBC stopping support was indeed factually incorrect.



MikeP's 3,056 posts
Tuesday, 31 October 2017

MikeP: Actually, its almost certainly that the BBC has stopped support for that particular version of Iplayer, on that particular platform, which is also probably no longer supported or updated by Panasonic.

Thats not unusual - think of the new software that would no longer work with Windows XP, etc, and the BBC explain it all here: BBC iPlayer Help - Samsung, Goodmans, Apple, etc. The Samsung's seem to drop off if they are from 2010/2011, and thats no surprise.

As the BBC advice puts it: 'You'll still be able to use your existing TV for iPlayer as long as you adapt it with a set-top box or a streaming device', and thats exactly what Brian's done.

MikeB's 2,579 posts

MikeB:

The poster stated that the BBC had stopped support for the iPlayer - which was not true. They may well have stopped support on that oparticular platform but the statement made was a general one rather than being specific to the platform. I think you will agree that accuracy is vital in science, engineering and technology matters.



MikeP's 3,056 posts
Friday, 1 December 2017
F
Festus
7:28 PM
Chester Le Street

Mike P. Does the P stand for pedantic?

Festus's 1 post
Festus's:
map
F's Freeview map
terrain
F's terrain plot
waves
F's frequency data
F's Freeview Detailed Coverage
Sunday, 3 December 2017

Festus:

No, it stands for proper use of the English language.

Being accurate is not the same as being pedantic and in the technical world accuracy is vital, as is correct understanding of the subject so accuracy is equally important.



MikeP's 3,056 posts
Sunday, 11 February 2018

I have another rule of thumb to add, if you want cinematic quality sound from HD channels, choose a piece of Freeview HD equipment that has the Dolby Digital Plus logo on it, the reason for this is that HE AAC sound (on certain programmes but not unfortunately ITV HD as they don't support full 5.1 surround sound transmission), is translated to full pukka proper Dolby Digital 5.1 surround audio which gives superb sound quality on suitable programming and envelops the user with realistic cinematic quality sound to go with those superb pictures.

Anthony's 52 posts
Saturday, 17 March 2018

I would like to purchase a TV with both Freeview and Freesat receivers. Which one would you recommend..

George Cheriyan's 1 post

George Cheriyan:

Depending on the size and type of TV, you've got a fair amount of choice.

As for as 32in and 40in HD TV's, you've pretty much got a model of LG (which I have spotted in a 43in) and the 503 series Panasonic, which is exclusively available from John Lewis in a 32 and a 40in.

But for 4K, you've got a much wider choice. All Samsungs starting from the very decent 6400 series (429 for a 40, etc) will have at least one Freesat tuner built in (7000 series an above will have two). The same goes for LG's, which will also have one as standard (the 670 is particularly good value).

Panasonics will only have one's on the EX750 series (one of my favourites) or above, and they all start at 50in. Sony's have generic sat. tuners generally, with higher level ones having two.

Hope that helps.

MikeB's 2,579 posts
Select more comments
Your comment please