When will your favourite Freeview TV shows move to subscription streaming TV?

Brian Butterworth
published on
UK Free TV
This week has seen the highly regarded UK TV exec Jay Hunt take up a key role at Apple Inc. The former controller of BBC One and chief creative officer of Channel Four joining the US mega-corporation raises some obvious questions about how Apple, Netflix and Amazon might just grab lots UK television shows for themselves.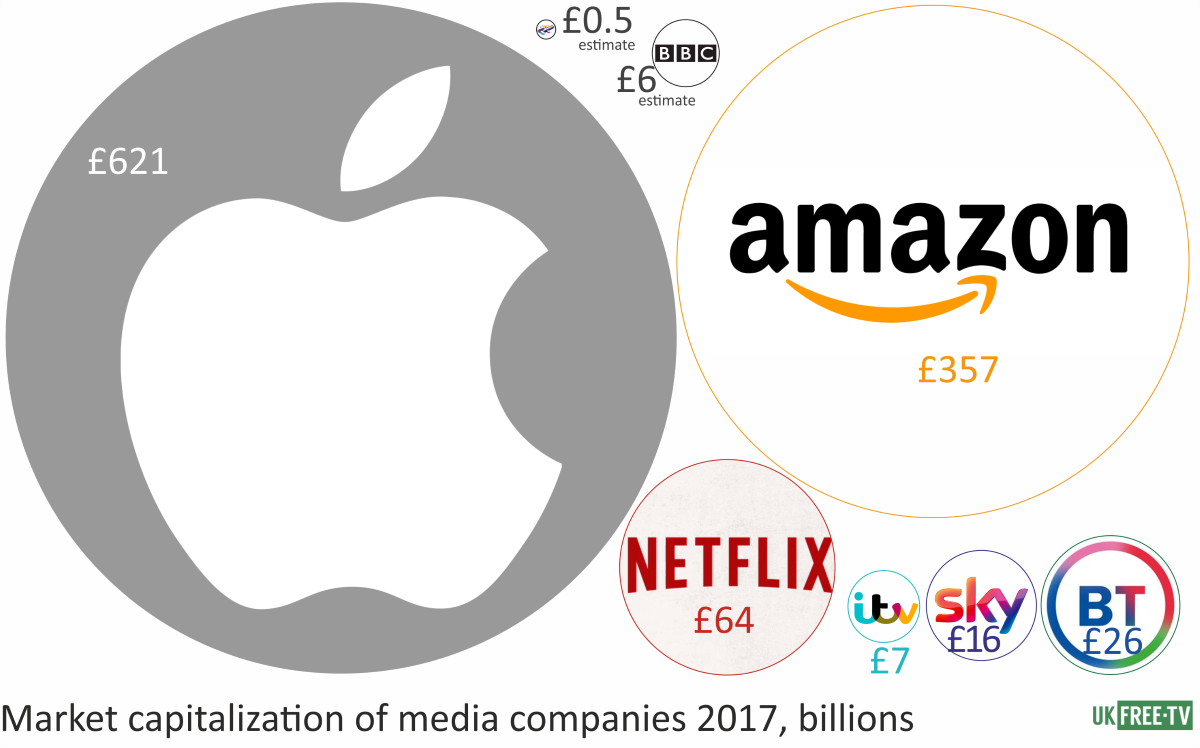 Exhibit 1: The Top Gear example
It is the BBC who owns the format and rights to the Top Gear show, and even made a considerable profit from the worldwide sales of both the format and the UK programmes. It wasn't for sale.
However, Amazon stepped in with considerable amounts of money for the three presenters and the producer of the show. By the simple trick of changing everything (the title is "The Grand Tour") and nothing, the BBC has lost a cash-cow and lacks the money (thanks to the Licence Fee cuts) to compete for the talent it has nurtured.
Top Gear was the number one show on BBC Two.
Exhibit 2: The Great British Bake-Off example
The Great British Bake-Off moved from being BBC One's (and the UK's) top rating show to Channel 4. This happened because the BBC was required by various governments over the years to allocate much of its output to be provided by independent production companies.
Love Productions, the one here, had been taken over by Sky and saw that their business could make the most profit by moving to Channel 4 where the broadcaster would also be able to make a profit from showing adverts around it.
Which rather points to quite a lot of shows on the BBC being easily bought by the Streaming services, should they so wish.
Exhibit 3: The Premier League example
Moving onto football, BT now pay just under £1 billion for two of the seven live packages in the current Premier League TV rights deal. That works out at 1/26th of the value of BT plc. Sky's deal to pay over £4 billion for their set of rights is a whopping quarter of the total value of the company!
Whereas ... £5 billion for the whole lot of Premier League rights would be a somewhat trivial drop in the ocean for the three Silicon Valley streamers, should their attention be drawn this way.
When do you think your top TV show will go? As always, I would like to hear your comments below.
Comments
Sunday, 29 October 2017

If it ever happens, switch off and read a book !

mal's 4 posts

mal: And Amazon would like to sell you the book, as well as the series!

MikeB's 2,579 posts
Monday, 30 October 2017

"Of the three big companies providing streaming TV services Netflix is with 64 billion pounds," -

you should really check for typos before publishing, apart from looking so unprofessional, I had to read it three time before I guessed what on earth you were talking about.

rustyettle's 7 posts

Rrustyettle: Apologies, I was having problems pasting in pound signs and made a small error, which has been now put right. Sorry.,

Briantist's 38,899 posts
Monday, 6 November 2017

rustyettle, perhaps you should have read your own comment three time(s) ........
Briantist, thanks for your informative article, as always.

Rega's 7 posts
Friday, 15 December 2017

I think that the fact that all the big streamers are global organizations is the main factor here. Much of my viewing recently has been from Netflix which are now producing some high quality programs such as "The Crown". They are also producing many programs in UHD with HDR and Dolby+ for a subcription which is cheaper than the licence fee.

I don't think that the streaming services would want to take over much of the current British shows because most are not very good. They seem to prefer to make their own.

Trevor Harris's 367 posts

Trevor Harris: I've been thinking along similar lines for a while, and in part, I agree with you, at least about the global part.

Amazon, Netflix, etc are international brands, albeit ones which have the largest pat of their customer base in North America and other parts of the English speaking world. So their orginal content reflects that. They are essentially distributors doing exactly what all other content distributors have always done - go upstream to make sure they have some control over the product they have available.

So you can buy up a programme and have it exclusively on your service - fine. And The Crown is apparently excellent. Joss Wheedon reckons that Firefly would have been much more successful on Netflix simply because of the wider audience base, rather than Fox, so there is hope that shows can be given a chance before being thrown to the wolves.

But not all the programmes have been equally good or successful, which is perfectly understandable.

And not all programmes travel, especially formats. Top Gear and Bake Off are cases in point.

Amazon didn't buy Top Gear, they bought the chemistry between the three main presenters. Frankly, Clarkeson had been doing his best to be sacked for some time, and with the others following him, they could sort of big up the format with lots more cash. The BBC still has the format, and its very successful worldwide with local versions (the UK version hasn't quite found its feet) , but its was the synthesis between the two things that made it able to travel.

Amazon could have bought Bakeoff - but formats are a delicate thing. C4 got Hollywood, the format and the tent. The new presenters are not bad, but not quite Mel and Sue, and Leith has turned out to be pretty good. But its lost its innocence a bit, and not as many people watch. C4 are very happy, since it brings in enough viewers, especially in the yoiung market.

But there are two reasons it would not work on Netflix, etc. One is that few people in De Moines or Calcutta want to see someone from Dorking bake a cake (the first US version of Bake Off was a total flop). They might watch someone from New England bake a cake, etc, but some things are local. Game shows and talent contests are like that, which is why they have their own versions, even if the format is the same.

The second is that streaming services essentially divorce you from time. You want to watch the whole of The Crown (all ten episodes) at once? You can. But do you really want to watch the final of Bake Off all by yourself? Not really, there is no tension and no social context - your not going to talk about it at work. And watching 6 months later than everyone else? Zero fun.

Much the same goes for Strictly. Its something you want to watch live, or at least not that long after broadcast. Amazon can't buy that format, but there have been loads of photocopy versions with ice skating etc. And again, who wants to watch a 'celeb' you've never heard of do something, months after they've done it?

We dont watch news or sport much on catchup - they are of the moment. And so are certain types of entertainment or drama. And we like to watch people doing these things who we have some sort of connection to.

And UK shows are not better or worse than US shows (we get the best or better stuff - much of it is total dross), but they are different. Series tend to much shorter (Home Fires, Line of Duty, Dr Foster all have 5-6 episodes), and perhaps no more than one or two in many cases. They are much more likely to be based on novels, and thus have a limited narrative length.

They tend to have smaller budgets, and are often not expected to be stretched out to the sort of 13 episode 4 season plus productions you might find in the US. And they often have a different vibe - Line of Duty is very dark.

On the other hand, looking at Netflix and Amazon, much of their content are UK TV shows, like Peaky Blinders (co production), or stuff from the BBC back catalogue.

And much of the content we watch are actually international productions - much of UK period drama has been partially financed by PBS. And Blue Planet II certainly has been, although its the BBC thats the driving force behind it.

In fact, Blue Planet II is exactly the sort of programme you are unlikely to see a streaming service producing by itself - a programme that might take up to a decade to come to screen (4 years on filming alone), using large resources, and with often a message that not all its potential audience might like. The same cash could instead be used for a drama that makes more money. Much better to buy it in....

MikeB's 2,579 posts
Your comment please