To join, leave or change ukfree.tv updates by email, enter your email address here:
When will your favourite Freeview TV shows move to subscription streaming TV?

Brian Butterworth
published on
UK Free TV
This week has seen the highly regarded UK TV exec Jay Hunt take up a key role at Apple Inc. The former controller of BBC One and chief creative officer of Channel Four joining the US mega-corporation raises some obvious questions about how Apple, Netflix and Amazon might just grab lots UK television shows for themselves.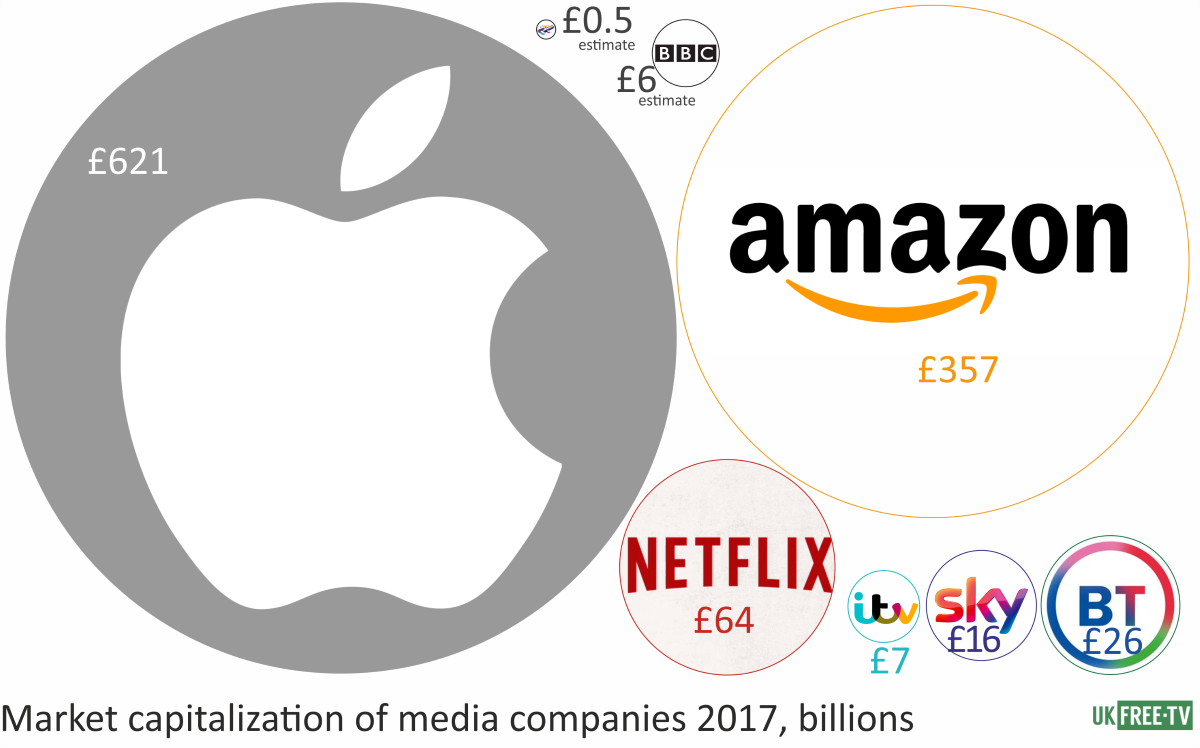 Exhibit 1: The Top Gear example
It is the BBC who owns the format and rights to the Top Gear show, and even made a considerable profit from the worldwide sales of both the format and the UK programmes. It wasn't for sale.
However, Amazon stepped in with considerable amounts of money for the three presenters and the producer of the show. By the simple trick of changing everything (the title is "The Grand Tour") and nothing, the BBC has lost a cash-cow and lacks the money (thanks to the Licence Fee cuts) to compete for the talent it has nurtured.
Top Gear was the number one show on BBC Two.
Exhibit 2: The Great British Bake-Off example
The Great British Bake-Off moved from being BBC One's (and the UK's) top rating show to Channel 4. This happened because the BBC was required by various governments over the years to allocate much of its output to be provided by independent production companies.
Love Productions, the one here, had been taken over by Sky and saw that their business could make the most profit by moving to Channel 4 where the broadcaster would also be able to make a profit from showing adverts around it.
Which rather points to quite a lot of shows on the BBC being easily bought by the Streaming services, should they so wish.
Exhibit 3: The Premier League example
Moving onto football, BT now pay just under £1 billion for two of the seven live packages in the current Premier League TV rights deal. That works out at 1/26th of the value of BT plc. Sky's deal to pay over £4 billion for their set of rights is a whopping quarter of the total value of the company!
Whereas ... £5 billion for the whole lot of Premier League rights would be a somewhat trivial drop in the ocean for the three Silicon Valley streamers, should their attention be drawn this way.
When do you think your top TV show will go? As always, I would like to hear your comments below.
Comments
Sunday, 29 October 2017

If it ever happens, switch off and read a book !

mal's 4 posts

mal: And Amazon would like to sell you the book, as well as the series!

MikeB's 2,302 posts
Platinum
Monday, 30 October 2017

"Of the three big companies providing streaming TV services Netflix is with 64 billion pounds," -

you should really check for typos before publishing, apart from looking so unprofessional, I had to read it three time before I guessed what on earth you were talking about.

rustyettle's 6 posts

Rrustyettle: Apologies, I was having problems pasting in pound signs and made a small error, which has been now put right. Sorry.,

Briantist's 38,781 posts
Owner
Monday, 6 November 2017

rustyettle, perhaps you should have read your own comment three time(s) ........
Briantist, thanks for your informative article, as always.

Rega's 3 posts
Your comment please