How to receive Freeview on your PC

Brian Butterworth published on UK Free TV
If you want to watch digital television, one of the way to do this is use your PC. There are three main options, starting at around only 20.
Option 1: USB box
If you have a laptop computer, or do not wish to take your computer apart to fit a
card
into it, the most straightforward way is to use a USB box.
Once you have purchased
the box
, you first need to
install
some software on your computer. This will come on the CD with your USB package, or you can download the latest software from the company's web site. As a general rule, the on-line software will be a more up-to-date version.
You then plug the box into your
roof
-mounted
aerial
connection, and attach the USB
cable
to one of the USB ports on your computer. If you have USB 2 ports you should use these to get the best possible results.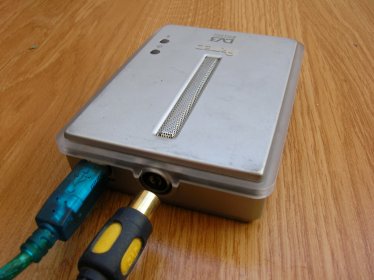 Now start the "Digital TV" software. The first time you use it, you will need to
scan
for the
Freeview
channels
. This can take several minutes (a lot longer than a Freeview set-top box).
Once this has completed, you will be able to select from the Freeview channels that are available in your area.
The software that comes with these boxes has two drawbacks: the channel numbers are not the
standard
Freeview ones (in the example,
BBC News
24 is on channel 2 rather than channel 80), and there are no
interactive services
. This means you cannot view
BBC Parliament
at all, or have the graphical screens when listening to the radio channels.
On the plus side, these boxes do support the full 14 day Freeview programme guide. You can use you PC as a PVR (
personal video recorder
) as the software will record the Freeview transmission and
save
them as MPEG-2 (.mpg) files.
Option 2: PCI card
Another option is to use a PCI card. This will keep the equipment within your PC, but does require the confidence to open up your PC.
To install a PCI card you MUST first ensure that your computer is unplugged from the
mains
. It is not enough to switch it off using the button on the front; you must ensure that it is disconnected from the mains.
Locate a free PCI slot - you will need a screwdriver to remove any blanking plate.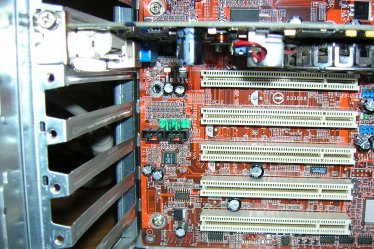 You must ensure that after seating the card firmly in the slot that your digital TV card is securely fastened into the slot. The thick television aerial cables are sturdy and can easily rip out a card that is not firmly fixed.
Once you have replaced the case of the computer, you can then attach the aerial connection to the appropriate connection.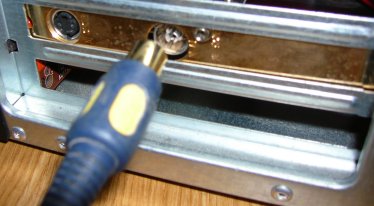 The software installation and operation of the digital television software is otherwise identical to a USB box.
Option 3: Media Center
Microsoft
Windows XP Media Center Edition
2005 has full personal video recorder support, and if you have this version of Windows you do not need to install any software, just one or two PCI cards.
One requirement is that you must have installed some DVD playing software before you can watch the programmes.
The set-up is slightly more complicated than the above, but this results in a easy-to-use programme guide and sophisticated recording facilities.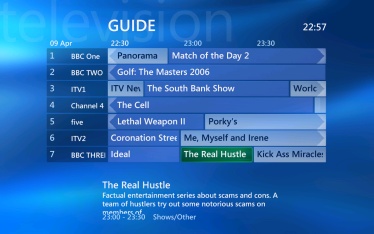 Another advantage of using the Media Center software is that all your recorded TV can be watched by any other PC connected to your home
network
and by any Xbox 360 you may have.
There is now full support for the Freeview digital radio channels, but there are no red button text facilities. However, there is a full BBC News player in Media Center's Online Services menu.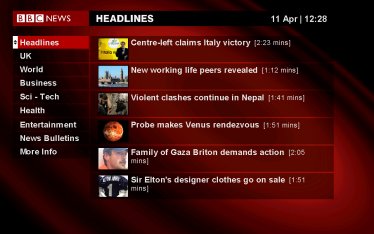 Comments
Wednesday, 2 February 2011

I'd like to use a laptop as a TV in our caravan, as of course it can also be used as a PC >.<

Could you recommend a spec laptop required and kit needed to pick up freeview digital tv please?

David's 2 posts

David: Any laptop will work, as long as you are running Windows 7 for the Media Centre interface.

All you need is a "DVB-T" USB device, of which there are many, that is compatible with Windows 7 Media Centre.

And also a suitable aerial, of course.

Briantist's 38,899 posts
Thursday, 3 February 2011

Thanks for the reply Brian :)

Of the DVB-T devices you refer to, are there any you can recommend, or any "avoid at all costs" brands please?

David's 2 posts

David: As long as there is a "DBA driver" you will be OK.

Hauppauge are a very reputable brand.

Briantist's 38,899 posts
Wednesday, 9 February 2011

Hi All,
Probalby a daft question, but!

I have a fully functional DVBT KWorld PCI Express card in my PC.
BUT! I want to hook up to the Sky box as well as ~Freeview (via RF) and I think that SKY's only an analogue output (Via RF2 as my PC is in an extension, I'm wheelchair bound and wanted TV/PC in my 'world') Can I buy an analogue USB stcik and use it at the same time as the PC has the internal TV card, obviously with separate inputs and somehow get Media Centre to recognise the dual inputs? Or do I have to junk my good internal card and buy an internal / external hybrid TV tuner.

Any help much appreciated.

Andy Hearnden's 1 post
Thursday, 10 February 2011

Andy Hearnden: The Sky system is not really compatible with Windows Media Centre, by design.

Sky really want you to use Sky+ to play/pause/record.

You can get DVB-S2 cards that work with the free satellite channels, however, such as Hauppauge WinTV Nova-S2 HD/PCI Satellite High.. | Ebuyer.com .

Briantist's 38,899 posts
Wednesday, 16 March 2011

Hi,
In have a pctv dvb-t pci card installed
to my pc, but i cant get it to find any channels in the search, yet if i plug my aerial back into a set top box it picks a channels fine, i've now tried a booster aswell and still nothing??!!any help would be great.

Sean's 2 posts
Thursday, 17 March 2011

Sean: The card could be broken. Are you using Windows 7 Media Center to scan for channels?

Briantist's 38,899 posts

Hi Briantist,

I've since discovered that the card had
come unseated in transit, all sorted now.
although the reception is not as good as on the freeview box, coould this because im running a splitter in the cable, one going to the pc and one to a free view box, im also using a booster on the cable going to the pc, otherwise i get no reception, or could it be the quality of the cable. thanks for responding,

Sean

ps- sorry, yes i am using windows7 and yes windows media to scan for channels.

sean's 2 posts
Monday, 21 March 2011

sean: It could be the booster - try removing it from the system if you can and use a passive splitter, as boosters usually degrade digital signals.

Briantist's 38,899 posts
Select more comments
Your comment please