What is happening with the main five channels?

Brian Butterworth published on UK Free TV
After the mergers to create a single ITV company, the company's share price has fallen below £1 this week, and the flagship ITV-1 channel lost out the BBC during the world cup, and ratings for Love Island have be derisory.

Looking at this graph of the viewings share you can see that ITV-1 has fallen from 32% in August 1998 to 21% for June 2006. The graph shows the main five channels and the multichannel share of viewing for each month since August 1998. The thick line shows the rolling year average, with the actual values as thinner lines.




ITV-1s position seems particularly bad, but the BBC ONE share has also fallen, slower than ITV-1, but is now way ahead of ITV-1. BBC TWO is in slow decline with the loss of two points. Five has grabbed a good 6% for years, and Channel 4 has maintained 10% overall. But multichannel has taken the lion's share, up from 14% to over 31% today.

The next diagram looks at the BBC's television channels overall.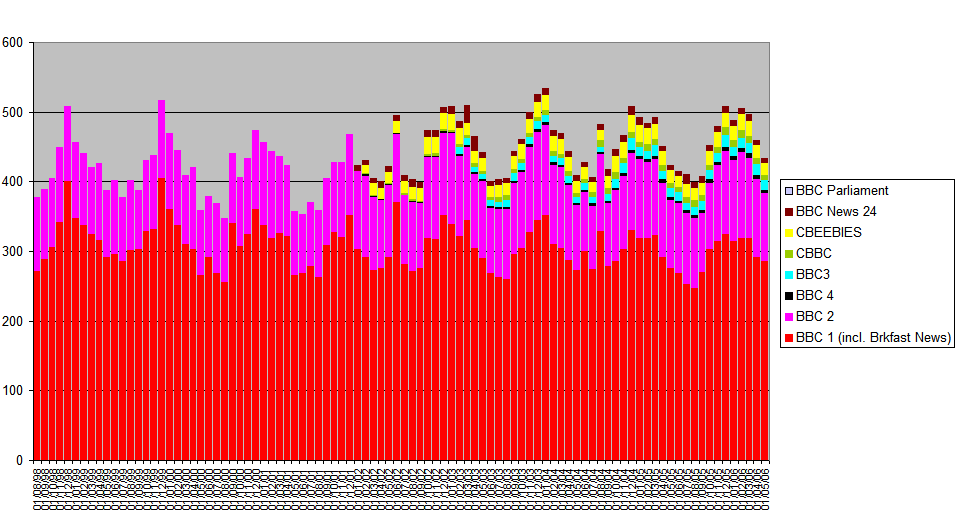 The biggest surprise is that, when added together, the total minutes viewing of the eight BBC television channels has remained steady, and has slightly increased. So, whilst the share for BBC ONE and TWO has fallen in percentage terms, the time spent watching BBC television has spread to the basket of channels.

How successful has E4 been for Channel 4?




Since it was relaunched as a free channel on 25th May 2005, E4 has consistently added to the viewer to the Channel 4 group of channels. More4 has added another consistent block too, and the launch of Film4 as a free channel will doubtless do the same. So both the BBC and Channel 4 are adding viewing time ? and perhaps viewers.

What about ITV?




The graph does not look too bad at first glace, but there are important questions. ITV-3 is mainly a repeats channel, and perhaps should be compared with the similar BBC offering, the UKTV channels. These channels average around 60 minutes a week, at least twice the (admittedly single) ITV-3 offering. Even without this adjustment, the graph is heading steadily downwards. It seems that ITV is shedding whilst the BBC and Channel 4 are gaining.

The problem for ITV is that is depends upon ITV-1, because it is able to charge a premium for its mass audience, so a shift to viewing the other ITV channels is a loss of revenue. So, whereas the BBC has a fixed budget that it can reallocate to the digital channels as people view them, ITV needs more digital channel viewers to compensate for any that just shift.

Another problem for ITV is that is has tarnished its reputation with the ITV digital saga ? not paying people's football teams is about as bad PR as it gets. Whilst relatively few viewers use the interactive services, ITV's lack of them makes the company appear archaic.

The amalgamation that saw the many regional ITV companies become just three has slowly played out against internet-driven localization. Like ships passing in the night, ITV has shed its regional company network image, just when everyone else is trying to personalise, customize and regionalise.

What should ITV do?

(Figures are (c) BARB)
Comments
Your comment please