Freesat reception - all about dishes

Brian Butterworth published on UK Free TV
Satellite reception has both advantages and disadvantages compare with terrestrial (aerial) reception.

By using much higher frequencies (gigahertz, compared to terrestrial televisions megahertz) more transmission channels called transponders (the satellite equivalent of multiplexes) can be provided. For example, there are only six Freeview multiplexes, but Sky or Freesat users can access two hundred satellite transponders.

Aside from exceptional weather conditions (very heavy rain for example) digital satellite provides stable pictures and audio. Where Freeview transmitters are no more than 732 metres above sea level, the geostationary satellites used for television are 35,800,000 metres above the equator so reception is possible even where buildings, trees and hills make terrestrial reception impossible.





The downside of the transmitters being 22,300 miles up in the air is that the signals are very, very weak - so standard TV aerial is of little use. When the signals are sent to the satellites, huge dish transmitters are used to uplink the signal to the satellite. These are tens of metres from side to side, and feature an emitter that generates the signal, which is first bounced of a mirror (called a reflector) and then off the surface of the parabolic dish.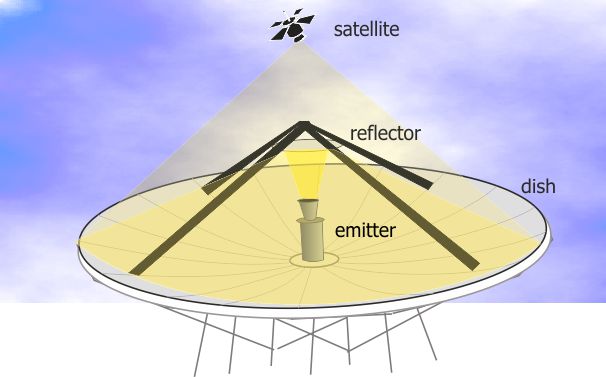 There are many satellites in the sky over the equator. Often these are in clusters over a particular position, for example there are four used for UK television are at 28.2 degrees east. There is another cluster over the 19.2 degrees east positions that are used for German television.

To receive these very weak signals from the satellite, it is necessary to use a dish for reception too. By using a reflective dish, this concentrates the signals onto a small device called a LNB. This is held in front of the dish by a metal arm.




The size of dish for reception is typically much smaller; often 60cm to 100cm in diameter, but the exact size depends upon the transmitting satellite transponder. To keep the transmission power levels down to levels that can be powered by the satellite's solar panels, each beam is focused on a particular area of the Earth's surface. If you are trying to receive the signal at the centre of this zone, a small dish is required. At the outer edges, you may need a 5 metre dish. Maps of these zones are provided by the satellite companies, and are called satellite footprints.

When the dish is installed it must be aligned carefully as the signal is very weak. The installer needs to know the inclination and the azimuth from the ground location to the satellite. If you install yourself you will find that there are markings on the dish that are used to point the dish in the correct position. It is important that the view of the satellite will not be blocked, so must take into account leaves growing on trees and potential building works.

For many people the LNB will have a single cable connected to it, however if you have Sky+ or a multi-room installation the LNB package will actually contain four receivers a quad-LNB. Unlike terrestrial television where you can split the aerial cable to feed more than one Freeview box or television set, with satelite reception you cannot. So, a Sky+ box with two receivers (so you can watch one thing and record another) has two cables connecting the box to the dish.

The cable that connects the dish to the receiver must be satellite grade cable. Whilst this looks superficially like the cable used to connect and aerial to a television, a higher grade cable is required for satellite reception.

Here is an image of a co-axial cable. This sort of cable is used to connect any type of receiving aerial to the reception equipment.




RG6, PF100 and PH100 are all types of coax cable that are suitable for the very weak signals that are received by a satellite dish. (The power is the same as you would receive from a one-bar electric heater on the moon).

The conductor in the centre passes the signals received from the dish to the set-top box. This is made from steel in RG6 cable, and from copper in the RF100 and PH100 types. This makes RG6 less suitable in the UK where rain can damage the cable.

The shielding is responsible for keeping unwanted external interference from damaging the signal. In the cheaper cable this will be a foil wrap, in better specified cables this is a braid (or mesh) of copper wires. The sheild in the RF100 covers 58% of the cable.

The non-conducting layer between the shield and the conductor is called the dielectric. This can be either a solid (RG6), foam (RF100) or air-spaced (PH100) dielectric. This makes the cables progressively more flexible (ie bendy without damage).
Comments
Saturday, 29 January 2011

P.S It may be that your currnt dish assembly is not locking up and has slight movement. I would also check all your wirng and connections. My signal strength reading 90% and PQ reading 100% but with the readings you have then I would have thought your receiver should heve been giving you better results than you have.

Les Nicol's 991 posts
K
Keith Thacker
1:14 PM
Burnham-on-crouch

Thank you very much for all that advice, Les. I have checked all my wiring and connections as well as my elevation and azimuth several times but can do so again ... and the dish seems quite stable. If I go for a new dish, I don't really want to buy a new LNB if I can avoid it. I have a Thomson quad-LNB that is gripped by an angled plastic collar which looks like it is 40cm - it would have been a standard Sky-supplied product. That in turn slots into the dish arm, bayonet-like. Would I be able to fit that LNB easily to a new Triax 54 cm dish? Also,is there any way I can determine whether it is actually a dish or a receiver problem before I (inevitably) spend money on the wrong one? Early in my correspondence with Humax, they raised the question of whether the receiver might be faulty but it is receiving the 14 TV channels mentioned above. Keith.

Keith Thacker's 15 posts
Keith's:
map
K's Freeview map
terrain
K's terrain plot
waves
K's frequency data
K's Freeview Detailed Coverage

Keith - You can check the receiver out if you can connect to a friend or relatives dish. If the receiver tunes OK in that scenario then your receiver is OK. Assuming your receiver is OK then that leaves the dish or a faulty LNB. You hace connected the dish inputs to the receiver left and right inputs and not connected to the centre I assume? You've emtered the menu and checked diagnosticts to determine signal and PQ on both tuners as it appwars on the TV screen?

Les Nicol's 991 posts
K
Keith Thacker
6:02 PM
Burnham-on-crouch

Hi Les, I'm most grateful for your advice. I shall take the receiver round to a friends house as suggested, tomorrow. Yes, both the dish inputs to the receiver are correct; I've avoided the central LNB1 OUT connection. As regards the menu diagnostics, although I have two inputs from the dish, the HUMAX diagnostics page only shows a single set of signal strength and quality readings. I assumed that these readings applied to both channels and I can't see a way of bringing up a second set. If you are familiar with the HUMAX FOXSAT-HDR could you please tell me how I can view the second set. Keith.

Keith Thacker's 15 posts
Keith's:
map
K's Freeview map
terrain
K's terrain plot
waves
K's frequency data
K's Freeview Detailed Coverage
Sunday, 30 January 2011

Keith Thacker: Purely on the Humax HDR issue, are you sure that when you were going through the original set up procedure you selected "two dish input", as although it might not apply in your case but anyone who updated to a dual or quad input who had originally stated off with a single input looped to LNB2 will not get correct operation until a complete reset is carried out, as the Humax box is unable to recognise a change to a proper twin input.

Another point is, you should test each of the Humax's LNB inputs individually by carrying out a "freesat" scan (this chosen at installation menu) on LNB1, note what you receive including the signal strength / quality, then using the same input lead swap it over to LNB2 and scan again noting if anything has changed, as that's the only way to verify if both inputs are performing properly.

As far as postcodes are concerned, pick a few from your local phone book as the Humax wont always recognise every one, and once your problem is rectified should you find that the BBC/ITV news service isn't correct for where you reside just enter a postcode chosen from the phone book applicable to an area closer to the district you require, the reason I say this is that numerous people put up with viewing what's supposed to be their local news but isn't! simply because they don't realise they can quite easily rectify the problem this way.

jb38's 81 posts

Keith - The last post from jb28 seems to ibclude further info I might have given you. Let's know how you get on in testing the receiver in another locus.

Les Nicol's 991 posts

Keith - One other thing you can try is check both cables at the reciver end with you meter - This should give you a reading on the scal and an audible signal on both. If not then your back to dish LNB or cabling.

Les Nicol's 991 posts
K
Keith Thacker
6:26 PM
Burnham-on-crouch

Les's comments yesterday lunchtime got me thinking about the fact that my HUMAX seemed to recognizing only one of two channels. I went through the "manual tune" procedure again and saw a blued-out message reading "Tuner 1 (Fixed)" but there was no sign of the other tuner. I then did a factory reset and was able to tune both channels (the HUMAX screen calls it "two cable") successfully; I then downloaded a software update and was able to get the HUMAX to accept my postcode.
The problem was exactly as jb28 described it. When I first bought the receiver I decided to try to acquire the satellite by using just a single (newly-laid)cable in order not to disrupt the existing cable that was carrying terrestrial TV. I had no idea that the HUMAX would store away this early attempt and fail to recognise that I was now using two cables(no plug-and-play for HUMAX!). I believe that there should be a reference to this pecularity in the HUMAX documentation and/or on their website. The "invalid postcode" message should also be clarified. Although some people may not know their postcode, a more likely cause of the problem is that their dish is not also acquiring Eurobird1(at 28.5°E) which is essential for ITVHD, EPG, Software Updates etc, and also controls the postcode checking system.
I'm now receiving a load of good quality channels and the HUMAX seems a very nice piece of kit, with the major exception of the user instructions. I shall pass on some feedback to them. I would like to thank Les and jb28 for their help and patience. Great site! Best wishes, Keith.

Keith Thacker's 15 posts
Keith's:
map
K's Freeview map
terrain
K's terrain plot
waves
K's frequency data
K's Freeview Detailed Coverage

Keith Thacker: Thanks for the update Keith and pleased to hear that you have sorted your problem out, of course basically caused by the shortcomings in the user instructions making problems such as you experienced difficult to figure out, although having two of these "excellent" boxes myself does help! - Regards jb38.

Les Nicol: Apologies for jumping in on the thread as I do I realise you were advising Keith, and your advice re; trying the box out elsewhere is something I would possibly have advised myself, but its just that I know people get caught out by certain peculiarities on these boxes and likewise felt obliged to pass my knowledge on regarding possible reasons of the problem, plus a little bit of additional info regarding postcodes which may be of assistance to anyone else experiencing difficulties with incorrect "local" news on their freesat devices, this irrespective of brand or whether or not its a PVR.

jb38's 81 posts

Keith - Happy that jb38's input also helped you sort out this problem. The Humax manual does have shortcomings but it is a very capable product. This receiver has onboard diseqc dish motor control including USALS - universal satellite automatic location software. This isn't set out in the manual either. One needs to go to the Humax forums to get the info on this and how to get the code that allows one to enter the hidden menu structure via the boxes remote control in order to configure satellites other than at 28degrees South East. Granted not everyone would want to make use of this but never the less it would have been helpful to have also set this out in the instruction manual as is set out in the Technisat "Freesat" single tuner PVR.

Les Nicol's 991 posts
Select more comments
Your comment please