Freesat Launch: brilliant for everyone

Brian Butterworth published on UK Free TV
Today saw the official launch of the new Freesat service from the BBC and ITV. Mark Thompson (BBC) and Michael Grade (ITV) were present to announce this new 'landmark' television service.

As from today, you can buy Freesat boxes from high street stores such as Argos and Currys.digital to get pictures that a five times better than standard television with a'cinematic experience, and surround sound'.

Humax and Alba boxes will be start from around 120 for HD boxes, and 50 for SD ones. And there is an integrated television (shown below) from Pansonic. Personal Video Recorders will be aviliable very soon.

The BBC HD service is already on air, and ITV will be starting soon, including the football (FA cup and Euro 2008). The BBC will also air the 2008 Olympic Games in HD. A range of additional HD channels including Channel 4 and Film4 will start very soon as well.

Michael Grade said that this was hugely important from the BBC and ITV, in particular for the 25% of homes in 'bits of the country that cant get Freeview' , and that Freesat represents final piece of the analogue switch-off. Sir Michael refuse to call it switchover preferring switch off as 90% of homes already have digital TV, indicating there was a little to go, with lots of second and third sets to be converted.

He explained that ITV had for 50 years provided free access to its programmes, and that free-to-air remains just as important in todays global market, adding that ITV was ahead of the field as the biggest producer/broadcaster in Europe: ITV2 and ITV3 two most watched digital channels and that ITV4 is now in the top 10.

He announced that ITV HD service will start with FA cup this autumn and in 2008 the ITV HD channel would show the best of ITV schedule, drama and acquired programming in HD. Freesat, he explained, complements Freeview and it now means that virtually every house in the UK will be able to access ITV HD free to air, saying Freeset will prove to be a huge success.



Mark Thompson (BBC Director General) and Michael Grade (Cheif Executive, ITV plc) watch the Freesat launch video.

Mark Thompson said that this is a really interesting and exciting day. The BBC has seen Freesat as important for a long time, as it is important to get digital services to every household. Explaining that the BBC was charged by the government with a leading role for the switch-off. Freesat can make a real difference for that. HD an important part of that. The BBC HD secdule will include Wimbledon, Hussle, Strictly Come Dancing, music, arts and documentaries.

He also announced today that there would be 300 hours of HD from the 2008 Beijing Olympics: without subscription, and without charge.

Something else he considered important was that every Freesat box has an Ethernet port to connect to broadband internet. The BBC iPlayer will be available though the Freesat very soon, and will provide an open platform for on-demand content, which is a concept new to satellite broadcasting.

He added that Freesat has a formidable future. Public service broacasters have provided a leading role in switchover, adding that he Declares freesat launch official launched.



First view of Freesat.

Asked why the service had been in preparation for so long, Mr Grade explained that the BBC Trust had to first run a consultation and the agreement between the BBC, ITV and Channel 4, adding that the manufacturers and retails had to be lined-up, these things take a while.

Mr Thompson said here we are in 2008 and if you look at the switchover timetable, you look at the position we have reached with high definition services, it feels like the right time. High definition is an important part of the value we provide and could not have provided a couple of years ago. This feels like the right time to lauch.

Asked if ITV HD will be on Sky or cable, Mr Grade said that it certainly will not be available on Sky at the moment because we are a commercial organization and we are giving Sky nothing.

When asked what makes Freesat stand out from fSfS (Freesat from Sky), Mr Grade said that if you go the Freesat route then you are not going to have people driving you mad selling your up to a subscription, encrypted service, because that is basically what happens today. And ITV HD will only be on Freesat.

Mark Thompson said Sky have got a very successful platform where the overwhelimg majority of people want pay services. Freesat is not intended to compete with the Sky satellite proposition. I have for some time been receding letters from Licence Payers who can't get Freeview and want to be able to get the BBC's digital services and don't want to pay a subscription and have been urging us to come up with something like this



Panasonic integrated Freesat television set.

When quizzed about the size of the market for Freesat, it was pointed out that there are 9,600,000 HDTVs in the UK and only a tiny fraction can receive a HD service! Mr Grade said we have also got 25% of homes in the UK for whom the Freeview platform is in accessible. So to start that is a phenomenal market'.

The subject of the marketing budget for Freesat, the BBC and ITV have put in 3 million each, with Mr Grade adding don't forget we have the ability to promote this on air.

Mr Thompson, said the whole point of Freesat is it is not a subscription service. This represents a new choice out there for the market, alongside a rather more expensive free offering from Sky. It represents a choice of manufacturers, starting with a number of basic boxes today. It is more choice for more consumers about how they get digital television. And you can mix and match have a Sky box in one room an a Freesat box in another. I think it means there is going to be a lot more choice.

Freesat will be a success, even if the market turns out to be quite small, I have to say that our experience with Freeview is that the basic proposition of a single payment for a very simple thing that you take home and plug in and it works right away I think is very powerful. I would not be surprised if a significant number of consumers decide to use Freesat.

When challenged that Sky comments that Freesat is a waste of public money Mr Thompson said although Sky does have a free offering it is currently expensive and the manufacturers are indicating that it will be possible to switch to Freesat than they could in the past. Sky have a complicated market and what they are trying to get people to do is to subscribe to pay television, so to date, their free proposition was not exactly 'front of mind' when they talk about Sky to the public. Freesat is straightforward we will not try to get people to subscription, it is a very, very simple proposition and with ITV, BBC and other future partners behind it we think a very simple proposition will help. If people learn more about Sky's proposition that is fine too'.

Asked about Channel five, Freesat explained that they are not involved in the joint venture, and their channels will be on Freesat 'this year' due to some rights issues they have to sort out. Mr Thompson pointed out that the 'Channel 4 channels are on Freesat from day one, and we expect the 'five' channels to arrive very shortly once some of the finer points of channel fives rights are addresses. '

Mr Grade added that the shareholders are 'irrelevant because Freesat has no equity value for the long term, it is just a marketing device'.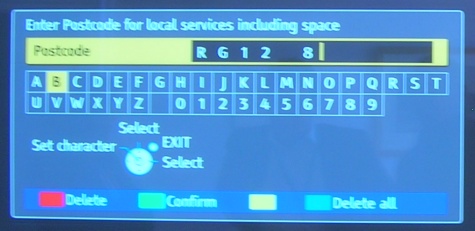 Freesat regional setup by entering the postcode.



Is 120 for a HD Freesat receiver a lot of money? It is a significant amount, but the non-HD receivers start from 50. Compared with the HD subscription, this is a very good deal. I think over time, it is worth noting, looking back at the price of the first Freeview boxes, technology has a habbit of coming down in price over time. We have seen a massive investment in very high specification televisions: 9,800,000 homes have televisions, less than 500,000 have HD receivers.

I think that once you have spent 1,500 on a television, the idea that you spend 120 (plus installation) and have HD for free, forever, strikes me as a pretty good deal. For some people it would be a stretch, but the market is very competitive. Also Panasonic have a range of integrated Freesat televisions ready for sale in a few months time.

Asked about the dish installation, this will only be required if the Freesat box does not replace a Sky dish, and the store will arrange it for you. Freesat say they have spent much effort with the retailers to ensure that the installers that they use have had their records checked, they are vetted, that they have qualifications, but ultimately Freesat is not a vertically integrated company it is down to the retailers to ensure that service is guaranteed and warranted.

Then Mr Thompson made a statement about the ability to allow all-comers access to the platform: This is some way in the future, months rather than years, the approach we would take (we have yet to discuss it fully) from the BBC is that this is an Open Platform, and just as we are committed with our IPTV offerings like iPlayer on the web, absolute designed to work in an Open Environment, where people have a free choice. So I would say on Freesat exactly the same. Although we want clarity in the user interface, in the EPG, what follows is this should be an Open Platform where people get as wide a choice as possible. Even, by the way, if that means in some senses, cannibalization of the original BBC programmes. We believe passionately in Open Platforms and not in walled gardens and not in gatekeeping.

Freesat also added that this is their position when it comes to channels: keep Open Platforms that is passionately at the heart of Freesat.

Freesat pointed out that none of the current boxes have pay TV capabilities, but there was nothing stopping them being sold if manufacturers want to. Freesat is fundamentally a free platform. Freesat has endless capacity [compared to Freeview] and we can have enchanted interactive content, with the LAN port built into every box from the beginning.

Asked if there will be more HD channels than two, Freesat said that is certainly our ambition and pointed out that HD on Freeview has some non-trivial challenges related to putting the DVB-T2 MPEG4 standard on one of the Freeview multiplexes.
Comments
Friday, 12 October 2012

which chanel(s) broadcast 'Hussle'? Which satelite is it broadcast from?

Robert Jones's 1 post
Your comment please