To join, leave or change ukfree.tv updates by email, enter your email address here:
Rowridge 25th March retune

Brian Butterworth published on UK Free TV
Digital viewers in parts of southern England will need to retune their televisions and BBC South Today explains how.

Click the image below to see the video.

The text from the video is reproduced below - full retuning information is provided here: My Freeview box has no EPG, is missing Film4, Channel 4+1, no sound on ITV3 or the channel line up is wrong - ukfree.tv - independent digital television and switchover advice, since 2002




Sally Taylor: If you live in the in the pink area on the map [see below] you won't be seeing very much if you don't get out your remote control out and retune on the 25th March. At the same time the analogue signal for channel FIVE is being turned off. Our very own Doctor Hepworth explains.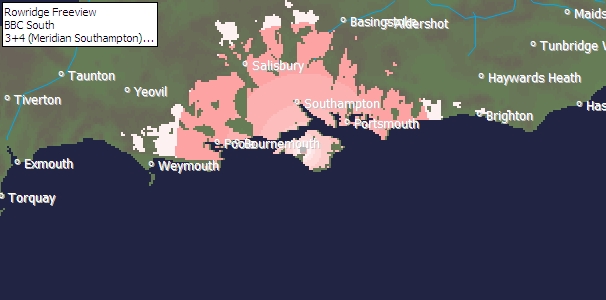 Hepworth: This is the Rowridge transmitter on the Isle of Wight. On March 25th work will start to move the digital channels transmitted from here. John Steel from Digital UK - the organization in charge of this - explains why they are doing it.




John Steel: We are having to move exiting Freeview channels to new frequencies basically and this is to protect them from interference that they would suffer from this summer onwards when neighboring areas start switching over and using high power digital signals.

Hepworth: Jill Williams from Southampton is a big fan of medial dramas like Casualty and Holby City.

Jill Williams: I have to retune my television which I hate the thought of doing, it's a hassle. And I am sure I would just mess up the whole lot.

Hepworth: Retuning your television need not be a complex operation and it shouldn't be a drama. When March 25th comes around all you will need is a remote control and a television.

Engineer: Hit the menu button...

Hepworth: Freeview boxes and TVs differ but if follow the instructions on the menu or in the instruction booklet it takes a minute or two.

Jill Williams: A lot of people like me will think that if I keep pressing all these digits I will break something.

Hepworth: Don't worry, you won't break anything. Just turn it off an then on again and start again. Now if you want to know how these changes will effect you, don't call the newsroom you can contact Digital UK helpline number on the number below [0845 845 0231] or visit their website [digitaluk.co.uk]. After all, the last thing you want to see on 25th March is this [screen showing just snow].
Comments
Friday, 1 July 2011
J
John Clemence
7:51 AM
Burgess Hill

This page could probably be removed by now.

John Clemence's 16 posts
John's:
Freeview map
terrain plot
frequency data
R&TI Service
digitaluk trade
DAB coverage
Sunday, 17 July 2011

John Clemence: Pages are never removed.

Briantist's 38,784 posts
Owner
Your comment please