To join, leave or change ukfree.tv updates by email, enter your email address here:
Aerial group performance

Brian Butterworth published on UK Free TV
Whilst developing the new reception prediction system, I went looking for the reference material relating to the UK Aerial Groups system.

On page 39 of a document entitled "CH61 & 62 Re-Farming Study by Arqiva Final Report 27 October 2008" I found the answers.

To assess the loss of coverage as a result of moving outside of the receive aerial group, account needs to be taken of the performance of receive aerials.

For planning purposes the UKPM assumes that the gain of a receive aerial system is 7dB. This is a somewhat idealised figure based on a good aerial and feeder and no pre-amplifier. The performance of actual receive installations is known to vary considerably from this ideal. Two studies, one for the Virgin consortium that bid for the Channel 5 licence in 1995 and the other for the ITC in 2004 investigated the actual received level for a large sample of domestic installations. This study considered aerial group but not the performance of actual receive installations.

In addition to variability in receive aerial system gain, most aerials are banded and their performance falls away outside their design operating band. The ITC as part of the documentation for the original DTT plan, Notes for applicants on coverage of Digital Television, October 1996, listed the out of group response of representative receive aerials.

I have reproduced the information from the table as a graph. The values are the attenuation (in dB):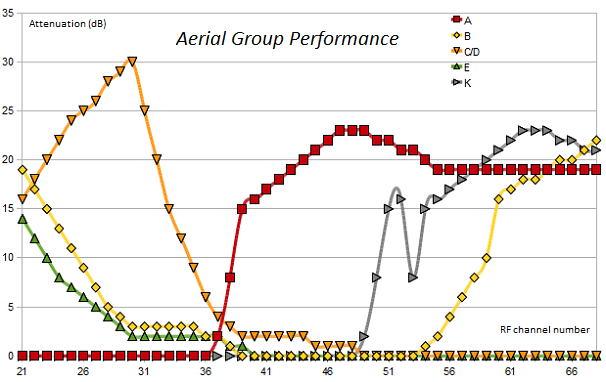 It is interesting to note that in group A, C37 is -2dB and "in group", group B, C35 is -3dB and C36 is -2dB and "in group", group C/D has C48 on -1dB and "in group" and group E has C37 or -2dB and C38 and C39 on -1dB and be "in group".
Comments
Friday, 12 August 2016

Moss : Well, up to a point anyway, that can be quite true!, but one gets what one pays for as far as construction (ruggedness) is concerned, even although the receptive qualities of some cheaper alternative products can be very similar to that of the more expensive equivalents.

However, the item advertised in the undermentioned link could well be of interest.


32 Element DIGITAL Freeview High Gain TV Aerial - Great Unix 32 alternative! | eBay

jb38's 7,179 posts
Platinum
Sunday, 27 November 2016

Hi i live in hull east yorkshire. near wane and was wondering which type of tv aerial would be best could you please help as im having difficulty choosing correct one.Wanted to no which transmitter group i was in i.e. A,B,C POST CODE IS HU7 5DG.http://www.digitaluk.co.uk/coveragechecker/main/trade/hu7+5dg/24/0/99cnn6frru05766kjad4qbraf6

Mark's 1 post
Mark's:
Freeview map
terrain plot
frequency data
R&TI Service
digitaluk trade
DAB coverage

Mark:

According to the 'digitaluk trade' information just below your posting you're best transmitter is Belmont, which is a Group A transmitter. However, I advise that you use a log-periodic aerial that will cover all current and future transmissions, so alleviating any need for further change. Take a look at Online FM DAB TV Aerial sales as a good example of such. I use one and it is excellent. Other makes and suppliers are available.

Do not allow yourself to be misinformed about needing a 'digital' aerial, *all* aerials for TV use in the UK are capable of receiving the RF transmissions and the method of encoding the information is irrelevant to the aerial.

MikeP's 1,524 posts
Gold
Select more comments
Your comment please