Aerial group performance

Brian Butterworth published on UK Free TV
Whilst developing the new reception prediction system, I went looking for the reference material relating to the UK Aerial Groups system.

On page 39 of a document entitled "CH61 & 62 Re-Farming Study by Arqiva Final Report 27 October 2008" I found the answers.

To assess the loss of coverage as a result of moving outside of the receive aerial group, account needs to be taken of the performance of receive aerials.

For planning purposes the UKPM assumes that the gain of a receive aerial system is 7dB. This is a somewhat idealised figure based on a good aerial and feeder and no pre-amplifier. The performance of actual receive installations is known to vary considerably from this ideal. Two studies, one for the Virgin consortium that bid for the Channel 5 licence in 1995 and the other for the ITC in 2004 investigated the actual received level for a large sample of domestic installations. This study considered aerial group but not the performance of actual receive installations.

In addition to variability in receive aerial system gain, most aerials are banded and their performance falls away outside their design operating band. The ITC as part of the documentation for the original DTT plan, Notes for applicants on coverage of Digital Television, October 1996, listed the out of group response of representative receive aerials.

I have reproduced the information from the table as a graph. The values are the attenuation (in dB):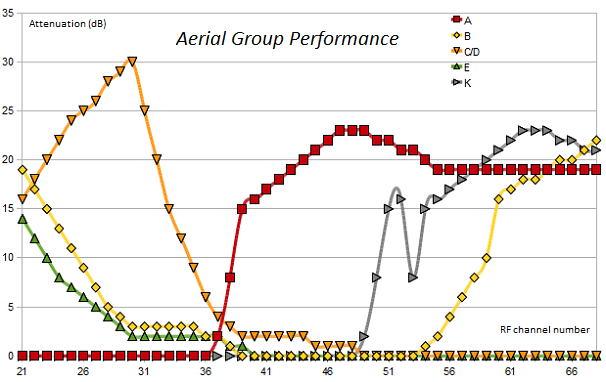 It is interesting to note that in group A, C37 is -2dB and "in group", group B, C35 is -3dB and C36 is -2dB and "in group", group C/D has C48 on -1dB and "in group" and group E has C37 or -2dB and C38 and C39 on -1dB and be "in group".
Comments
Wednesday, 17 September 2014

Many thanks for the prompt reply.
Cheers

Christopher Reid's 2 posts
Monday, 3 November 2014

I have a techwood freeview hd set top box. It receives all sd and hd channels expected with the exception of bbc4 hd and others on the com7 multiplex, my question is, does it need a wideband aerial or a software upgrade to get the missing channels. I have tried every tune and re-tune i know be to no avail. Techwood have gone awol. many thanks

phil shaw's 1 post

phil shaw: Without knowledge of your location (preferably in the form of postcode) it is an open-ended question!

In some cases, yes. In others one may have the issue of COM7's lower power not being good enough and therefore consideration as to whether a different aerial and/or amplifier might bring it in.

Dave Lindsay's 5,724 posts

Dave Lindsay: Hello Dave
location is W3 area in London

Helen Vipond's 2 posts
Sunday, 15 March 2015

Hi, I am trying to find if my Aerial should be set Horizontaly or Verticaly in the EX349SH region of Devon. Thanks Bob

Bob Story's 1 post

Bob Story: Vertically. The transmitter can be seen on StreetView to the east on the hill.

Dave Lindsay's 5,724 posts
Tuesday, 9 February 2016

phil shaw: Your set top box needs a software upgrade. See Freeview Loss of BBC HD channels - BBC - FAQs - Home for further information , and go to Vestel issue. - Technical - Digital Spy Forums for information on how to obtain and install the required software upgrade. The usb route is the easiest way to do it.

DAS's 1 post
Wednesday, 11 May 2016

Hi.
I'm moving to wroxall Isle of Wight. Which colour antenna is best for this area? Postcode PO121RU.
Or should I just get a black coded one.
Thanks for you're time

Lou's 1 post

Lou: The post code supplied refers to a location 13 miles from Rowridge, the terrain indicator showing a clear line of site to same, therefore a log periodic aerial should be more than adequate for your requirements.

A log periodic ideal for use in your (new) location can be seen by opening the undermentioned then scrolling down to LOG36, another being the shorter DM18.

Online FM DAB TV Aerial sales



jb38's 7,179 posts
Sunday, 7 August 2016

Hi. Doi use a wide band aerial on the Belmont transmitter Lincolnshire?
Thanks.

Moss's 1 post
Select more comments
Your comment please