The new Freeview prediction system - includes Freeview HD

Brian Butterworth published on UK Free TV
The new Freeview prediction system - beta - is here. Finally!

If you visit Freeview reception - UK Free prediction you now get a much more detailed page to help you with any reception issues.

As before you can see this page with a postcode, the system will shortly also allow the input of national grid references, or latitude/longitude references.

Firstly, you can get a prediction for any number of dates by selecting the appropriate tab at the top.


Five different views
There are five different views
By direction: this will show the various directions your aerial might point and the services you can receive from the transmitters in that direction.
Received signal strength: this shows the information ordered by signal strength, to help you find the strongest signals.
By frequency: this lists broadcast frequencies from C21 to C68, showing the services on each. This view can be used to find potential interference or to help with digital region overlap areas.
Service names: this lists the services that you can receive, each ordered by the strongest signal.
Transmitter names: and finally an alphabetical list of the transmitters with the services listed by broadcast frequency.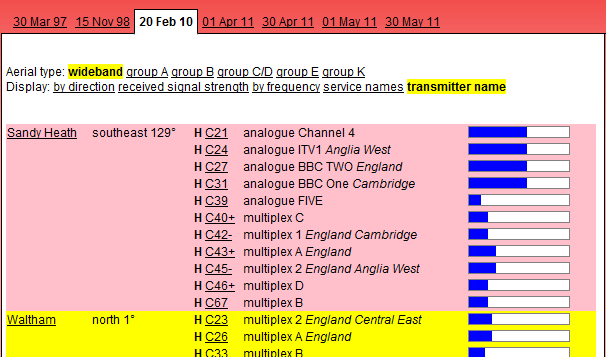 Aerial group choice
When you first visit the page you will see the services received by a "
wideband
" aerial, now you can also select the other aerial groups to see how that will effect reception.
Issues
For the moment it is not possible to resolve postcodes in Northern
Ireland
(BT) or the Isle of Man.
Apologies
for that.
Try it now
Try the new UK Free TV Freeview reception - prediction system now
.
Comments
Tuesday, 11 January 2011

Peter: It's as long term as you like. You need to fix your equipment.

Briantist's 38,905 posts
Friday, 14 January 2011
M
Mark Heselden
10:09 AM
East Grinstead

I was just wondering why the Reigate transmitter is not shown on my map for postcode RH19 2NS as it is used quite widely around here. I believe it was shown in the past.

Mark Heselden's 21 posts
Mark's:
map
M's Freeview map
terrain
M's terrain plot
waves
M's frequency data
M's Freeview Detailed Coverage

Mark Heselden: Please see Freeview on Reigate TV transmitter | ukfree.tv - independent free digital TV advice - the transmitter is very low power.

Briantist's 38,905 posts

Mark Heselden: The Digital UK postcode checker shows Reigate to offer good reception on all six muxes both before and after switchover for your area.

KMJ,Derby's 1,811 posts
Monday, 17 January 2011
P
Paul Carden
12:32 PM
Colchester

My Post Code : CO2 8QD.

I have an internal roof space aerial and when fitted 12 months ago I had no problems with Freeview Channels, even though I was told I may have problems.

In the last week I have had breakup of picture on several Channels.

There may be a problem with Sudbury??.


Please comment.

Thanks

Regards

Paul

Paul Carden's 2 posts
Paul's:
map
P's Freeview map
terrain
P's terrain plot
waves
P's frequency data
P's Freeview Detailed Coverage

Paul Carden: No, the problem is having a loft aerial for Freeview reception. Please move the aerial to the roof where a line-of-sight can be seen to the transmitter by the aerial.

Briantist's 38,905 posts
P
Peter Haworth
6:30 PM
Moreton-in-marsh

Brian

Tried Freeview predictor for GL56 9RJ - the correct answer is Lark Stoke but that is not one of the listed transmitters.

Does the predictor not identify relay transmitters or is there some other issue.

Thanks

Peter

Peter Haworth's 5 posts
Peter's:
map
P's Freeview map
terrain
P's terrain plot
waves
P's frequency data
P's Freeview Detailed Coverage

Peter Haworth: I'm sorry, Freeview on Lark Stoke TV transmitter | ukfree.tv - independent free digital TV advice is here if you want to see it.

Briantist's 38,905 posts
Wednesday, 19 January 2011
B
Ben Armine
1:05 PM
Golspie

Many thanks for providing information in the clear. The tool giving transmitter direction from postcode information is much appreciated.

Where there is a choice of transmitters the terrain representation between transmitter and receiver assists choice.

It is in beta form, but there is an issue about height of receiver. Is this above sea level? Entering the postcode for Main Street Golspie shows the height as 271m when, within a metre or so, it is at sea level. The location is correctly identied on Google maps. It may not be particularly relevant in this instance but might be in areas of difficult terrain.

Ben Armine's 1 post
Ben's:
map
B's Freeview map
terrain
B's terrain plot
waves
B's frequency data
B's Freeview Detailed Coverage

Ben Armine: Yes, very interesting. I'm going to have to have a look at why that figure is showing up.

Briantist's 38,905 posts
Select more comments
Your comment please