The new Freeview prediction system - includes Freeview HD

Brian Butterworth published on UK Free TV
The new Freeview prediction system - beta - is here. Finally!

If you visit Freeview reception - UK Free prediction you now get a much more detailed page to help you with any reception issues.

As before you can see this page with a postcode, the system will shortly also allow the input of national grid references, or latitude/longitude references.

Firstly, you can get a prediction for any number of dates by selecting the appropriate tab at the top.


Five different views
There are five different views
By direction: this will show the various directions your aerial might point and the services you can receive from the transmitters in that direction.
Received signal strength: this shows the information ordered by signal strength, to help you find the strongest signals.
By frequency: this lists broadcast frequencies from C21 to C68, showing the services on each. This view can be used to find potential interference or to help with digital region overlap areas.
Service names: this lists the services that you can receive, each ordered by the strongest signal.
Transmitter names: and finally an alphabetical list of the transmitters with the services listed by broadcast frequency.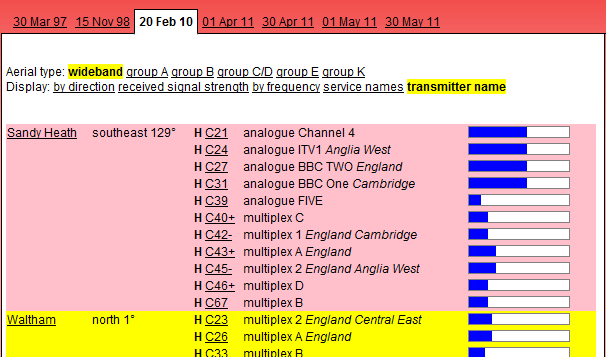 Aerial group choice
When you first visit the page you will see the services received by a "
wideband
" aerial, now you can also select the other aerial groups to see how that will effect reception.
Issues
For the moment it is not possible to resolve postcodes in Northern
Ireland
(BT) or the Isle of Man.
Apologies
for that.
Try it now
Try the new UK Free TV Freeview reception - prediction system now
.
Comments
Tuesday, 8 February 2011
K
ken jones
8:06 PM
Holywell

CH8 7EU...NONE of the aerial location on the diagram are in line of sight.I'm well below all.The only transmitter in sight is STORETON just across the river Dee.

ken jones's 2 posts
K
ken jones
8:24 PM
Holywell

With the introduction of Freeview I had a new aerial installed,all F/view CH available no probs,with the new HD CH54 I can't tune it in either auto or manual. I have an Samsung HDready 1080p TV. But I noticed to-day the aerial is fitted horisontl.HELP....

ken jones's 2 posts

ken jones: Please see What does "Full HD Ready" actually mean? | ukfree.tv - independent free digital TV advice - you'll be needing a Freeview HD box.

Briantist's 38,844 posts
Thursday, 10 February 2011
J
jim seekers
3:21 AM
Edinburgh

all freeview tv and radio channels are off air in the edinburgh area.

jim seekers's 3 posts

jim seekers: Yes. Craigkelly was off air from from 00:13 to 05:26 today for planned engineering work - see Freeview on Craigkelly TV transmitter | ukfree.tv - independent free digital TV advice

Briantist's 38,844 posts
Monday, 14 February 2011

Hi Briantist
I've just done a check using your predictor. My postcode is BS37 4HD. I was surprised that the map produced defaults to the Ridge hill transmitter when it 'appears' that my strongest signal is from Mendip AND that is where I am aligned to. Just a comment. If that's the way it works, OK! Thanks.

Fred's 11 posts

Fred: The default on the map isn't the strongest transmitter. It the first alphabetically I think.

Briantist's 38,844 posts

Well! maybe, but M .. Mendip comes before R.. Ridge Hill in my alphabet. Hey-Ho, next question ?? But why worry?

Fred's 11 posts

Fred: Actually, it should really choose the most suitable, I'll look into changing it, you are quite right to point out the confusion.

Briantist's 38,844 posts
Wednesday, 16 February 2011
T
Tony Collins
3:38 PM
South Shields

Hello, There are no transmitters shown for Post Code NE34 6JY, yet I understand that Pontop Pyke should service this area?
Kind regards Tony

Tony Collins's 1 post
Select more comments
Your comment please