To join, leave or change ukfree.tv updates by email, enter your email address here:
Full Freeview on the Mendip (Somerset, England) transmitter

Brian Butterworth first published this on - UK Free TV
map is loading, please wait...
The symbol shows the location of the Mendip (Somerset, England) transmitter which serves 720,000 homes. The bright green areas shown where the signal from this transmitter is strong, dark green areas are poorer signals. Those parts shown in yellow may have interference on the same frequency from other masts.
This transmitter has no current reported problems
The BBC and Digital UK report there are no faults or engineering work on the Mendip (Somerset, England) transmitter.


Which Freeview channels does the Mendip transmitter broadcast?
If you have any kind of Freeview fault, follow this
Freeview reset procedure
first.
Digital television services are broadcast on a multiplexes (or Mux) where many stations occupy a single broadcast frequency, as shown below.
Mux
H/V
Frequency
Height
Mode
Watts

PSB1




BBCA

H max

C49 (698.0MHz)
591m
DTG-3

100,000W


1 BBC One West, 2 BBC Two England, 9 BBC Four, 201 CBBC, 202 CBeebies, 231 BBC News, 232 BBC Parliament, 601 BBC RB 1, plus 17 others 250 BBC Red Button, 700 BBC Radio 1, 701 BBC Radio 1Xtra, 702 BBC Radio 2, 703 BBC Radio 3, 704 BBC Radio 4, 705 BBC Radio 5 Live, 706 BBC Radio 5 Live Sports Extra, 707 BBC Radio 6 Music, 708 BBC Radio 4 Extra, 709 BBC Asian Network, 710 BBC World Service, 719 BBC Bristol (BBC local radio), 721 BBC Wiltshire (BBC local radio), 722 BBC Somerset (BBC local radio), 734 BBC Solent for Dorset (BBC local radio), 735 BBC Gloucestershire (BBC local radio),



PSB2




D3+4

H max

C54 (738.0MHz)
591m
DTG-3

100,000W


3 ITV (West), 4 Channel 4 South ads, 5 Channel 5, 6 ITV 2, 13 Channel 4 +1 South ads, 14 More4, 15 Film4, 24 ITV4, 24 ITV4 +1, 28 E4, 33 ITV +1 (West),



PSB3




BBCB

H max

C58 (770.0MHz)
591m
DTG-6

100,000W


45 Film4 +1, 101 BBC One HD (England no regional news), 102 BBC Two HD (England), 103 ITV HD (ITV Meridian Southampton), 104 Channel 4 HD South ads, 105 Channel 5 HD, 204 CBBC HD,



COM4




SDN

H max

C48 (690.0MHz)
591m
DTG-8

100,000W


10 ITV3, 20 Drama, 21 5 USA, 26 ITV Be, 27 ITV 2 +1, 30 5STAR, 34 ITV3 +1, 37 Quest, 44 Channel 5 +1, 54 My5, 58 ITV Be +1, 59 ITV4 +1, 61 True Entertainment, 63 Blaze, 66 CBS Reality, 70 Horror Channel, 80 Blaze +1, 92 Quest +1, 203 CITV, plus 19 others JSTV, kykNET, 16 QVC, 85 Hochanda, 260 CCTV, 261 Racing UK, 262 CONNECT 4, 263 SonLife, 264 VisionTV, 265 Planet Knowledge, 267 Revelation TV, 269 Arise News, 270 Loveworld, 670 ADULT Section (start), 671 Television X, 678 Xpanded TV promo, 724 Capital, 727 Absolute Radio, 728 Heart,



COM5




ArqA

H max

C56 (754.0MHz)
591m
DTG-8

100,000W


11 pick, 12 Dave, 17 Really, 29 E4 +1, 32 Sony Movie Ch, 38 Quest Red, 41 Food Network, 46 Challenge, 48 Movies4Men, 68 truTV, 69 Tru TV +1, 72 YourTV, 233 Sky News, plus 12 others 23 Create and Craft, 43 Gems TV, 49 TJC, 65 TBN UK, 252 Kiss Me TV, 253 Proud Dating, 673 ADULT smileTV3, 675 ADULT PARTY, 676 ADULT Blue, 677 ADULT Babestn2, 723 talkSPORT, 730 RNIB Connect,



COM6




ArqB

H max

C52 (722.0MHz)
591m
DTG-8

100,000W


18 4Music, 19 Yesterday, 25 Home, 31 Spike, 39 CBS Action, 42 Travel Channel, 47 4seven, 71 CBS Drama, 73 YourTV +1, 79 Dave ja vu, 88 Quest Red +1, plus 22 others Rishtey Cineplex, 22 Ideal World, 35 QVC Beauty, 36 QVC Style, 78 Sewing Quarter, 93 TJC Choice, 206 Pop, 234 RT, 672 ADULT smileTV2, 674 Babestation, 699 ADULT Section (end), 711 The Hits radio, 712 KISS FRESH, 713 Kiss, 714 KISSTORY, 715 Magic, 716 heat, 717 Kerrang!, 718 Smooth Radio, 725 Premier Radio, 731 Classic FM, 732 LBC,



LBS




H -10dB

C51 (714.0MHz)
591m
DTG-12

10,000W


from 22nd September 2014: 7 Made in Bristol,



com7




H -1.4dB

C33 (570.0MHz)
591m
DTG-6

72,400W


56 5USA +1, 57 VIVA, 64 CBS Action +1, 67 CBS Reality +1, 81 Talking Pictures TV, 82 Vintage TV, 87 Keep It Country, 106 BBC Four HD, 107 BBC News HD, 108 Al Jazeera Eng HD, 109 Channel 4+1 HD, 110 4seven HD, 113 RT HD, 205 CBeebies HD, plus 1 others

Rishtey,





com8




H -1.6dB

C35 (586.0MHz)
591m
DTG-6

69,100W


Community Channel, Front Runner, 55 5STAR+1, 86 More4 1, 95 Freesports, 115 BT Showcase HD (not free), plus 4 others 40 Rocks and Co, 111 QVC HD, 112 QVC Beauty HD, 114 Colors HD,


DTG-3
64QAM 8K 2/3 24.1Mb/s DVB-T MPEG2
DTG-6
256QAM 32KE 2/3 40.2Mb/s DVB-T2 MPEG4
DTG-8
64QAM 8K 3/4 27.1Mb/s DVB-T MPEG2
DTG-12
QSPK 8K 3/4 8.0Mb/s DVB-T MPEG2
H/V: aerial position (horizontal or vertical)
Which BBC and ITV regional news can I watch from the Mendip transmitter?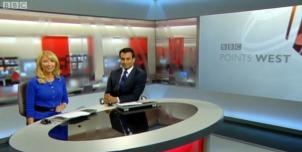 BBC Points West
0.9m homes
3.4%
from
Bristol
BS8 2LR, 25km north
to
BBC West region - 60 masts
.
ITV West Country News (East)
0.9m homes
3.4%
from
Bristol
BS4 3HG, 23km north
to
ITV West region - 61 masts
.
All of lunch, weekend and 50% evening news is shared with West Country (West)
Are there any self-help relays?
| | | | |
| --- | --- | --- | --- |
| Cheddar | Transposer | 15 km E Weston-super-Mare | 1674 homes |
| Luccombe | Active deflector | 6 km w Minehead | 38 homes |
How will the Mendip (Somerset, England) transmission frequencies change over time?
years
1984-97
1997-98
1998-2010
2010-13
27/3/13-
2013-17
30th Jun 2019-
aerial group

C/D

E

E

E

C/D

E

C/D

E

W

K

600
C32

BBCA

C33

com7

D3+4

C34

BBCB

C35

com8

SDN

C36

ArqA

C37
C5
C5
C48

SDN

SDN

SDN

ArqB

700
C49

BBCA

BBCA

C51

LBS

C52

ArqB

ArqB

ArqB

C54
C4
C4
C4

D3+4

D3+4

D3+4

C55

+

2

C56

+

C

ArqA

ArqA

ArqA

C58
BBC1
BBC1
BBC1

BBCB

BBCB

BBCB

C59

+

1

800
C61
ITV
ITV
ITV

BBCA

C62

+

A

C64
BBC2
BBC2
BBC2
C65

+

B

C67

D
orange background for multiplexes names more
green background for transmission frequencies
lilac background for power levels in watts
800MHz band: 4G mobile started in 2013
700MHz band: 4G from 30 June 2020more
600MHz band: new or moved digital TV services more
Notes:
+
and
-
denote 166kHz offset;
aerial group
are shown as
A
B
C/D
E
K
W
Italics for
analogue
, digital switchover was Wednesdays 24th March and 7th April 2010.
How do the old analogue and currrent digital signal levels compare?
Analogue 1-4

500kW

Analogue 5
(-6dB)

126kW

SDN

,

ARQA

,

ARQB

,

BBCA

,

D3+4

,

BBCB

(-7dB)

100kW

com7

(-8.4dB)

72.4kW

com8

(-8.6dB)

69.1kW

Mux 1*

,

Mux 2*

,

Mux A*

,

Mux B*

,

Mux C*

,

Mux D*

,

LBS

(-17dB)

10kW
Which companies have run the Channel 3 services in the Mendip transmitter area
| | |
| --- | --- |
| Jan 1958-Jul 1968 | Television Wales and the West |
| Jul 1968-Feb 2004 | Harlech Television |
| Feb 2004-Dec 2014 | ITV plc |

| | |
| --- | --- |
| Feb 1983-Dec 1992 | TV-am• |
| Jan 1993-Sep 2010 | GMTV• |
| Sep 2010-Dec 2014 | ITV Daybreak• |
• Breakfast ◊ Weekends ♦ Friday night and weekends † Weekdays only. Mendip was not an original Channel 3 VHF 405-line mast: the historical information shown is the details of the company responsible for the transmitter when it began transmitting Channel 3.
Comments
Tuesday, 12 September 2017

Iain Davies: I doubt the local mux has been moved to the main aerial as it would cause massive interference with the Cardiff local mux which is also broadcast on C51 from Wenvoe, which has large areas of overlap with the main muxes from Mendip.

StevensOnln1's 869 posts
Gold

Ian Davis:

There has not been any engineering work reported at Mendip so there has been no known change to the aerial usage.

100% signal strength is too much. What is it like on the other multiplexes? You ideally need between 60% and 85% for good reliable reception, any more and there is a high risk of break-up and the strength should be reduced by using an attenuator or turning down the gain of any amplifier fitted in the aerial cable.



MikeP's 1,580 posts
Gold

Something has happened, as from zero % age to 100%. This shows on the signal meters on my Panasonic blu-ray recorder and Humax HD hard drive box. I used to live to the north of Mendip but now living south as I said until last Friday the signal was nil!

Iain Davies's 5 posts
Wednesday, 20 September 2017

Strange one here, signal dropped a lot only get CH 51 on outdoor Mendip aerial now. Was able until the other day get it via the back of a Stockland Hill aerial, now no signal!!!

Iain Davies's 5 posts
Thursday, 21 September 2017

Ian Davies:

From what you report it very much sounds as if you have problems with your aerial or the cables connecting it to the TV set. Please carefully check all the connections and ensure thatbthere is no visible damage to the cables. then unplug all aerial onnections and plug them back in (that is to ensure there is no oxidation of the contacts, which often causes the problems you report. Then check the signal strengths of all the multiplexes broadcast from Mendip, they should be no less that 50% for the SD services and no less than 60% for the HD services. None of them should be more that 85%, if they are then that will also cause the problems you report.

Finally, please enter you full post code so thet we contributors can check what the signal transmission and reception conditions are at your exact location.




MikeP's 1,580 posts
Gold
Friday, 22 September 2017

MikeP nope nothing wrong with my aerial system, brand new just installed by me. I have installed 1000s of aerial systems with no problems, from the North of Scotland where there was hardley any signal to places you could get perfect reception on a two inch nail!

Iain Davies's 5 posts

Ian Davies:

We still need your full post code. Without it there is no way we can help. Are you sure that your aerial system is correctly installed and aimed? What are the signal strengths of all the multiplexes being broadcast from Mendip?



MikeP's 1,580 posts
Gold
Select more comments
Your comment please