Full Freeview on the Mendip (Somerset, England) transmitter

Brian Butterworth first published this on - UK Free TV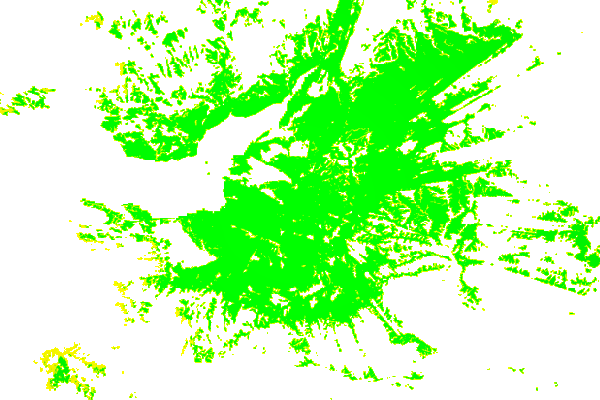 The symbol shows the location of the Mendip (Somerset, England) transmitter which serves 720,000 homes. The bright green areas shown where the signal from this transmitter is strong, dark green areas are poorer signals. Those parts shown in yellow may have interference on the same frequency from other masts.
This transmitter has no current reported problems
The BBC and Digital UK report there are no faults or engineering work on the Mendip (Somerset, England) transmitter.


_______
Which Freeview channels does the Mendip transmitter broadcast?
If you have any kind of Freeview fault, follow this
Freeview reset procedure
first.
Digital television services are broadcast on a multiplexes (or Mux) where many stations occupy a single broadcast frequency, as shown below.
Mux
H/V
Frequency
Height
Mode
Watts

PSB1




BBCA

H max

C32 (562.0MHz)
591m
DTG-3

100,000W


1 BBC One (SD) West, 2 BBC Two England, 9 BBC Four, 201 CBBC SD, 202 CBeebies, 231 BBC News, 232 BBC Parliament, 250 BBC Red Button, plus 16 others 700 BBC Radio 1, 701 BBC Radio 1Xtra, 702 BBC Radio 2, 703 BBC Radio 3, 704 BBC Radio 4 (FM), 705 BBC Radio 5 Live, 706 BBC Radio 5 Live Sports Extra, 707 BBC Radio 6 Music, 708 BBC Radio 4 Extra, 709 BBC Asian Network, 710 BBC World Service, 719 BBC Bristol (BBC local radio), 721 BBC Wiltshire (BBC local radio), 722 BBC Somerset (BBC local radio), 734 BBC Solent for Dorset (BBC local radio), 735 BBC Gloucestershire (BBC local radio),



PSB2




D3+4

H max

C34 (578.0MHz)
591m
DTG-3

100,000W


3 ITV (SD) (West), 4 Channel 4 (SD) South ads, 5 Channel 5 (SD), 6 ITV 2, 10 ITV3, 13 Channel 4 +1 South ads, 14 More4, 15 Film4, 24 ITV4, 28 E4, 33 ITV +1 (West), 45 Film4 +1,



PSB3




BBCB

H max

C35 (586.0MHz)
591m
DTG-6

100,000W


86 More4 +1, 101 BBC One HD (England no regional news), 102 BBC Two HD (England), 103 ITV HD (ITV Meridian Southampton), 104 Channel 4 HD South ads, 105 Channel 5 HD, 204 CBBC HD,



COM4




SDN

H max

C48 (690.0MHz)
591m
DTG-8

100,000W


20 Drama, 21 5USA, 27 ITV2 +1, 30 5STAR, 34 ITV3 +1, 37 Quest, 44 Channel 5 +1, 54 Paramount Network, 55 5SELECT, 58 ITVBe +1, 59 ITV4 +1, 63 Blaze, 66 CBS Reality, 70 Horror Channel, 76 Quest +1, 77 TCC, 80 Blaze +1, 87 Keep It Country, 203 CITV, 211 Ketchup TV, plus 21 others CCTV, CONNECT 4, 16 QVC, 85 Hochanda, 252 Kiss Chat & Date, 253 Proud Dating, 261 Racing UK, 263 SonLife, 264 VisionTV, 265 Planet Knowledge, 269 Arise News, 270 Loveworld, 271 Juwelo UK, 670 ADULT Section (start), 671 Television X, 675 ADULT PARTY, 678 ADULT Xpanded TV, 679 ADULT Studio 66, 724 Capital FM London, 727 Absolute Radio, 728 Heart,



COM5




ArqA

H max

C33 (570.0MHz)
591m
DTG-8

100,000W


11 pick, 12 Dave, 17 Really, 29 E4 +1, 32 Sony Movie Channel, 38 Quest Red, 41 Food Network, 46 Challenge, 48 Movies4Men, 61 True Entertainment, 72 YourTV, 233 Sky News, plus 9 others 23 Create & Craft, 43 Gems TV, 49 TJC, 65 TBN UK, 673 ADULT smileTV3, 723 talkSPORT, 730 RNIB Connect, 731 Classic FM, 732 LBC,



COM6




ArqB

H max

C36 (594.0MHz)
591m
DTG-8

100,000W


18 4Music, 19 Yesterday, 25 Home, 31 5Spike, 39 CBS Justice, 42 DMAX, 47 4seven, 62 True Movies, 71 CBS Drama, 73 Sewing Quarter, 79 Dave ja vu, 81 Talking Pictures TV, plus 16 others 22 Ideal World, 35 QVC Beauty, 36 QVC Style, 206 Pop, 672 ADULT smileTV2, 674 ADULT Babestn, 699 ADULT Section, 711 Hits Radio, 712 KISS FRESH, 713 Kiss FM, 714 KISSTORY, 715 Magic, 716 heat, 717 Kerrang!, 718 Smooth RadioUK, 725 Premier Radio,



LBS




H -10dB

C51 (714.0MHz)
591m
DTG-12

10,000W


from 22nd September 2014: 7 Made in Bristol,



com7




H -1.4dB

C55 (746.0MHz)
591m
DTG-6

72,400W


Vintage TV, 57 5USA +1, 67 CBS Reality +1, 78 Quest Red +1, 92 Pick +1, 99 Smithsonian Channel HD, 107 BBC News HD, 108 Aljazeera English HD, 109 Channel 4+1 HD, 110 4seven HD, 113 RT HD, plus 2 others 74 Jewellery Maker, 733 Trans World Radio,



com8




H -1.6dB

C56 (754.0MHz)
591m
DTG-6

69,100W


CBS Action +1, 56 5STAR +1, 64 Freesports, 83 NOW 80s, 84 Now 90s, 89 Together, 91 PBS America, 96 Forces TV, 106 BBC Four HD, 114 Quest HD, 205 CBeebies HD, plus 2 others 111 QVC HD, 112 QVC Beauty HD,


DTG-3
64QAM 8K 2/3 24.1Mb/s DVB-T MPEG2
DTG-6
256QAM 32KE 2/3 40.2Mb/s DVB-T2 MPEG4
DTG-8
64QAM 8K 3/4 27.1Mb/s DVB-T MPEG2
DTG-12
QSPK 8K 3/4 8.0Mb/s DVB-T MPEG2
H/V: aerial position (horizontal or vertical)
Which BBC and ITV regional news can I watch from the Mendip transmitter?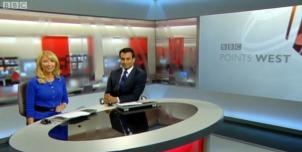 BBC Points West
0.9m homes
3.4%
from
Bristol
BS8 2LR, 25km north (3°)
to
BBC West region - 60 masts
.
ITV West Country News (East)
0.9m homes
3.4%
from
Bristol
BS4 3HG, 23km north (11°)
to
ITV West region - 61 masts
.
All of lunch, weekend and 50% evening news is shared with West Country (West)
Are there any self-help relays?
| | | | |
| --- | --- | --- | --- |
| Cheddar | Transposer | 15 km E Weston-super-Mare | 1674 homes |
| Luccombe | Active deflector | 6 km w Minehead | 38 homes |
How will the Mendip (Somerset, England) transmission frequencies change over time?
1984-97
1997-98
1998-2010
2010-13
27 Mar 13
2013-17
27 Feb 2018

C/D

E

E

E

C/D

E

C/D

E

T

W

T

W

T

C30
_local
C32
BBCA
C33
com7
com7
C34
D3+4
C35
com8
com8
C36
ArqB
C37
C5waves
C5waves
C48
SDN
SDN
SDN
SDN
C49tv_off
BBCA
BBCA
C51tv_off
LBS
LBS
C52tv_off
ArqB
ArqB
ArqB
C54tv_off
C4waves
C4waves
C4waves
D3+4
D3+4
D3+4
C55tv_off

+

2
com7tv_off
C56tv_off

+

C
ArqA
ArqA
ArqA
com8tv_off
C58tv_off
BBC1waves
BBC1waves
BBC1waves
BBCB
BBCB
BBCB
C59tv_off

+

1
C61
ITVwaves
ITVwaves
ITVwaves
BBCA
C62

+

A
C64
BBC2waves
BBC2waves
BBC2waves
C65

+

B
C67
D
tv_off Being removed from Freeview (for 5G use) by 30 June 2020 - more
Table shows multiplexes names see this article;
green background for transmission frequencies
Notes:
+
and
-
denote 166kHz offset;
aerial group
are shown as
A
B
C/D
E
K
W
T
waves
denotes analogue; digital switchover was 24 Mar 10 and 7 Apr 10.
How do the old analogue and currrent digital signal levels compare?
Analogue 1-4

500kW

Analogue 5
(-6dB)

126kW

SDN

,

ARQA

,

ARQB

,

BBCA

,

D3+4

,

BBCB

(-7dB)

100kW

com7

(-8.4dB)

72.4kW

com8

(-8.6dB)

69.1kW

Mux 1*

,

Mux 2*

,

Mux A*

,

Mux B*

,

Mux C*

,

Mux D*

,

LBS

(-17dB)

10kW
Which companies have run the Channel 3 services in the Mendip transmitter area
| | |
| --- | --- |
| Jan 1958-Jul 1968 | Television Wales and the West |
| Jul 1968-Feb 2004 | Harlech Television |
| Feb 2004-Dec 2014 | ITV plc |

| | |
| --- | --- |
| Feb 1983-Dec 1992 | TV-am• |
| Jan 1993-Sep 2010 | GMTV• |
| Sep 2010-Dec 2014 | ITV Daybreak• |
• Breakfast ◊ Weekends ♦ Friday night and weekends † Weekdays only. Mendip was not an original Channel 3 VHF 405-line mast: the historical information shown is the details of the company responsible for the transmitter when it began transmitting Channel 3.
Comments
Saturday, 6 April 2019

Brian:

All UK transmitters are operated by Arqiva and they can be contacted at https://www.arqiva.com/co…us/.

For the most up-to-date details of the abailable channels, please look at the Digital UK Coverage Checker at Digital UK - Coverage checker That is managed by Arqiva and the broadcasters.



MikeP's 2,741 posts
Sunday, 7 April 2019
C
Chris.SE
12:40 AM
Daventry

Brian:

I suggest you re-read my Friday post at 9.10pm - the long one before your last. Especially the paragraph beginning "If you are still having trouble getting all the muxes ....".
Closing down C49 will make no difference. If you follow the MANUAL tuning method I described after clearing the tuning memory by scanning with the aerial unplugged, it should solve the problem.

I'm also reminded by Adrian finding and resolving the cause of his issue with C32 being blocked by an RF modulator, that if you have any RF modulators running from any other "boxes", in the first instance switch them off to see if it solves your retuning problems with the aerial then plugged directly into the device you are retuning. It would probably be best to adjust the modulator channels to ones at the top of the UHF band above C60.

Yes, the channels on this site are currently wrong, please re-read my post immediately preceding your last.
As has been mentioned many times on this board and most other transmitter boards putting your postcode into the DigitalUk coverage checker at Digital UK - Coverage checker will not only give you the current Mux channel allocations, but details of retunes etc. Other pages on DigitalUk and Freeview will give you a wealth of useful information.
The tvchanges page also has some useful FAQs as well as mention of a "Code of Service" and mention of the changes being announced by OFCOM whose site will have lots of background information if you wish to search for it.

Chris.SE's 153 posts

Iain Davies:

Your post Mendip (Somerset, England) Full Freeview transmitter | free and easy gives the impression you are an experienced aerial installer, you also made mention of the 2019 retune events in a post prior to that, so frankly I'm flabbergasted that you aren't aware of all the information and support that's available.

The "organisers" haven't shot themselves in the foot at all. As mentioned by StevensOnln1, retune events, 700Mhz clearance etc has been well publicised over recent times as well as the potential need for a new aerial. In the last few days before the retune(s), there've been on screen messages.

FYI in the analogue days when Channel 5 started up it's UHF allocations were typically C35/C37 indifferent parts of the country. With it being C37 at Mendip, there were "Enhanced" C/D group aerial produced to give improved reception of C35/C37. I guess it probably made them a bit like a Group E.
Anyone with one of these may not have any particular problems with the retunes. But as mentioned in previous posts, help is available from Freeview.
I would guess that C49 will remain on air a while, to give those having problems with C32 chance to contact Freeview for possible help with an aerial upgrade.


Chris.SE's 153 posts

BBC channels may vanish from 760,000 homes across Mendip as Freeview stations move to new airwaves - Somerset Live says:

"Further updates at the Mendip transmitter group to move other channels will take place on 5 June and 19 June. On both dates, work will be carried out overnight at the main transmitter and be completed by 6am. Viewers can then retune at any time after this."

Wonder if this will fix things without needing a new aerial?

FAQs here https://www.freeview.co.u…D.97 mentions:

"4) I've retuned but I'm still missing some channels. What do I do?
Carrying out a full retune on your Freeview TV or box should restore your channels. However, in some cases you may need a new aerial to continue watching all available services. For more information or help with this call the Freeview Advice Line on freephone 0808 100 0288. You may be eligible for free in-home support, including aerial work if needed."

Some form of compensation? Who would be eligible?




Gammerx's 2 posts

Gammerx: The retunes in June will see further multiplexes move to new frequency allocations. If you have a fault now, you should contact the Freeview Advice Line, as you have quoted above. Any viewer who has reception issues following the recent frequency change (where there wasn't a pre-existing fault) and who doesn't also have satellite or cables will be eligible to have a replacement wideband aerial fitted free of charge. This must be arranged by contacting the Freeview Advice Line, they won't reimburse you for the cost of having work carried out by anyone else.

StevensOnln1's 2,384 posts
Monday, 8 April 2019

Gammerx:

Did you carry out a retune as I advised in my Friday 9.10pm post? Clear the existing tuning, then do a MANUAL tune using the Mendip UHF channels (mentioned again to Brian yesterday).
Current Mendip UHF channels 32, 54, 58, 48, 33, 52, 36, 35.

Chris.SE's 153 posts

I think a Manual tune is the answer if people are still finding problems. A lot of the Mendip coverage area is also covered by Stockland Hill and Wenvoe, which confuse many boxes on an auto set up option.

Iain Davies's 11 posts
Select more comments
Your comment please