BBC One
Aims to speak to everyone in the UK through programming that celebrates the richness and diversity of life in new and surprising ways.
Main TV channels
How to Watch: BBC One
Main TV channels

web
other
BBC One
1
Regional content
: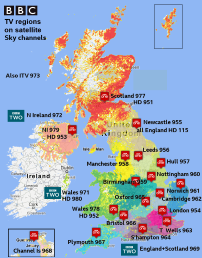 BBC nations and regions TV network - 14 English regions plus Wales, Scotland and Northern Ireland - for regional news. See
BBC nations and regions - overview map - interactive maps
. .
media.info
: For full details of broadcaster contacts, see the
media.info BBC One page
.
Official site
: See the
BBC One website
.
From Wikipedia
: The channel's annual budget for 2011/12 is 1,166.6 million.3 Along with the BBC's other domestic television stations, and many European broadcasters and some in Asia, it is funded principally by the television licence fee, and therefore shows uninterrupted programming with no commercial advertising at any time. It is currently the most watched television channel in the United Kingdom, ahead of its traditional rival for ratings leadership, ITV1. This system used a vertically-scanned image of 30 lines just enough resolution for a close-up of one person, and with a bandwidth low enough to use existing radio transmitters. - en.wikipedia.org
read more about BBC One on wikipedia
(summary by
Clipped
).
Freeview multiplex
: BBC One is on
multiplex PSB1
in
England .
About BBC One
Free channel of the day: BBC One

Brian Butterworth published on UK Free TV
How is the free channel paid for?
The £1,402m
BBC One
budget is funded by the £3,596m Television Licence Fee, and represents 39% of all BBC spending - that's about £1.11 per week per person.
Is the channel live, pre-recorded, new content or repeats?
BBC One has live presentation, and both national and regional are broadcast live. In addition the daily The One Show (7pm) is live, as are sporting events. All other programmes are pre-recorded and are almost always commissioned by the BBC and having their first showing.
What's the channel's unique selling point?
The
channel
is customized for viewers in Scotland,
Wales
and Northern Ireland, as to a lesser extent in the English regions, and has the most extensive television regional news service in the UK.
The programme schedule highlights
Weekdays has national news from 6am-9am, 1pm, 6pm and 10pm and regional news at 1:30pm and 6:30pm. There's a daily soap, Doctors at 1:45pm, and EastEnders (Mon/Fri 8pm, Tue/Thurs 7:30pm) and Holby City (Wed 8pm).
The rest of the schedule is mixed, with factual (Mon 7:30pm, 8:30pm) and entertainment and factual/entertainment mix shows (such as Motorway Cops). Thursday night has politics from 10:35pm onwards, Friday night being entertainment only.
The bits to avoid
The morning schedule of Cash In The Attic, 11:30am and Bargain Hunt, 12:15pm are formalistic.
This channel carries a subtitles service for the deaf, hard of hearing and quiet environments.
Comments
Thursday, 4 October 2018

I live in Harrogate and up to a few months ago I used to be able to get Look North & Calendar North Yorkshire news but now I can only get East Yorkshire & Lincolnshire news. I have re-tuned the smart TV manually and digitally and even taken it back to factory settings uploading my Post Code but still it only gives me the options of East Yorkshire & Lincolnshire so how do I get back to watching my local news? I miss Harry & Amy!
Jen

Jen's 4 posts

Jen: If you provide a full postcode we'll be able to see which transmitters you're predicted to receive at your location, which will enable us to offer specific advice on receiving an alternative region.

StevensOnln1's 2,286 posts
Platinum
Friday, 5 October 2018

Hi Steven, Thanks for your reply my post code is HG2 9NR. My aerial was picking up Emily Moor and is facing the same as all neighbours, it doesn't appear to have moved so I'm puzzled.
Jen

Jen's 4 posts

Jen: Have you checked for any loose or damaged cables or connections behind your TV? Are any neighbours having the same problem? When manual tuning are you selecting UHF channel 47 (PSB1 mux from Emley Moor)?

StevensOnln1's 2,286 posts
Platinum

Hi Steven, We haven't checked with our neighbours as we don't know them too well but I will ask them. When my husband has manually tuned the TV he has been selecting UHF channel 47 but it then won't let you save that it says 'scroll up or scroll down' and always goes a different channel I think 23.
We will follow exactly what you have suggested this evening and I will let you know how we get on.
Jen

Jen's 4 posts

Hi Steven,
Checked with a neighbour today and they do get Look North & Calendar from North Yorkshire region.
I have spend hours this evening trying to change to the UHF channel 47 and it just won't let me. I tried everything and then went to TV GUIDE and went to BBC1 Yorks and ITV Yorks and I've watched both local channels tonight for the first time in ages but I don't know if it will default back to the other ones tomorrow.
I have altered so many things on the TV now I'm not able to watch catch up ITV or channel 5 it comes up with 'an error has occurred, please try later' and I have but they don't work. They have moved position too, they were all in numerical order but they are all over the place now.
I'm going to get my son over to see if he can sort the problems out, he's rather more technical minded than me and my husband!
Thank you for your help.
Regards,
Jen


Jen's 4 posts

Jen: What's the make and model of your TV? We may be able to guide you as it sounds like you're looking in the wrong part of the menu.

StevensOnln1's 2,286 posts
Platinum
Tuesday, 9 October 2018

StevensOnln1: Yes, and frankly, the easiest thing to do is do a factory reset, and then set up as though it was new - it should self tune, set up wifi, etc.

MikeB's 2,561 posts
Platinum
Select more comments
Your comment please