BBC One (SD)
Aims to speak to everyone in the UK through programming that celebrates the richness and diversity of life in new and surprising ways.
Main TV standard-definiton channels
How to Watch: BBC One (SD)
Below is a list of all the television and radio channels that you can watch in the UK using one of the free services: DAB (for radio), Freeview, Sky No Card - Sky without a viewing card (Freesat from Sky (or fSfS)) and Freesat.. Where a channel can be watched for free, the channel number is listed below. In addition, if you can watch (or listen) immediately online, press the button in the "web" column.

As some channels are exclusive to one service alone, you may need to get receive more than one service to get all the channels you want. The coverage for Freeview differs too - those channels not provided by the public service "Freeview Light" transmitters the current coverage shown thus

(54%)

, taken from Connected Nations Report 2017: Data analysis' Key: wb_sunny daytime; watch_later nighttime; account_box funded from the TV License; flags show Freeview channel limits.
Main TV standard-definiton channels
Regional content
: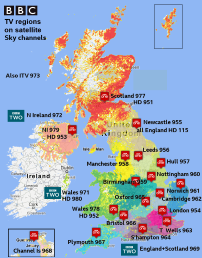 BBC nations and regions TV network - 14 English regions plus Wales, Scotland and Northern Ireland - for regional news. See
BBC nations and regions - overview map - interactive maps
. .
media.info
: For full details of broadcaster contacts, see the
media.info BBC One (SD) page
.
Official site
: See the
BBC One (SD) website
.
From Wikipedia
: The channel's annual budget for 2011/12 is 1,166.6 million.3 Along with the BBC's other domestic television stations, and many European broadcasters and some in Asia, it is funded principally by the television licence fee, and therefore shows uninterrupted programming with no commercial advertising at any time. It is currently the most watched television channel in the United Kingdom, ahead of its traditional rival for ratings leadership, ITV1. This system used a vertically-scanned image of 30 lines just enough resolution for a close-up of one person, and with a bandwidth low enough to use existing radio transmitters. - en.wikipedia.org
read more about BBC One (SD) on wikipedia
(summary by
Clipped
).
Freeview multiplex
: BBC One (SD) is on
multiplex PSB1
in
.
About BBC One (SD)
Free channel of the day: BBC One

Brian Butterworth published on UK Free TV
How is the free channel paid for?
The £1,402m BBC One budget is funded by the £3,596m Television Licence Fee, and represents 39% of all BBC spending - that's about £1.11 per week per person.
Is the channel live, pre-recorded, new content or repeats?
BBC One has live presentation, and both national and regional are broadcast live. In addition the daily The One Show (7pm) is live, as are sporting events. All other programmes are pre-recorded and are almost always commissioned by the BBC and having their first showing.
What's the channel's unique selling point?
The
channel
is customized for viewers in Scotland,
Wales
and Northern
Ireland
, as to a lesser extent in the English regions, and has the most extensive television regional news service in the UK.
The programme schedule highlights
Weekdays has national news from 6am-9am, 1pm, 6pm and 10pm and regional news at 1:30pm and 6:30pm. There's a daily soap, Doctors at 1:45pm, and EastEnders (Mon/Fri 8pm, Tue/Thurs 7:30pm) and Holby City (Wed 8pm).
The rest of the schedule is mixed, with factual (Mon 7:30pm, 8:30pm) and entertainment and factual/entertainment mix shows (such as Motorway Cops). Thursday night has politics from 10:35pm onwards, Friday night being entertainment only.
The bits to avoid
The morning schedule of Cash In The Attic, 11:30am and Bargain Hunt, 12:15pm are formalistic.
This channel carries a subtitles service for the deaf, hard of hearing and quiet environments.
Comments
Monday, 23 April 2012
J
James Bright
10:21 PM
Faversham

My postcode is ME13 8XU and we have previously received BBC1 Southeast (News). Yesterday and today we are being beamed BBC1 London. Our aerial is pointed to Bluebell Hill. Has Crystal Palace taken over and if so how do we get back to BBC1 Southeast?

James Bright's 2 posts
James's:
map
J's Freeview map
terrain
J's terrain plot
waves
J's frequency data
J's Freeview Detailed Coverage

James Bright: Your receiver has a mind of its own.

Where receivers find signals from more than one transmitter they put the duplicate channels in the 800s.

Evidently yours is one of those that knows better than the user and moves things around as it pleases. Look through the settings to see if there is an option that you can turn off to stop it from doing this.

Come Blue Bell switchover, you may find that this won't happen because its signals will be stronger. Crystal Palace completed switchover on Wednesday and so its digital signals are now much stronger.

If your box allows manual tuning, then I would run the automatic tuning scan through with the aerial unplugged so as to blank out what's stored. Then manually add the six multiplexes from Blue Bell.

Dave Lindsay's 5,724 posts
Wednesday, 25 April 2012
J
James Bright
8:22 AM
Faversham

Dave Lindsay

Thank you. Before reading your message I retuned the receiver automatically during the rotten weather yesterday. This might have limited Crystal Palace's power here and the receiver put it in its place and reverted to Bluebell Hill. Should it happen again I will delve into those settings. Thanks again.

James Bright's 2 posts
James's:
map
J's Freeview map
terrain
J's terrain plot
waves
J's frequency data
J's Freeview Detailed Coverage
Wednesday, 13 June 2012

DSO Heathfield all channels are good except the BBC ones? Any reason for this.The freeview worked fine before today (stage 2).
Mark.
TN18 4XB

Mark's 5 posts
Mark's:
map
M's Freeview map
terrain
M's terrain plot
waves
M's frequency data
M's Freeview Detailed Coverage

All fine now did yet another re scan!
BBC1 is now on channel 52 not 50!

Mark's 5 posts
Thursday, 14 June 2012

Near Ashford (Kent) using Dover transmitter. Swichover yesterday - full auto retuned many times and then also repeated with manual searches but BBC 1&2 both not to be found on TV (Toshiba) (but fine on 2 others). No signal at all to be found on Channel 50 where info says BBC 1 & 2 should be. CBBC and BBC radio have all retuned with no problem, as have all other non-BBC channels.
Any suggestions.

Gary's 2 posts

Gary: What's the model number of the Tosh? Some older models weren't built to the full DVB-T spec and won't receive signals that are in 8k mode which is what's used after switchover. 2k mode is used before, which is why non-BBC channels are still available.

Dave Lindsay's 5,724 posts

Hi Dave - I think it is a Toshiba 17wlt46b. There is a wall mounting bracket covering the identification plate so I can only see as far as the 17wlt and have been Googling pictures to identify it!
I will now try to follow up your idea about the 2k to 8k which is something I have read elsewhere, but don't really understand.

Gary's 2 posts
Friday, 15 June 2012

I have lost my BBC1,2 and 3 channels since Wednesday 13 june. I have re-tuned but I cannot received these channels although I still receive BBC 4. Post code ME99RJ and I had a new arial installed last year. My TV is old and I don't have a manual tune option for digital. My wife has a newer TV in the kitchen and I mangaed to retune hers ok. My arial is point towards Bluebell hill

phil's 1 post

phil: Your TV may be old enough that it can't handle the 8K mode that is used after switchover. Check the list at http://www.digitaluk.co.u…ment . This list isn't necessarily complete, there may be other affected equipment that isn't on that list.

Do make sure that you're doing a full retune from scratch - some equipment will ignore channels that it thinks it already knows about, or put them somewhere else in the channel list. See TV Re-tune for guides. If you can't find a guide for your TV, look for the 'factory reset', 'first time installation', 'default setting', or 'virgin mode' option. It may be under a System or Software Update menu rather than the tuning menu.

If after doing that you still have the channels in the wrong place in the list, your TV probably can't handle the larger Network Information Table now required to describe all the services. See http://www.digitaluk.co.u…tnit for a list of equipment known to be affected.

If your TV is on either of those lists, and the manufacturer won't help you, you'll have to buy a Freeview box to convert it. I'd recommend buying a Freeview HD box now even if you don't have an HD TV, because new services are likely to use the same system as Freeview HD, and there may be a reorganization of the existing services within the next five to ten years that also requires it.

Mike Dimmick's 2,486 posts
Select more comments
Your comment please