Full Freeview on the Heathfield (East Sussex, England) transmitter

Brian Butterworth first published this on - UK Free TV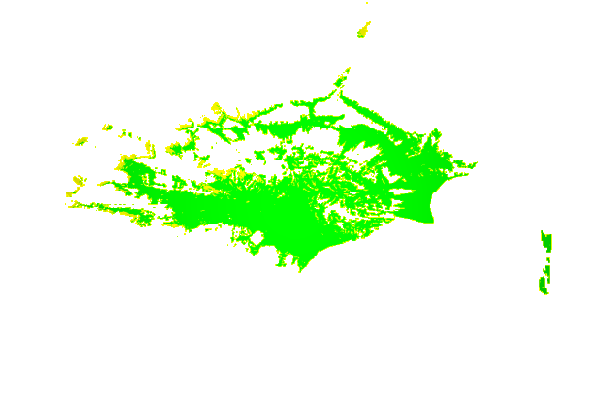 The symbol shows the location of the Heathfield (East Sussex, England) transmitter which serves 170,000 homes. The bright green areas shown where the signal from this transmitter is strong, dark green areas are poorer signals. Those parts shown in yellow may have interference on the same frequency from other masts.
This transmitter has no current reported problems
The BBC and Digital UK report there are no faults or engineering work on the Heathfield (East Sussex, England) transmitter.


_______
Which Freeview channels does the Heathfield transmitter broadcast?
If you have any kind of Freeview fault, follow this
Freeview reset procedure
first.
Digital television services are broadcast on a multiplexes (or Mux) where many stations occupy a single broadcast frequency, as shown below.
Mux
H/V
Frequency
Height
Mode
Watts

PSB1




BBCA

H max

C41 (634.0MHz)
298m
DTG-3

20,000W


1 BBC One (SD) South East, 2 BBC Two England, 9 BBC Four, 201 CBBC, 202 CBeebies, 231 BBC News, 232 BBC Parliament, 601 BBC Red Button, plus 15 others 700 BBC Radio 1, 701 BBC Radio 1Xtra, 702 BBC Radio 2, 703 BBC Radio 3, 704 BBC Radio 4 (FM), 705 BBC Radio 5 Live, 706 BBC Radio 5 Live Sports Extra, 707 BBC Radio 6 Music, 708 BBC Radio 4 Extra, 709 BBC Asian Network, 710 BBC World Service, 719 BBC Kent (BBC local radio), 720 BBC Sussex (BBC local radio), 722 BBC Surrey (BBC local radio), 734 BBC Essex (BBC local radio),



PSB2




D3+4

H max

C44 (658.0MHz)
298m
DTG-3

20,000W


3 ITV (SD) (Meridian (East micro region)), 4 Channel 4 (SD) South ads, 5 Channel 5, 6 ITV 2, 10 ITV3, 13 E4, 14 Film4, 15 Channel 4 +1 South ads, 18 More4, 24 ITV4, 33 ITV +1 (Meridian south coast),



PSB3




BBCB

H max

C47 (682.0MHz)
298m
DTG-6

20,000W


74 Shopping Quarter , 101 BBC One HD (England no regional news), 102 BBC Two HD (England), 103 ITV HD (ITV Meridian Southampton), 104 Channel 4 HD South ads, 105 Channel 5 HD, 204 CBBC HD, plus 1 others 65 TBN UK,



COM4




SDN

H max

C40 (626.0MHz)
298m
DTG-8

20,000W


12 Quest, 20 Drama, 21 5USA, 23 CCXTV, 27 ITV2 +1, 30 5STAR, 31 Paramount Network, 40 Sony Movies Action, 44 Channel 5 +1, 54 5SELECT, 58 ITV3 +1, 59 ITV4 +1, 63 Blaze, 66 CBS Reality, 70 Horror Channel, 77 TCC, 80 Blaze +1, 97 ITVBe +1, 203 CITV, 211 Ketchup, plus 15 others 16 QVC, 49 TJC, 95 Create & Craft, 252 Kiss Chat & Date, 253 Proud Dating, 261 Racing TV, 263 SonLife, 264 VisionTV, 265 On Demand 365, 269 Arise News, 670 ADULT Section (start), 680 ADULT Xpanded2, 724 Capital, 727 Absolute Radio, 728 Heart,



COM5




ArqA

H max

C43 (650.0MHz)
300m
DTG-8

20,000W


11 Sky Arts, 17 Really, 19 Dave, 28 E4 +1, 29 4Music, 34 pick, 38 Quest Red, 41 Food Network, 45 Film4 +1, 46 Challenge, 47 4seven, 56 Smithsonian Channel, 75 Yesterday +1, 76 Quest +1, 87 Together TV, 233 Sky News, plus 9 others 43 Gems TV, 85 Hochanda, 673 ADULT smileTV3, 678 Xpanded TV, 723 talkSPORT, 730 RNIB Connect, 731 Classic FM, 732 LBC, 733 Trans World Radio,



COM6




ArqB

H max

C46 (674.0MHz)
300m
DTG-8

20,000W


25 Yesterday, 32 Sony Movies, 37 DMAX, 39 CBS Justice, 42 HGTV, 67 CBS Drama, 79 Dave ja vu, 81 Talking Pictures TV, 91 PBS America, 234 RT, 235 Aljazeera English, plus 18 others ADULT smileTV2, 22 Ideal World, 35 QVC Beauty, 36 QVC Style, 73 Jewellery Maker, 206 Pop, 674 ADULT Babestn, 679 ADULT Studio 66, 699 ADULT Section, 711 Hits Radio, 712 KISS FRESH, 713 KISS, 714 KISSTORY, 715 Magic, 716 Greatest Hits Radio, 717 Kerrang!, 718 Smooth Radio, 725 Premier Radio,


DTG-3
64QAM 8K 2/3 24.1Mb/s DVB-T MPEG2
DTG-6
256QAM 32KE 2/3 40.2Mb/s DVB-T2 MPEG4
DTG-8
64QAM 8K 3/4 27.1Mb/s DVB-T MPEG2
H/V: aerial position (horizontal or vertical)
Are you trying to watch these 11 Freeview HD channels?

The
Heathfield (East Sussex, England)
mast is not one of the
extended Freeview HD
(COM7 and COM8) transmitters, it does not provide these
high definition
(HD) channels: BBC Four HD, BBC News HD, CBeebies HD, Forces TV, FreeSports, Together TV +1, More4 +1, NOW 80s, PBS America +1, Quest Red +1, RT HD.
If you want to watch these HD channels, either use Freesat HD, or move your TV aerial must point to one of the 30
Full Freeview HD transmitters
. For more information see the
want to know which transmitters will carry extra Freeview HD?
page.
Which BBC and ITV regional news can I watch from the Heathfield transmitter?
BBC South East Today
0.8m homes
3.2%
from
Tunbridge Wells
TN1 1QQ, 17km north (5°)
to
BBC South East region - 45 masts
.
ITV Meridian News
0.7m homes
2.7%
from
Maidstone
ME14 5NZ, 40km north-northeast (31°)
to
ITV Meridian (East) region - 36 masts
.
All of lunch, weekend and 50% evening news is shared with all of Meridian plus Oxford
How will the Heathfield (East Sussex, England) transmission frequencies change over time?
1984-97
1997-98
1998-2012
2012-13
2013-18
2013-17
19 Jul 2018

C/D

E

C/D

E

C/D

E

W

T

W

T

W

T

K

T

C29
_local
_local
_local
_local
C40
SDN
C41
ArqB
ArqB
ArqB
BBCA
C42
SDN
SDN
SDN
C43
ArqA
C44
ArqA
ArqA
ArqA
D3+4
C46
ArqB
C47
BBCB
BBCB
BBCB
BBCB
C49tv_off
BBC1waves
BBC1waves
BBC1waves
D3+4
D3+4
D3+4
C52tv_off
BBC2waves
BBC2waves
BBC2waves
BBCA
BBCA
BBCA
C64
ITVwaves
ITVwaves
ITVwaves
C67
C4waves
C4waves
C4waves
tv_off Being removed from Freeview (for 5G use) after November 2020 - more
Table shows multiplexes names see this article;
green background for transmission frequencies
Notes:
+
and
-
denote 166kHz offset;
aerial group
are shown as
A
B
C/D
E
K
W
T
waves
denotes analogue; digital switchover was 30 May 12 and 13 Jun 12.
How do the old analogue and currrent digital signal levels compare?
Analogue 1-4

100kW

SDN

,

ARQA

,

ARQB

,

BBCA

,

D3+4

,

BBCB

(-7dB)

20kW

Mux 1*

,

Mux 2*

(-18dB)

1.6kW

Mux A*

,

Mux B*

,

Mux C*

,

Mux D*

(-20dB)

1000W
Which companies have run the Channel 3 services in the Heathfield transmitter area
| | |
| --- | --- |
| Aug 1958-Jan 1992 | Southern Television |
| Jan 1982-Dec 1992 | Television South (TVS) |
| Jan 1993-Feb 2004 | Meridian |
| Feb 2004-Dec 2014 | ITV plc |

| | |
| --- | --- |
| Feb 1983-Dec 1992 | TV-am• |
| Jan 1993-Sep 2010 | GMTV• |
| Sep 2010-Dec 2014 | ITV Daybreak• |
• Breakfast ◊ Weekends ♦ Friday night and weekends † Weekdays only. Heathfield was not an original Channel 3 VHF 405-line mast: the historical information shown is the details of the company responsible for the transmitter when it began transmitting Channel 3.
Comments
Monday, 22 June 2020

Hi, Can you shed any light on disappearing mux 40 due to mux 29 being registered 1st on a Samsung TV.
Mux 29 is very weal where as all mux in the 600MHz band are 10/10 due to line of site with transmitter.
The tuner 2018/19 model stops at 29 and registers 40+ channels, it ignores all channels till 40, scans, but does not update the channel list, then carries on to 41,43,44,46 & 47 without issue.
It is my guess that Samsung software is not allowing overwrite with same channel number starting at 12 for Quest.
Have you heard of this issue.
Many thanks
John
TN339LD Kenmore

John Middlemiss's 1 post

John Middlemiss:

Hi, yes this is a problem that's not unheard of, especially with older sets and also set memory can get "confused". If you've not experienced the issue before, it could be due to "Tropospheric Ducting" with the current weather conditions, which causes signals from other transmitters to travel much further and you are picking up the COM4/SDN multiplex on C29 from another transmitter.

The easiest way to deal with this is to unplug the aerial and do an automatic full retune which should clear memory of all previous tuning as no channels will be found. Plug the aerial back in and then carry out a manual retune for each of the Heathfield UHF channels.
If you can't do a manual retune, look at the scanning indicator and estimate where it is once it has passed C29 but before it gets to C40. Clear the old tuning again, the repeat the automatic retune but do not plug the aerial back in until after the indicator has passed C29 but before it gets to C40.

What will not be helping matters right now is that the Heathfield transmitter has Planned engineering with "Possible Weak signal" so you might have to repeat this a few times to get it right if signals are not at normal levels when you do it.

Chris.SE's 1,999 posts
Friday, 26 June 2020
B
Brian Smith
7:06 PM
Bexhill-on-sea

The aerial is in the loft, with an amplifier.
I'm currently pointing at the Hastings transmitter. I believe the Heathfield transmitter strength is greater. What sort of aerial do I need to change to Heathfield? Will I need an amplifier as I do now?
If I install a second (small) aerial pointing to Bexhill (I can see the transmitter from my back bedroom window) will I have to install any filters, attenuators etc.?
Lastly, as there are mobile phone masts in close proximity will I need a 5g filter or can I avoid this by using the correct type of aerial?

Brian Smith's 2 posts
Saturday, 27 June 2020

Brian Smith:

First, to answer most of your questions (certainly with any accuracy), we'd need a full postcode to look at the predicted reception. Just because a transmitter is higher power doesn't mean you'll receive it any better, especially when it's further away. In fact reception might be awful and you'd need more than an amplifier!
There may be a small hill locally on the line-of-sight.
I don't see any advantage in using Heathfield UNLESS reception might be better than Hastings, they transmit the same multiplexes.

Are you not getting satisfactory reception from the Hastings transmitter? What is the aerial you currently use?

When you mention the Bexhill transmitter, do you mean the one on Conquest House otherwise known as Bexhill UHF? This transmitter is a "Light" transmitter and only carries the 3 main PSB multiplexes, not the main 6 multiplexes. What do you want to do with this aerial, is it only for a second set?
If it's to connect to your main system, you can't just couple aerial leads together, you'd need some sort of diplexer or splitter in reverse both of which will have insertion loss and could compromise the signals sufficiently to make them unreliable - it depends upon the predicted reception.

As far as mobile masts are concerned, there is almost certainly bound to be some on Conquest House and there are others nearby, there may be some close to you, but we need that postcode. There's certainly no 5G (700MHz) yet, but you might need a 4G filter if you amp or receiver is getting overloaded with signal which could make the TV reception a bit "deaf".

As far as aerials go, Hastings is a Group A, vertical polarisation.
Heathfield is a Group B, horizontal polarisation.
Bexhill was a Group B but is now technically a K, Horizontal polarisation, but you might get adequate reception with a Group B or even a bit of wet string as you are quite close.
For all, Groups K, T, or Wideband would do if they have the right gain characteristics, again depending on predicted reception..

Chris.SE's 1,999 posts
B
Brian Smith
12:07 PM
Bexhill-on-sea

Chris.SE: Sorry, forgot to put in postcode. TN39 3RJ.
The website I looked at gave the signal strength at my location and showed Bexhill as strongest, then Heathfield, then Hastings with a significant difference between them. Other sites list the best transmitter for me as Heathfield. We don't normally get any problems except, occasionally, the HD channels. I use a multiswitch with 4 satellites and terrestrial input. I was thinking of adding a second aerial for Bexhill to receive all of it's channels, and then 'top-up' with Heathfield/Hastings for the rest, getting the best signal and reducing the chances of interference. My TV will sort out the best signal and I can specify individual frequencies in the PC tuner software.
The main thing I need to know is which sort of aerial to get. I presume a simple LOG periodic will do for Bexhill but I don't know about the Heathfield one. Would it need to be for a weak signal due to the position and it being in the loft? Would a LOG periodic or Yagi or ?? be the best? I don't want to spend time and money installing something only to find it not worth the effort.

Brian Smith's 2 posts

Brian Smith:

Interesting, with your set-up then yes I see the sense of having an aerial pointed at Bexhill, that should certainly give you reliable reception of the PSBs.

No reception predictors are 100% accurate at all locations, but the Freeview Detailed Coverage Checker shows some surprising variations around your postcode for Hastings and Heathfield, especially the COM muxes.
You supposedly have line-of-sight to all 3 transmitters, but of course that won't take account of any local trees that may be on line-of-sight. As for the "best" or "most likely" transmitter, I haven't always found rhyme or reason behind the suggestions, especially if there's little to choose between PSBs1/2 from one to another yet markedly better on the COMs and that transmitter isn't the "most likely" even taking distance into account!!

If the Freeview/DUK predictor is anything to go by, going from one end to the other in your postcode, the BBCB HD mux from Heathfield MIGHT be more unreliable. The BBC doesn't give a prediction for Heathfield for some parts of your postcode, yet COM6 from Hastings is always good!
My thoughts are also that I would expect Hastings to have less problems with Tropospheric Ducting due to direction, it being closer and vertical polarisation BUT practical experience at a location is more important. If you've had little trouble with Hastings, I would tend to say stick with it especially as you have a loft aerial. Maybe the only times you've had a problem is when there's been Planned Engineering at the transmitter.

Hastings is a Group A transmitter, these lower frequencies tend to propagate better than the higher ones, Heathfield being a Group B.
As far as aerials is concerned, for Hastings or Heathfield, I'd recommend a Grouped aerial rather than wideband, but depending on the manufacturer and the gain curve for a specific aerial, some Group Ks may be worth a look. In both these cases we'd be talking a quality Yagi-18 as minimum, more complex aerials depend on your loft space and things like metal flues, flashing, water tanks, solar panels & etc. Don't waste your time/money on tri-booms and similar.
For Bexhill, yes a small log may be just the job.
You may wish to buy locally, but for some interesting information about (specific) aerials have a look at
ATV aerial gain tests : all the gain curves - A.T.V. Poles, Brackets, Clamps & Aerials and
Wideband / grouped TV aerials - A.T.V. Poles, Brackets, Clamps & Aerials

As far as any attenuation goes, one needs to be on the spot. has your amp got variable gain, that'll be helpful if it has, but in any event, invest in one of these, they are an invaluable tool Coax TV Aerial Attenuator Adjustable Variable Between 0-20 dB Reduces signal | eBay (eBay item 310039226920). There are F-connector versions available if you prefer.

The nearest mobile masts are those on Conquest House, others are over 1.5km away and none on the line-of-sight to Hastings or Heathfield.

Hope that all helps.

Chris.SE's 1,999 posts
Monday, 21 September 2020

Transmission in Stone Cross pevensey has become worse and I have to reset my box daily. Why is this

Steve's 1 post

Steve:

Without a full postcode we can't see what predicted reception is at your location. The area in general shouldn't normally have any problems with reception from Heathfield.

How long have you been having this problem?
There's been a lot of "Tropospheric Ducting" around causing interference, see https://www.radioandtvhelp.co.uk/help-guides/television/effect-of-tropospheric-ducting-on-freeview for a simplistic explanation. It's been around several days and it's may continue on and off for a day or two more.

Chris.SE's 1,999 posts
Select more comments
Your comment please