ITV1 +1
Another chance to watch your favourite shows an hour later on ITV+1
Main TV standard-definiton channels
How to Watch: ITV1 +1
Below is a list of all the television and radio channels that you can watch in the UK using one of the free services: DAB (for radio), Freeview, Sky No Card - Sky without a viewing card (Freesat from Sky (or fSfS)) and Freesat.. Where a channel can be watched for free, the channel number is listed below. In addition, if you can watch (or listen) immediately online, press the button in the "web" column.

As some channels are exclusive to one service alone, you may need to get receive more than one service to get all the channels you want. The coverage for Freeview differs too - those channels not provided by the public service "Freeview Light" transmitters the current coverage shown thus

(54%)

, taken from Connected Nations Report 2017: Data analysis' Key: wb_sunny daytime; watch_later nighttime; account_box funded from the TV License; flags show Freeview channel limits.
Main TV standard-definiton channels
Regional content
: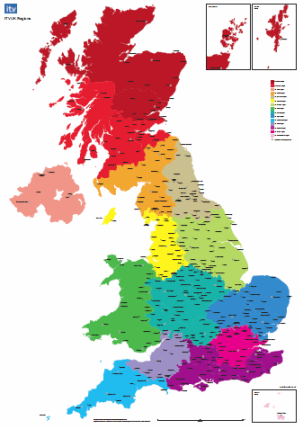 Channel 3 network for adverts and regional news. See
ITV, UTV and STV regions - overview map - interactive maps
. .
media.info
: For full details of broadcaster contacts, see the
media.info ITV1 +1 page
.
Official site
: See the
ITV1 +1 website
.
From Wikipedia
: The ITV1 brand was introduced by Carlton and Granada in 2001, alongside the regional identities of their eleven regional companies. However in line with other terrestrial channels, ITV1's audience share has fallen in the era of multi-channel television. ITV existed in a region-heavy form from its inception to the 2000s, although the switch was gradual. - en.wikipedia.org
read more about ITV1 +1 on wikipedia
(summary by
Clipped
).
Freeview multiplex
: ITV1 +1 is on
multiplex PSB2
in
.
Comments
Thursday, 18 September 2014

C buckland: In order to keep costs down, there are only a few versions of ITV+1, resulting in viewers receiving the wrong regional news, weather forecasts and commercials in areas served by an ITV+1 from an adjacent region. On the plus side though, there are some viewers who are unable to receive the intended transmitter for their area due to hills or other obstructions in the signal path, so whilst receiving the wrong ITV they are able to receive their correct region via ITV+1.

KMJ,Derby's 1,811 posts
Wednesday, 10 February 2016

it is awsome and amazin i dont want to be bannned

tyler's 1 post
Thursday, 6 January 2022

Is one hour delayed viewing, eg ITV + 1, available on Freesat as well as Freeview please?

Anthony Rice's 1 post

Anthony Rice:

Yes, as per the top of the page, Channel 112 apparently.

Chris.SE's 3,925 posts
Friday, 1 July 2022

Why can't we get ITV +1 programmes On Freeview in west yorkshire when we are in plain view of the Emley Moor transmitter

Jim's 1 post

Jim: ITV +1 is broadcast on the PSB2 multiplex along with ITV, Channel 4 & Channel 5, so if you can receive those then you should also be receiving ITV +1 on Freeview channel 35. Do you get anything on LCN 35? Have you checked whether ITV +1 is in the 800 range, where channels get put if the TV or box doesn't know what to do with them?

StevensOnln1's 3,567 posts
Select more comments
Your comment please