ITV1 +1
Another chance to watch your favourite shows an hour later on ITV+1
Main TV standard-definiton channels
How to Watch: ITV1 +1
Below is a list of all the television and radio channels that you can watch in the UK using one of the free services: DAB (for radio), Freeview, Sky No Card - Sky without a viewing card (Freesat from Sky (or fSfS)) and Freesat.. Where a channel can be watched for free, the channel number is listed below. In addition, if you can watch (or listen) immediately online, press the button in the "web" column.

As some channels are exclusive to one service alone, you may need to get receive more than one service to get all the channels you want. The coverage for Freeview differs too - those channels not provided by the public service "Freeview Light" transmitters the current coverage shown thus

(54%)

, taken from Connected Nations Report 2017: Data analysis' Key: wb_sunny daytime; watch_later nighttime; account_box funded from the TV License; flags show Freeview channel limits.
Main TV standard-definiton channels
Regional content
: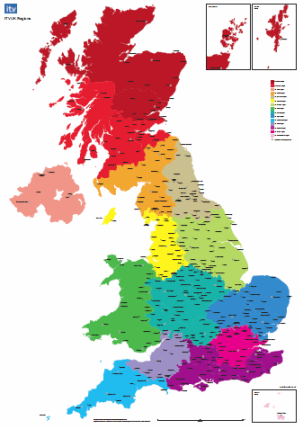 Channel 3 network for adverts and regional news. See
ITV, UTV and STV regions - overview map - interactive maps
. .
media.info
: For full details of broadcaster contacts, see the
media.info ITV1 +1 page
.
Official site
: See the
ITV1 +1 website
.
From Wikipedia
: The ITV1 brand was introduced by Carlton and Granada in 2001, alongside the regional identities of their eleven regional companies. However in line with other terrestrial channels, ITV1's audience share has fallen in the era of multi-channel television. ITV existed in a region-heavy form from its inception to the 2000s, although the switch was gradual. - en.wikipedia.org
read more about ITV1 +1 on wikipedia
(summary by
Clipped
).
Freeview multiplex
: ITV1 +1 is on
multiplex PSB2
in
.
Comments
Sunday, 17 July 2011

Barnaby: That is correct, there are only limited regions on ITV1+1: Yorkshire West, Wales, Central West, London, Granada and Meridian South.

These are "one per advertising region", so everyone in the West and South West of England gets ITV 1 Wales +1.

Briantist's 38,900 posts
Thursday, 29 September 2011

Please excuse my ignorance what is shown on the ITV channels ITV +1 +2 +3 +4 I do receive the standard ITV channels but I am curious to know what is shown on the + channels

Anthony R Lea's 1 post

Anthony R Lea: You're getting confused between ITV1, ITV2, ITV3 and ITV4, which have different content, and the time-shifted version of those channels, with a '+1' after the channel name. These simply broadcast the same as the main channel, but an hour later, in case you have missed it.

It's a very cheap way to sell more advertising space, or charge more for the same ad space.

In the early days, you might get a message saying that the programme cannot be rebroadcast. That meant the channel didn't pay for the rights to broadcast it again, or the rights to time-shift a live football match.

Also, ITV haven't paid for enough equipment to time-shift all regional content, so you may find that ITV1 +1 has a different news service from ITV1. This is the case both on Freeview and on satellite and cable.

Generally ITV1 is the general entertainment channel, ITV2 is more youth-oriented, ITV3 runs archive content from ITV licencees and occasionally from the BBC, and ITV4 is sports-oriented. Freeview only carries the time-shifted +1 versions of ITV1 and ITV2; ITV3 +1 and ITV4 +1 are available on satellite and cable.

Mike Dimmick's 2,486 posts
Tuesday, 22 November 2011

Briantist: ITV1+1 Wales is now transmitting from Astra 1N at,
Frequency 11053
Polarity Horizontal
DVB Standard DVB-S
Symbol Rate 22000
FEC 5/6.
At the moment it is shown as 20715.

There is also a test HD channel on this transponder showing colour bars with TNS HD SPG B in the top left hand corner. The SID number is 20780.


NottsUK's 345 posts
Wednesday, 23 November 2011

Briantist: The test HD channel with the SID number 20780 has to-day been showing the film Gremlins all day.

NottsUK's 345 posts
Wednesday, 7 December 2011

NottsUK: Thanks for the info.

Briantist's 38,900 posts
Tuesday, 10 April 2012

We used to be able to get the Wales ITV news on ITVplus1 but can't get it now. We live in a block of flats so can't change aerial.We are in the CF64 Penarth area so on Mendips. Have retuned TV several times. Can you please let us know how to get the Welsh ITV news here. Thanks

J Tate's 1 post

J Tate: I think that you have answered your own question because you say that your aerial is directed at Mendip and that you can't alter it. So the answer would seem to be you can't!

Without knowing your exact location it is impossible to be certain, but if an aerial in Wales is directed at a transmitter in England, then surely that will only be done where there are is not a Welsh transmitter to receive from.

The taller the block of flats the more unlikely it would seem to be that a Welsh transmitter is not available.

So if the aerial installers couldn't find a spot (presumably on the roof) to receive from a transmitter in Wales, then you won't pick up such a signal with an indoor aerial. So the only route would seem to be satellite.


Having written the above, I am now confused and wondering whether you are actually receiving from a Welsh transmitter (e.g. Wenvoe) and not Mendip.

The reason I say this is because there are less ITV1+1 regions than there are ITV1 regions. Thus some ITV1 regions have to have others' ITV1+1 regions. According to what I've read, ITV West which is what Mendip broadcasts, carries ITV1+1 Wales. So if this were the case, then you would get ITV1+1 Wales anyway. Alternatively, if Mendip has swapped and now broadcasts ITV1+1 West, then perhaps Wales has swapped as well as they are (or were) both one region as far as ITV1+1 is concerned.


Have you looked at the aerial and can you see that it is pointing at Mendip rather than Wenvoe?

If it's the latter, then perhaps it is picking up sufficient level of Mendip's signals that your receiver goes with them when it performs it automatic tuning. The higher the aerial and the clearer the line of sight to Mendip, the more likely it is that this may be the case. In the aerial systems of larger blocks these "other" signals are usually filtered out so never make it to tennants' receivers.


First off, never assume that any receiver has tuned to the correct transmitter.

If you receive ITV1 Wales, but ITV1+1 West, then I would suspect that this is correct as they are both on the same multiplex (the same signal from the transmitter). Go to ITV1 and bring up the signal strength screen. It will hopefully give you the UHF channel number that it is tuned to. For Wenvoe it will say C44 and for Mendip it is C54. Do the same for ITV1+1 if you like.

Do you get BBC Wales or BBC West?

Dave Lindsay's 5,724 posts
Thursday, 10 May 2012

Is there such thing as itv1 +1+1? Thought I might have seen it before.

Jane's 1 post
Select more comments
Your comment please