BBC Two HD
BBC Two HD: Inspiring documentaries, drama, comedy and entertainment for mainstream audiences that aims to engage the heart while expanding the mind. All your BBC Two favourites have been given the HD treatment.
Main TV standard-definiton channels
How to Watch: BBC Two HD
Below is a list of all the television and radio channels that you can watch in the UK using one of the free services: DAB (for radio), Freeview, Sky No Card - Sky without a viewing card (Freesat from Sky (or fSfS)) and Freesat.. Where a channel can be watched for free, the channel number is listed below. In addition, if you can watch (or listen) immediately online, press the button in the "web" column.

As some channels are exclusive to one service alone, you may need to get receive more than one service to get all the channels you want. The coverage for Freeview differs too - those channels not provided by the public service "Freeview Light" transmitters the current coverage shown thus

(54%)

, taken from Connected Nations Report 2017: Data analysis' Key: wb_sunny daytime; watch_later nighttime; account_box funded from the TV License; flags show Freeview channel limits.
High definition channels
Regional content
: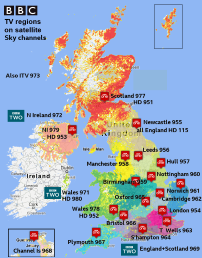 BBC nations TV network - English, Wales, Scotland and Northern Ireland - for some regional programmes. See
BBC nations and regions - overview map - interactive maps
. .
Official site
: See the
BBC Two HD website
.
From Wikipedia
: The service was initially run as a trial from 15 May 2006 until becoming a full service on 1 December 2007. The first HD originated programme to be shown on the channel was Planet Earth, shown on 27 May 2006. When high-definition programmes are not being shown, the channel broadcasts a looped preview containing clips from BBC HD programmes. - en.wikipedia.org
read more about BBC Two HD on wikipedia
(summary by
Clipped
).
Freeview multiplex
: BBC Two HD is on
multiplex PSB3
in
England
Scotland
Northern Ireland
Wales .
This channel carries a subtitles service for the deaf, hard of hearing and quiet environments.
Comments
Friday, 3 May 2013
B
Bill Thompson
10:49 PM
Alexandria

Hi,

I've had a look at the number of times the Arrochar transmitter has undergone engineering works over the past year. It seems to be significant. What are they for? It does not appear to be improvements as nothing changes. Is this amount of engineering normal or do we have a naff transmitter?

On the subject of Dab radio. I have checked on postcode G837AA for Dab reception and have been told there is nothing in my area. However my son arrived last week in his new car that had a Dab radio. He could receive loads of DAB radio channels on this radio. Whats going on?

Bill Thompson's 4 posts
Tuesday, 9 July 2013

Despite retuning NBC signal fails occasionally.all other channels are ok .canyou tell me what I have to do
Derby

David Morton's 1 post
Monday, 25 October 2021

Up until the past 5 days, my Freesat reception has been very good. Now, however, I only have half of the chanels, previously had. What I have got is confusing e.g. I have BBC2HD but not the normal BBC2 Chanel. I have ITV3+1 but not ITV3 HD or ITV3 normal. There are many inconsitencies. It is most anoying to see so many screens / chanels which tell me to "check cables / connections" etc. I have another TV which receives Freeview and this is perfect. From what I can tell, the dish, cables and conections are all OK. I have tried re-tuning but get a message "need to search for signal", I press ok and after 30 minutes, nothing happens so I "stop". Can you please advise what is happening.
Regards

Dave Purnell's 1 post
Your comment please