Freeview reception has changed?

Brian Butterworth published on UK Free TV
From time to time people find that their Freeview box, integrated set (idTV) or Personal Video Recorder (PVR) has lost many channels without any apparent changes.
There are a number of factors to consider
Freeview is broadcast on
digital
multiplexes. This means that, once broken down into a stream of bits, each television
channel
is combined into a single transmission of 1s and 0s. This means that
reception
is of the
multiplex
first if this is lost it affects all the channels in the multiplex in the same way.
The
signal
strength received by
the box
or TV for a particular multiplex from a given
transmitter
determines if the data can be received or not. So, a poor signal results in no data, an adequate signal in perfect data and a low signal in either none or all.
Poor digital signal levels do not result, as they do with old-fashioned
analogue
television, in a sub-
standard
picture or sound. Poor signals often result in a perfect data-stream, but are prone to periods of no reception. Sometimes this will be for hours, but can also be several times a minute when caused by induction from fridges, freezers, central heating systems, two-stroke scooters, baby monitors and so on.
If you have lost ALL your Freeview channels
First disconnect the
aerial
lead from the Freeview box or TV set and reconnect it and then follow
this reset procedure
to
scan
for channels again. If this does not result in
services
being restored, check the
Freeview transmitters page
to see if there are any
engineering
problems with your local transmitter.
How to check all cables, connectors and aerials
The RF connectors need to be in very good condition to work. There are two general types:
Factory-fitted connectors are very reliable as they cannot easily be taken apart, but they can be damaged by wear and tear. On the female-type the central section is often composed of two parts which can often be forced apart, resulting in a poor connection you can push them back
together
if this has happened with a pair of tweezers. On male connectors if the central pin is damaged, you will need a new
cable
. If there are any loose partials in the connector, remove them.
Another problem with these cables is that quite easy to sprain the connector at the back which causes little obvious external damage, but disconnects the internal connection. This happens often when a set-top box is pushed backwards into a cabinet.
Hand made cables can also suffer from similar problems to factory made ones and they are also prone to accidental damage from a cable being pulled. If such a connector is not firmly attached to the cable, the connector may need refitting.
Cables
Make a visual check of the cables. There are a few basic checks:
If the cable has been slashed or cut, it will not be very effective or reliable. If such a cable is fitted externally, this can allow rainwater to enter the cable and this will reduce the signal levels.
You can easily damage an RF cable by crushing it, for example in a door. If the outside of the cable has a permanent kink in the cable or has been very tightly looped, this could be the site of damage.
Aerial
For reliable and effective Freeview reception, a
rooftop aerial
is required. It is hard to make a visual check of such an aerial without putting yourself in potential danger.
You can make a visual check of the route between the aerial and the transmitter. Any form of obstruction will damage the digital signals. In particular trees coming into leaf, as these will leech the signal before it reaches your aerial. This applies to both trees adjacent to the aerial and at a distance.
Another common problem in cities is building work. A large crane will often change position many times during the day, and if this is between your aerial and the transmitter this can reduce the signal levels in an unpredictable way.
If your system uses a
booster
, the
power
may have failed. Check the fuse to the power to the
booster
.
Weather problems
There are two main weather problems that effect Freeview reception.
The
Inversion Effect
: please see
What is the Inversion Effect and why does it effect my Freeview TV reception?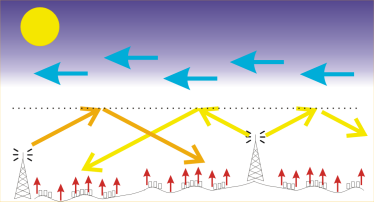 Wind: high winds sometime can dislodge the aerial this results in a poor signal.
Rain: poor or old cables can fill with water and this results in a poor signal. If this happens, the cables will require replacement.
Comments
Tuesday, 17 July 2018

c adams: Which transmitter are you using? Have you checked for any loose or damaged cables or connections behind your TV? Retuning will never fix a sudden loss or signal and is the worst thing to do as all you are doing is deleting all of your correctly tuned channels and searching for them again.

StevensOnln1's 2,093 posts
Platinum
Thursday, 19 July 2018

Carried out a re-tuning as advertised on all channels. what a shambles!!!!. virtually all channels have interference either picture or sound and a good twenty programs have gone missing. Re-tuned again with no change.

Robert Jones's 1 post
Friday, 20 July 2018

Robert J

i had the same problem in March and lost all of my channels for about 3 days except for 2, London (8) and 81. It seemed to be a huge problem in the south east at that time so work must have been in process on one of the transmitters. They all suddenly came on after 3 days, however, then went off again after about 20 minutes and I followed the instructions from a previous post as follows:

Try disconnecting the aerial feed to the troubled TV, turn the TV off from the wall and refit all the plugs and sockets (poor contact can cause this problem). Then do a retune without the aerial connected followed by a retune with the aerial plugged in. Then check the signal strengths for all the channels, it needs to be between 60% and 85%. Any higher or lower will cause problems. Remember that different make/model sets have different tuners, some being more susceptible to overload than other or being less sensitive so needing more signal.

You may have done all of the above but I thought I would post it anyway.

Angela Thompson's 15 posts
Saturday, 28 July 2018

this year one of the rowridge masts has been taken down, and some changes have taken place. Gradually we have lost more and more chanels, We have fitted a new wideband ariel with 4g supression as we had dropped to only 20 chanels. We are now up to 45, but 4 months ago we had well in excess of 100. We have lost com4, com5, com6, com7, com8, and LSO. Any advise would be apreciated. We have a direct sight to the mast which is less than 8km away. post code po382ae, ps we also have no dab reception.

Stephen gadd's 3 posts
Stephen's:
Freeview map
terrain plot
frequency data
R&TI Service
digitaluk trade
DAB coverage

Stephen gadd: Is your aerial horizontal (little rods going left to right) or vertical (rods going up and down)? If you click the Digital UK Trade link underneath your post it shows that you should get good reception of PSB1-3 & COM4-6 using vertical polarity, whereas COM4/5 are not predicted to be available and COM6 is predicted to be weaker using horizontal.

StevensOnln1's 2,093 posts
Platinum
Sunday, 29 July 2018

Stephen gadd: I switched it to vertical and yes we are back to 145 chanels thanks

Stephen gadd's 3 posts
Stephen's:
Freeview map
terrain plot
frequency data
R&TI Service
digitaluk trade
DAB coverage
Select more comments
Your comment please