What is the Inversion Effect and why does it effect my Freeview TV reception?

Brian Butterworth published on UK Free TV
Under normal circumstances, the signals from each television transmitter can only be received by those homes and businesses that have aerials that have a direct line-of-sight to the transmitter.

(The Inversion Effect is also known as "Tropospheric Ducting")




The part of the signal from the transmitter that is directed upwards simply escapes into space and are lost.

When there is high atmospheric pressure (BBC Weather - UK Pressure chart) as the sun heats up the ground the warm air gets trapped underneath the colder air higher up. At the point where the warm air gets trapped under the cold air this creates a layer that is, in effect, a mirror for the television signals.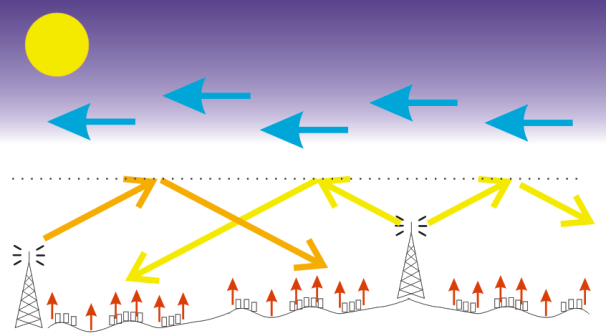 This means that signals that would otherwise be impossible to receive can suddenly effect your television reception.

The digital television signal uses a format called COFDM (coded orthogonal frequency division multiplexing) and this incorporates the ability to ignore reflected digital signals.

However, analogue television signals did not co-operate with each other and the picture quality is reduced. The very weak digital signals that were used before digital switchover for Freeview were badly effected by interference from reflected signals from adjacent analogue transmissions.

I recommend you look at the Tropospheric Ducting Forecast for VHF and UHF Radio and TV page for a current forecast - yellow, orange, red, and pink indicate that conditions are perfect for the effects listed above.
Comments
Thursday, 7 June 2018

Jon Dooley: Firstly, no one on this website has anything to do with any broadcaster or transmitter company. The transmitters do not reduce their power level overnight. If the problem is only happening overnight, the most likely explanation is that you are suffering from electrical interference being emitted by something in your home (or a near neighbour) which is operating on a timer and probably has an electric motor.

StevensOnln1's 2,316 posts
Tuesday, 12 June 2018

Lost itv1 no signal , bbc 1 OK, Bbc news hd channel poor signal pixelating. Area pr3 1tb

Jh's 1 post

Jh: Have you checked for any loose or damaged cables or connections behind your TV? Do not attempt to retune.

StevensOnln1's 2,316 posts
Select more comments
Your comment please