What is the Inversion Effect and why does it effect my Freeview TV reception?

Brian Butterworth published on UK Free TV
Under normal circumstances, the signals from each television transmitter can only be received by those homes and businesses that have aerials that have a direct line-of-sight to the transmitter.

(The Inversion Effect is also known as "Tropospheric Ducting")




The part of the signal from the transmitter that is directed upwards simply escapes into space and are lost.

When there is high atmospheric pressure (Met Office - Surface pressure charts) as the sun heats up the ground the warm air gets trapped underneath the colder air higher up. At the point where the warm air gets trapped under the cold air this creates a layer that is, in effect, a mirror for the television signals.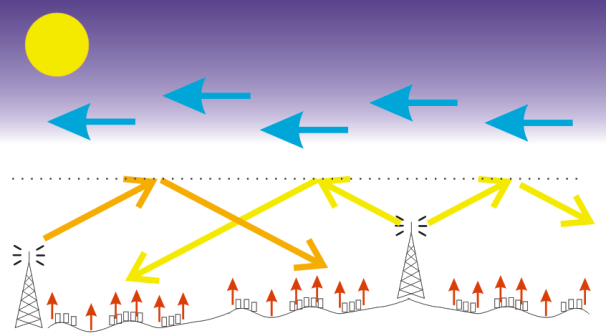 This means that signals that would otherwise be impossible to receive can suddenly effect your television reception.

The digital television signal uses a format called COFDM (coded orthogonal frequency division multiplexing) and this incorporates the ability to ignore reflected digital signals.

However, analogue television signals did not co-operate with each other and the picture quality is reduced. The very weak digital signals that were used before digital switchover for Freeview were badly effected by interference from reflected signals from adjacent analogue transmissions.

I recommend you look at the Tropospheric Ducting Forecast for VHF and UHF Radio and TV page for a current forecast - yellow, orange, red, and pink indicate that conditions are perfect for the effects listed above.
Links to current pressure data
Tropospheric Ducting Forecast for VHF and UHF Radio and TV

Met Office - Surface pressure charts

Comments
Thursday, 7 February 2013

Hi, the reception on my tv is a joke,for days now every channel has been to bad to watch.Does anyone know why this is happening?
I dont think its the aerial because occassionally I have received good reception.

Carol Hall's 1 post

Carol Hall: The William Hepburn Tropospheric ducting forecast shows that conditions are not currently those that cause interference from distant transmitters to occur through the inversion effect. As you are having problems on all channels it suggests that you could either be experiencing impulse interference from nearby electrical equipment or a faulty connection or there could be a problem with your aerial/cables. Try to observe the signal strength and quality on affected channels when reception is poor. Is the frequency being received the correct one for the transmitter to which the aerial is pointing? Try repositioning the aerial cable (and any HDMI cable) relative to the receiver in case there is any interaction. Also check the condition of cable and connectors and do a visual check that the aerial is still mounted in its correct position.

KMJ,Derby's 1,811 posts
Friday, 15 March 2013
M
Mrs. E Benatar
4:34 PM
Richmond

In the last few days I have been unable to get reception on channels ITV 3, 5 USA, 5` I have never had any problems with these channels before (even when others were erratic). Now I just get "No Signal". Why? i would be grateful for advice. Simple please as I do not understand most of the advice I have been reading addressed to other questioners,

Thank you

Mrs. E Benatar's 2 posts
Mrs.'s:
map
M's Freeview map
terrain
M's terrain plot
waves
M's frequency data
M's Freeview Detailed Coverage
M
Mrs. E Benatar
4:38 PM
Richmond

Channels ITV3, 5USA, 5% have suddenly started to give me "No Signal" messages after several years of perfect reception. Why should this happen and what can I do? I have tried going back to Installation but this has not helped.
I am not at all technically minded so a simple answer would be lovely! Thank you

Mrs. E Benatar's 2 posts
Mrs.'s:
map
M's Freeview map
terrain
M's terrain plot
waves
M's frequency data
M's Freeview Detailed Coverage
Sunday, 9 June 2013

I live in Birchington, CT79BD. I have a good picture on all channel 90% of the time but regularly lose BBC channels whilst others are fine, then BBC is back and others dissapear, having read through posts on here sounds like 'inversion effect' but what can I do to stop it? Our aeriel seems to point toward Dover.#
Thanks
Jeff

Jeff Harris's 2 posts

Jeff Harris: Check that BBC services are tuned to Dover on UHF channel 50 (706MHz) by viewing the signal strength screen.

Do you have a Sky box, or some other box, putting out an analogue signal on, or near, UHF channel 50?

Dave Lindsay's 5,724 posts

Hi Dave,
Yes BBC tuned to Dover, Channel 50. We have a Samsung HDTV with built in freeview but use a HUMAX freeview recorder box to watch tv on the samsung. We do not have a SKY box, could any other equipment or neighbours sky box interfear with it?
Thanks
Jeff

Jeff Harris's 2 posts
Tuesday, 18 June 2013

I have no problem whatsoever Autumn, Winter, early Spring, but the Summer months mean "no signal" is the only thing I can see on my tv. Why is this???

Annie's 1 post
Annie's:
map
A's Freeview map
terrain
A's terrain plot
waves
A's frequency data
A's Freeview Detailed Coverage

Annie: Perhaps the trees that are in the signal path (i.e. between you and the transmitter) coming into leaf.

There are an awful lot of them on the other side of Manchester Road. I see on Streetview that a few houses have their aerials on high poles, presumably in an effort to 'see' over the trees.

Dave Lindsay's 5,724 posts

Jeff Harris: Interference from a noisy electrical appliance is always a possibility. The Sky box of a neighbour won't interfere, certainly not in the way which one might if you have it connected into your aerial lead.

If you have an amplifier that was installed in order to pick up the digital signals before switchover it might be worth removing it.

Dave Lindsay's 5,724 posts
Select more comments
Your comment please