What is the Inversion Effect and why does it effect my Freeview TV reception?

Brian Butterworth published on UK Free TV
Under normal circumstances, the signals from each television transmitter can only be received by those homes and businesses that have aerials that have a direct line-of-sight to the transmitter.

(The Inversion Effect is also known as "Tropospheric Ducting")




The part of the signal from the transmitter that is directed upwards simply escapes into space and are lost.

When there is high atmospheric pressure (Met Office - Surface pressure charts) as the sun heats up the ground the warm air gets trapped underneath the colder air higher up. At the point where the warm air gets trapped under the cold air this creates a layer that is, in effect, a mirror for the television signals.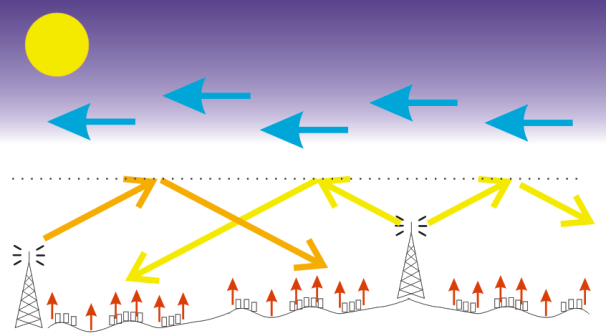 This means that signals that would otherwise be impossible to receive can suddenly effect your television reception.

The digital television signal uses a format called COFDM (coded orthogonal frequency division multiplexing) and this incorporates the ability to ignore reflected digital signals.

However, analogue television signals did not co-operate with each other and the picture quality is reduced. The very weak digital signals that were used before digital switchover for Freeview were badly effected by interference from reflected signals from adjacent analogue transmissions.

I recommend you look at the Tropospheric Ducting Forecast for VHF and UHF Radio and TV page for a current forecast - yellow, orange, red, and pink indicate that conditions are perfect for the effects listed above.
Links to current pressure data
Tropospheric Ducting Forecast for VHF and UHF Radio and TV

Met Office - Surface pressure charts

Comments
Wednesday, 7 March 2012

Ive had great success with indoor aerials - granted not every location is suited to indoor aerials but if there is enough signal strength and you can install it where people arnt going to put clutter around or in front of it not a problem


eith kb aerials
aerialsinsheffield.co.uk

Kb Aerials Sheffield's 274 posts
Thursday, 15 March 2012

Since switchover of Hannington, I am getting Random signal fluctuations on the multiplex ITV4, Film4, Yesterday, Quest only .Checked connections ok All other perfect. Located Reading @300 ft clear line of site to Hannington

S Tames's 6 posts
S's:
map
S's Freeview map
terrain
S's terrain plot
waves
S's frequency data
S's Freeview Detailed Coverage

S Tames: That multiplex, ArqB is, from 22 February 2012 until 18 April 2012 on low power output. It will go from 10kW to 25kW in April.

Briantist's 38,905 posts

Briantist: The Ofcom and Digital UK documentation suggests that Hannington COM muxes should have reached reach full power on 22 February. They are still broadcast from the restricted aerial, however.

S Tames: South Reading is within the area that is affected by the restriction (though less than areas due east of the transmitter), and the Digital UK prediction shows that things should improve starting from 4 April, for ArqA, then 18 April for the other two. However, it still thinks Crystal Palace may be a better option, or at least easier to obtain reliable reception from.

Mike Dimmick's 2,486 posts

The idea that digital television is an improvement only holds true if there is consistency in the signal. The idea that weather conditions are going to affect signal continuity maybe true but indicates the technology was never ready to go live.
Watching broadcasts from Sandy Heath transmitter over the past two nights has been unbearable and I've given up.

Stephen McCarthy's 1 post
Saturday, 17 March 2012

Reception from Emly Moor has been unwatchable since 14th March because of the high pressure.

Once London is fully converted we can expect some proper coverage of digital's shortcomings

John Illy's 4 posts
Sunday, 18 March 2012

Stephen McCarthy: The only way to view digital television with about a 99.9% reliability for most of the time is via Sky or Freesat, as about the only thing can can interfere with these services albeit for a "very" short time, is an extremely heavy thundery type down pour, even at that the effects of this infrequent occurrence can be somewhat lessened by using a slightly larger dish as is used by installers in North of the border installations.

jb38's 7,179 posts
Monday, 19 March 2012
M
Mark Fletcher
7:47 AM
Halifax

John Illy.Nearly but not quite.After Crystal Palace goes all digital there is still the transmitters of Heathfield,Bluebell Hill,Dover,Bilsdale,Pontop Pike,Chatton,Divis,Brougher Mountain,Limavady still presently broadcasting analogue and lower powered pre-DSO signals to contend with until the three Northern Ireland/Ulster main transmitters (the last three mentioned above) all go fully digital simultaneously on Wednesday 24 October 2012.So until then inversion issues may still happen and even after Wednesday 24 October 2012 is still not guaranteed but hopefully TV wise should be less of a problem and hopefully possibly disappear altogether.As the saying goes "Believe it when i see it" after the UK television airwaves goes all digital after Wednesday 24 October 2012 will be to ascertain whether the inversion issues really will be a thing of the past or will they still occur but less problematic or get worse (unlikely) is to watch,wait and see.Dont forget analogue radio is still several years away from total switch off and there signals too can still suffer with inversion issues for many years still to come.

Mark Fletcher's 673 posts
Mark's:
map
M's Freeview map
terrain
M's terrain plot
waves
M's frequency data
M's Freeview Detailed Coverage
Tuesday, 20 March 2012

Mark, are you saying that the inversion problems are caused by the remaining analogue transmissions? We have not had problems until the last week.

We recently got a new aerial because the old one was letting in water and had to fit an attenuator since the signal was too strong (we can see the transmitter from the roof).

Without the attenuator an automatic retune found Belmont first.

My reference to London converting was that reception problems will then get proper media coverage.

John Illy's 4 posts

Actually, by reading the top of this page properly, I thought I had answered my own question and it is analogue signals giving the problems except that it says:

"The very weak digital signals that are a used (until digital switchover) for Freeview can be badly effected by interference from reflected signals from adjacent analogue transmissions."

Surely the digital signals are now as strong as they are going to get from Emley Moor?

John Illy's 4 posts
Select more comments
Your comment please