What is the Inversion Effect and why does it effect my Freeview TV reception?

Brian Butterworth published on UK Free TV
Under normal circumstances, the signals from each television transmitter can only be received by those homes and businesses that have aerials that have a direct line-of-sight to the transmitter.

(The Inversion Effect is also known as "Tropospheric Ducting")




The part of the signal from the transmitter that is directed upwards simply escapes into space and are lost.

When there is high atmospheric pressure (Met Office - Surface pressure charts) as the sun heats up the ground the warm air gets trapped underneath the colder air higher up. At the point where the warm air gets trapped under the cold air this creates a layer that is, in effect, a mirror for the television signals.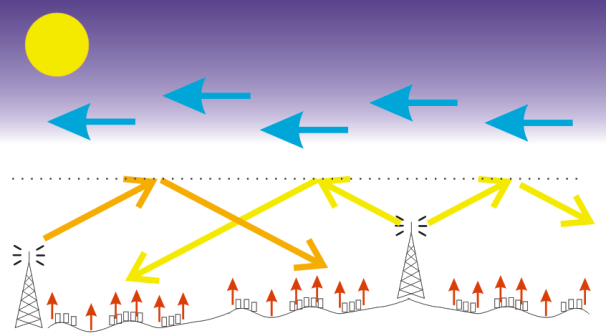 This means that signals that would otherwise be impossible to receive can suddenly effect your television reception.

The digital television signal uses a format called COFDM (coded orthogonal frequency division multiplexing) and this incorporates the ability to ignore reflected digital signals.

However, analogue television signals did not co-operate with each other and the picture quality is reduced. The very weak digital signals that were used before digital switchover for Freeview were badly effected by interference from reflected signals from adjacent analogue transmissions.

I recommend you look at the Tropospheric Ducting Forecast for VHF and UHF Radio and TV page for a current forecast - yellow, orange, red, and pink indicate that conditions are perfect for the effects listed above.
Links to current pressure data
Tropospheric Ducting Forecast for VHF and UHF Radio and TV

Met Office - Surface pressure charts

Comments
Thursday, 9 August 2012
M
Mark Fletcher
6:30 PM
Halifax

Trevor Goldsmith.I would look up inversion effect as the most likely culprit.

Mark Fletcher's 673 posts
Mark's:
map
M's Freeview map
terrain
M's terrain plot
waves
M's frequency data
M's Freeview Detailed Coverage
M
Mark Fletcher
6:41 PM
Halifax

Mike,Chatham.You can purchase attenuators from most TV & Aerial retailers as well as DIY stores,the likes of B&Q,Wickes,etc.I would look up the ATV Aerials and Television of Sheffield website as they stock good quality attenuators and i personally only recommend them as such.
As for your mother's Samsung HDD/DVD recorder i would consider resetting that appliance as such as the current memory could be contributing to the pixellations and freezing up during recording.
As for manual tuning if the appliance allows it,is recommended as such,automatic scanning from lowest to highest frequencies often picks up and stores unrequired multiplexes such as weak pixellated ones lower down the frequency band while a stronger one higher up often fails to pick up and store.So yes manual scanning/tuning is the best bet.

Mark Fletcher's 673 posts
Mark's:
map
M's Freeview map
terrain
M's terrain plot
waves
M's frequency data
M's Freeview Detailed Coverage
Friday, 10 August 2012

Mark Fletcher, thank you for your help - much appreciated. I'll try and manually tune the samsung 'box first and try an attenuator next.

Mike's 2 posts
Mike's:
map
M's Freeview map
terrain
M's terrain plot
waves
M's frequency data
M's Freeview Detailed Coverage

Often picture quality is great during the day but usually ends up rubbish at around the same time each evening ( 9pm ). I always blame atmospherics, but why is it always around 9pm, its like the margate transmitter is switched off at this point., and why are only some channels affected, ie BBC channels not ITV or vice versa, I live in central margate which is not a massive distance from the transmitter site. Currently have no ITV channels, 5, 4, quest, dave ect.

Jay.'s 2 posts

Jay.: See this posting from someone else in Margate:

Analogue and digital signal strength | ukfree.tv - 10 years of independent, free digital TV advice

Margate transmitter does not carry the Commercial multiplexes (signals/groups of services), and therefore reception of Quest or Dave are not relevant here.

See the list of services by multiplex for after switchover (DSO):

DTG :: DTT Services by Multiplex

Margate carries three multiplexes (see the above link):

PSB1 | BBC One | C50
PSB2 | ITV1 | C51
PSB3 | BBC One HD | C53 (applicable for HD receivers only)

Go to BBC One and confirm that it is tuned to UHF channel 50. For ITV1 it should be tuned to C51 and for HD services it is C53.

Margate transmitter now uses Group C/D channels whereas for the former analogue it used Group A ones. For this reason, aerials "may" need replacing as they may be less sensitive on the higher (C/D) frequencies.

Group A is the bottom third of the band of frequencies and C/D is the top third. This has been done so that it can operate as a single frequency network with Dover. That is, they both transmit on the same channels, something which works fine with digital.

Dave Lindsay's 5,724 posts

@Dave Lindsay.
Thanks Dave, looks like i might have to invest in a more 'up-to-date' aerial as the one i have is about 5 years old and was bought for freeview reception as apposed to digital reception.Thanks for your help.

Jay's 2 posts

Jay: Freeview is digital! In any case, there is no such thing as a "digital" aerial aerials work based on the frequency they are receiving.

If your aerial is vertical and pointing towards Margate transmitter, then you have been lucky to receive Quest, Dave and other COM services. This may indicate that the COM channels are strong (as they can be picked up by a vertical aerial probably facing the wrong way). With this in mind, you might be able to re-orientate to Dover, switching it for horizontal polarisation.

Dave Lindsay's 5,724 posts
Saturday, 18 August 2012
G
Gordon Mowatt
12:17 PM
Bo'ness

Hi,i have two l.e.d.televisions in the upstairs bedrooms of my house both have built in freeview and recieve there reception from an aerial in my loft,i am currently having periodic reception problems from one of the televisions several times during the day,i have checked the connections and do not know if i need to install an outside aerial or a booster please advise me on how i can solve this problem, Regards Gordon.

Gordon Mowatt's 1 post
Gordon's:
map
G's Freeview map
terrain
G's terrain plot
waves
G's frequency data
G's Freeview Detailed Coverage

Gordon - swap them round to see if the problem is with the TV or the aerial feed.

Is it a single aerial with a splitter? Powered or not? See if by-passing the splitter helps?

Does it feed anywhere else?


Stephen P's 1,173 posts

Gordon Mowatt: Obviously try what has been suggested by Stephen P, but as far as only one of your TV's having problems is concerned, excluding any possibility of it having a defective aerial connection then the usual cause of this is simply because that the tuner in the set with the problem is less sensitive than the one fitted in the other TV as no two tuners are the same unless the TV's are of identical model numbers, and without knowledge of the method you are using to feed the aerial to both TV's it should really be done by using a two way powered splitter, as that guarantees the same level of signal to each TV plus gives the signal a slight boost.

Also, you should verify that both TV's are receiving from the same transmitter as they might not be as Blackhill and Craigkelly are both possible in your area (having previous knowledge of) this can be checked by carrying out a signal test starting on BBC1 because the mux (transmitter) channel number being received will (or should) be shown along with the strength / quality and this can be cross checked with the mux channel numbers used by both stations as listed below.

You should carry out this test on both TV's using "EPG programme" numbers 1 - 3 - 50 (if HD used) - 10 - 11 - 12, as that checks all six multiplexes used by each station, making a note of the strength / quality seen on each mux channel test and comparing the results between the TV's, as one of is liable to be lower than the other, giving an update on results, and when if necessary, further advice can be given.

Blackhills channels: 46 (BBC1) - 43 (ITV) - 40 (HD) - 41 (ITV3 etc) - 44 (Pick TV) - 47 (Yesterday)

Craigkelly (in same order) : 27 - 24 - 21 - 42 - 45 - 39

jb38's 7,179 posts
Select more comments
Your comment please