What is the Inversion Effect and why does it effect my Freeview TV reception?

Brian Butterworth published on UK Free TV
Under normal circumstances, the signals from each television transmitter can only be received by those homes and businesses that have aerials that have a direct line-of-sight to the transmitter.

(The Inversion Effect is also known as "Tropospheric Ducting")




The part of the signal from the transmitter that is directed upwards simply escapes into space and are lost.

When there is high atmospheric pressure (Met Office - Surface pressure charts) as the sun heats up the ground the warm air gets trapped underneath the colder air higher up. At the point where the warm air gets trapped under the cold air this creates a layer that is, in effect, a mirror for the television signals.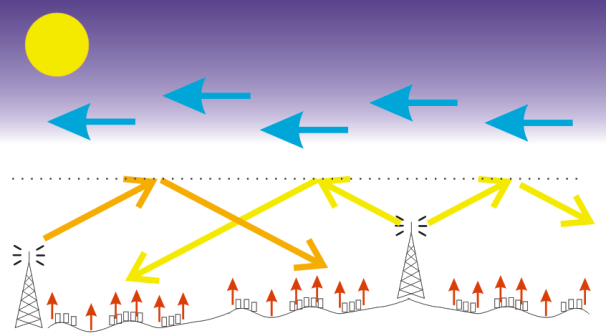 This means that signals that would otherwise be impossible to receive can suddenly effect your television reception.

The digital television signal uses a format called COFDM (coded orthogonal frequency division multiplexing) and this incorporates the ability to ignore reflected digital signals.

However, analogue television signals did not co-operate with each other and the picture quality is reduced. The very weak digital signals that were used before digital switchover for Freeview were badly effected by interference from reflected signals from adjacent analogue transmissions.

I recommend you look at the Tropospheric Ducting Forecast for VHF and UHF Radio and TV page for a current forecast - yellow, orange, red, and pink indicate that conditions are perfect for the effects listed above.
Links to current pressure data
Tropospheric Ducting Forecast for VHF and UHF Radio and TV

Met Office - Surface pressure charts

Comments
Friday, 11 February 2011

Can you point me towards a comprehensive list of current UK TV transmitters? The Taiwanese manufacturer of my pc dvb-t hybrid TV card has asked for one in response to my complaining that the list that they use is incomplete!

Thanks in advance for any help you can offer.
Milo

Milo O'Shea's 1 post
Saturday, 12 February 2011

i live at what i would call low in haverhill suffolk .Freeview is not bad one day but poor the next some rubbish channels such as viva are mostly good channel four and five usually poor, my arial points towards sudbury before i run out and buy freesat will my signal become much better after switchover

chris's 1 post

chris: Yes, the signals will be more powerful after switchover. But I would see Freeview intermittent interference | ukfree.tv - independent free digital TV advice too.

Briantist's 38,899 posts
Monday, 14 February 2011

Since before Christmas we have been having problems receiving some channels. Since trying auto tuning we have lost all the ITV channels, as well as Channel 4 and Five. The analogue channels still seem fine. Our postcode is B77 and we receive our freeview programmes via the Sutton Coldfield transmitter. Our aerial is in the loft. Is there anything we can try to get the lost channels back?

Chris Hudson's 1 post
Tuesday, 15 February 2011

Chris Hudson: Please see Single frequency interference | ukfree.tv - independent free digital TV advice .

Briantist's 38,899 posts
Friday, 18 February 2011

Hi I have a humax freeview recorder. It freezes and pixalates on all channels - some are worse more 4 film 4 etc. However it also freezes on main channels. I have had a second digital ariel fitted with new cable - the engineer also fitted a signal limiter as the signal is so strong. I receive from the transmitter at Alexander palace London. This did not resolve the problem. I have sent back the box and received a new box - the problem has not been resolved - ,it freezes etc.

In my attic I run a tv with an indoor ariel using an old freeview box - it works fine.

Any ideas as I am getting somewhat fed up as some recordings are not worth watching and I miss significant part of news stories.

The problem does not seem to occur with the radio channels

Chris's 1 post

Chris: Swap the Humax and the old freeview box over. If the old freeview box works on your main TV, the chances are that the recorder is faulty. If it does not work properly, then one must assume that there is something wrong with your new installation, and you should contact the installer to come and rectify the problem.

Hope this helps,
Adam.

Adam B's 91 posts
Adam's:
map
A's Freeview map
terrain
A's terrain plot
waves
A's frequency data
A's Freeview Detailed Coverage
Tuesday, 22 February 2011
M
Margaret
5:39 PM
Halstead

We have Freeview on most channels but ITV drops out. Now is that due to weather or a poor aerial. Also will it be okay after the switch overwhen they change the frequencies. Our Postcode is CO9 3QW and Sudbury is our transmitter. Margaret and Pat Dennis

Margaret's 2 posts
Margaret's:
map
M's Freeview map
terrain
M's terrain plot
waves
M's frequency data
M's Freeview Detailed Coverage

Margaret: As long as your have a rooftop aerial you should have excellent reception of multiplex 2 - can you please see Single frequency interference | ukfree.tv - independent free digital TV advice for some help.

Yes, the signal will be even stronger after switchover.

Briantist's 38,899 posts
Select more comments
Your comment please