To join, leave or change ukfree.tv updates by email, enter your email address here:

BBC One HD
Aims to speak to everyone in the UK through programming that celebrates the richness and diversity of life in new and surprising ways.
Main TV channels
How to Watch: BBC One HD
High definition channels

web
other
BBC One HD
101
115
106
Regional content
: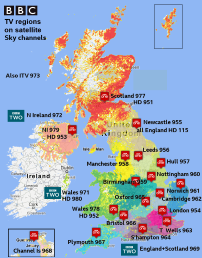 BBC nations TV network - English, Wales, Scotland and Northern Ireland - for some regional programmes. See
BBC nations and regions - overview map - interactive maps
. .
media.info
: For full details of broadcaster contacts, see the
media.info BBC One HD page
.
Official site
: See the
BBC One HD website
.
From Wikipedia
: The channel's annual budget for 2011/12 is 1,166.6 million.3 Along with the BBC's other domestic television stations, and many European broadcasters and some in Asia, it is funded principally by the television licence fee, and therefore shows uninterrupted programming with no commercial advertising at any time. It is currently the most watched television channel in the United Kingdom, ahead of its traditional rival for ratings leadership, ITV1. This system used a vertically-scanned image of 30 lines just enough resolution for a close-up of one person, and with a bandwidth low enough to use existing radio transmitters. - en.wikipedia.org
read more about BBC One HD on wikipedia
(summary by
Clipped
).
Freeview multiplex
: BBC One HD is on
multiplex PSB3
in
England
Scotland
Northern Ireland
Wales .
This channel carries a subtitles service for the deaf, hard of hearing and quiet environments.
Comments
Tuesday, 8 November 2016

Thanks for all the helpful comments. I had checked the web-site for a list of services, and I noticed that, although Windermere lists PSB3 with channels 101 to 104, there are no channel icons shown. One TV is a fairly recent Sony (2015, described as 'full HD'); the other is 'HD ready', it's true, but I'm running it via a Manhattan HD-T2 set-top box that's described as 'Freeview HD' - no ifs, buts or readys. Via an HDMI cable, so the TV is getting a decoded digital signal. All PSB1 and PSB2 services are OK, but there's nothing at all from PSB3. I've run out of ideas - hence my cry for help!

Stuart's 7 posts

Stuart: Look at what transmitter your actually on (just in case) and check signal strength and wiring. You should be getting HD from a Lite transmitter, and I know the Manhattan is HD (I've got one - they do tend to lock up, dont they?) and the 2015 Sony almost certainly has a T2 tuner, so your missing the mux in some way. And thats normally because the signal strength is too low - so either a dodgy connection or too low a signal from a transmitter.

If its on both sets, then the problem is probably where the signal splits or before.


MikeB's 2,494 posts
Platinum

Stuart: In addition to advice given by others. You should try carrying out a signal strength check using the "manual tune" facility on the Manhattan, the procedure being to enter Windermere's Mux 41 (634 Mhz) into the selection box then stop at this point, as if any signal is being received the level of will be indicated no matter how low it might be.

Another point to observe when using an HDMI lead is to make sure that its kept well away from aerial coax cables, as radiation from HDMI cables is well known as being frequently responsible for interfering with (or killing off) the reception of certain Mux channels whilst others are unaffected.

jb38's 7,179 posts
Platinum
Wednesday, 9 November 2016

Many thanks for all the help: I've tried all the suggestions, with no success.This is what I found: I can't find any confirmation of the transmitter on the box or TV, but given this hilly area, I'm sure that no others are detectable. Manual tune (with co-ax link to set-top box removed, and HDMI lead held well away from main aerial feed: CH 41 gives strength cycling from 6% to 92% about once every 3 sec; quality does the same from 0% to about 30%. The two variations don't appear to be synchronised. The aerial is communal, with 15 houses connected, and it's over 30 years old, with some trees in the signal path. I have a splitter/amp close to my connection to the system, and the signal is unreliable, with PSB1 (CH44) more prone to occasional picture break-up than PSB2 (CH47). That, together with your comments, leads me to sigh and resign myself to the inevitable! You have helped me enormously, and even though the result isn't what I wanted, at least I appear to have an answer now.

Stuart's 7 posts

Stuart: As you're using a communal aerial you should ask whoever is responsible for maintaining it to investigate the problem, particular if you can confirm that your neighbours using the same aerial are also affected.

StevensOnln1's 1,532 posts
Gold
Sunday, 19 March 2017

What channel numbers do BBC at Hannington for BBC programmes

Chris Peck's 1 post
Monday, 20 March 2017
MikeP
8:33 PM

Chris Peck:

Look at Which Freeview channels does the Hannington transmitter broadcast? for indformation on all the programmes served fro Hannington.



MikeP's 1,921 posts
Gold
Select more comments
Your comment please