BBC One HD
Aims to speak to everyone in the UK through programming that celebrates the richness and diversity of life in new and surprising ways.
Main TV standard-definiton channels
How to Watch: BBC One HD
Below is a list of all the television and radio channels that you can watch in the UK using one of the free services: DAB (for radio), Freeview, Sky No Card - Sky without a viewing card (Freesat from Sky (or fSfS)) and Freesat.. Where a channel can be watched for free, the channel number is listed below. In addition, if you can watch (or listen) immediately online, press the button in the "web" column.

As some channels are exclusive to one service alone, you may need to get receive more than one service to get all the channels you want. The coverage for Freeview differs too - those channels not provided by the public service "Freeview Light" transmitters the current coverage shown thus

(54%)

, taken from Connected Nations Report 2017: Data analysis' Key: wb_sunny daytime; watch_later nighttime; account_box funded from the TV License; flags show Freeview channel limits.
High definition channels
Regional content
: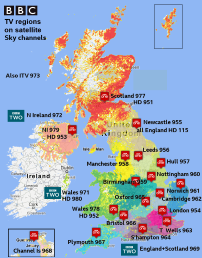 BBC nations and regions TV network - 14 English regions plus Wales, Scotland and Northern Ireland - for regional news. See
BBC nations and regions - overview map - interactive maps
. .
media.info
: For full details of broadcaster contacts, see the
media.info BBC One HD page
.
Official site
: See the
BBC One HD website
.
From Wikipedia
: The channel's annual budget for 2011/12 is 1,166.6 million.3 Along with the BBC's other domestic television stations, and many European broadcasters and some in Asia, it is funded principally by the television licence fee, and therefore shows uninterrupted programming with no commercial advertising at any time. It is currently the most watched television channel in the United Kingdom, ahead of its traditional rival for ratings leadership, ITV1. This system used a vertically-scanned image of 30 lines just enough resolution for a close-up of one person, and with a bandwidth low enough to use existing radio transmitters. - en.wikipedia.org
read more about BBC One HD on wikipedia
(summary by
Clipped
).
Freeview multiplex
: BBC One HD is on
multiplex PSB3
in
.
This channel carries a subtitles service for the deaf, hard of hearing and quiet environments.
Comments
Saturday, 26 May 2018

Chris:

You need to put your full post code into this website so that we can see where you are in relation to one of the over 1100 transmitters and what the predicted reception is like.



MikeP's 3,056 posts
Wednesday, 18 July 2018

Unable to receive hd channels 101 to 106 . A local tv Ariel company told me I was receiving from winter hill
Kind regards mel Nuttall

Melvyn nuttall's 1 post

Melvyn nuttall: Have you checked for any loose or damaged cables or connections behind your TV? Please provide a full postcode so that we can see where you are in relation to the transmitter and your predicted signal strength etc. Do not attempt to retune.

StevensOnln1's 3,569 posts
Saturday, 21 July 2018

I do not understand.
The tele always worked, but lately ( few days?) all HD channel are gone.
I retune the Freeview, either on TV or Humax box: same results: Jumps from 100 to 200
We used to have 101 (BBC1 HD) 102 (BBC2 HD)etc...
But no more.
All search say same things : Retune...
I did , no results.
Any help would be greatly appreciated.
MALVERN repeater.

Serge's 1 post
Sunday, 22 July 2018

Serge:

Unplug the aerial lead, then do a retune. That will clear the channel list completely. Then refit the aerial and retune again. Many people have fouund that it works for them.



MikeP's 3,056 posts
Tuesday, 24 July 2018

Miraculously, the problems disappeared on 21st July. I didn't do physics, so can only assume there was a drastic change in atmospheric pressure.

A Farlow's 12 posts

A Farlow:

As I have stated by your other post, there has been a change in the weather pattern and that has altered your reception. Not directly connected with pressure but with the overall pattern of the weather and atmospheric conditions. That the p[roblems have moved from your area means someone else is now getting those problems. That has happened every since the start of BBC2 625 line transmissions using UHF frequencies.



MikeP's 3,056 posts
Sunday, 17 March 2019

I'm the only one! St Patrick's Day! Actual! I made this brooch myself. In Ireland and England, you will not find a person anywhere who does what I do. I'm the only one!

Nataliya Matviyenko's 1 post
Monday, 8 April 2019

I'm in Newton Abbot. Receiving from Beacon Hill, Marldon, Devon.
Retuned and discovered all the HD channels were poor quality. All seems ok, then sound will stutter and image becomes blocky in places, then all is ok again. This repeats at random intervals on all HD channels eg: BBC 1 on 101, but not SD BBC1 on 1.
This occurred immediately after update; never occurred before.

Anyone else having HD issues immediately after update?

Anje's 1 post
Wednesday, 6 May 2020

I receive SD and HD muxes from Malvern. Why doesn't Malvern - or indeed Sutton Coldfield - transmit regional optouts on BBC1 HD. Are the tv studios at the Mailbox not HD capable? Only SD optouts are available (e.g the Midlands Today news programme).. Do you know if/when this will change?
Thanks

Richard P's 2 posts
Select more comments
Your comment please