BBC One HD
Aims to speak to everyone in the UK through programming that celebrates the richness and diversity of life in new and surprising ways.
Main TV standard-definiton channels
How to Watch: BBC One HD
Below is a list of all the television and radio channels that you can watch in the UK using one of the free services: DAB (for radio), Freeview, Sky No Card - Sky without a viewing card (Freesat from Sky (or fSfS)) and Freesat.. Where a channel can be watched for free, the channel number is listed below. In addition, if you can watch (or listen) immediately online, press the button in the "web" column.

As some channels are exclusive to one service alone, you may need to get receive more than one service to get all the channels you want. The coverage for Freeview differs too - those channels not provided by the public service "Freeview Light" transmitters the current coverage shown thus

(54%)

, taken from Connected Nations Report 2017: Data analysis' Key: wb_sunny daytime; watch_later nighttime; account_box funded from the TV License; flags show Freeview channel limits.
High definition channels
Regional content
: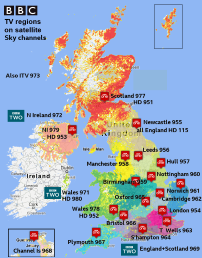 BBC nations and regions TV network - 14 English regions plus Wales, Scotland and Northern Ireland - for regional news. See
BBC nations and regions - overview map - interactive maps
. .
media.info
: For full details of broadcaster contacts, see the
media.info BBC One HD page
.
Official site
: See the
BBC One HD website
.
From Wikipedia
: The channel's annual budget for 2011/12 is 1,166.6 million.3 Along with the BBC's other domestic television stations, and many European broadcasters and some in Asia, it is funded principally by the television licence fee, and therefore shows uninterrupted programming with no commercial advertising at any time. It is currently the most watched television channel in the United Kingdom, ahead of its traditional rival for ratings leadership, ITV1. This system used a vertically-scanned image of 30 lines just enough resolution for a close-up of one person, and with a bandwidth low enough to use existing radio transmitters. - en.wikipedia.org
read more about BBC One HD on wikipedia
(summary by
Clipped
).
Freeview multiplex
: BBC One HD is on
multiplex PSB3
in
.
This channel carries a subtitles service for the deaf, hard of hearing and quiet environments.
Comments
Thursday, 13 October 2011

Jon Pearne: You didn't provide an address so I can't be sure.

You must be in a region that has "switched over" or has a "pre switchover HD service" which is basically Crystal Palace and Pontop Pike now.

Briantist's 38,899 posts
Wednesday, 14 December 2011

I have a SAMSUNG full HD tv. Model LE40B550. Receive my tv signal from the Tacolneston Norfolk transmitter which has just recently gone completely digital. Receive all channels perfectly (strong signal) except the 4 HD channels. Have retuned numerous times but the tv does not find any. I am certain the arial is not the problem. Any ideas would be very appreciated.
Len

LEN's 2 posts
Monday, 9 January 2012
T
Teresa
9:16 PM
Leatherhead

I have a new panasonic txl42e30b and also a new humax hdr-fox t2 HD recorder box. Both of these have built in freeview HD. I get a good picture on all SD channels but neither devices pick up any of the HD channels. I live in Leatherhead, Surrey, and have a roof aerial and a booster box. Do i need to change my aerial? or what else should i do? Any ideas? Thanks.

Teresa's 2 posts
Teresa's:
map
T's Freeview map
terrain
T's terrain plot
waves
T's frequency data
T's Freeview Detailed Coverage

Teresa: You could try manually tuning to Ch31 for HD services.

Where is your booster? Is it on the roof or behind the TV?

I think you might have to put up with it until switchover on 18th April.

The current HD signal from Crystal Palace is on a lower power than the standard definition services which means that it is a weaker signal. In particular, the transmitter at Reigate uses the same frequency so the amount of signal Crystal Palace throws out in that general direction will be limited so as to protect against intereference.

Dave Lindsay's 5,724 posts
T
Teresa
11:55 PM
Leatherhead

Thanks Dave. The booster is in the loft. I did try manual tuning but it did not work. Do you think a better aerial might resolve it, as the one on the roof looks quite old, although the picture for all the standard channels is good. Or would it be better to wait until the switchover in April?



Teresa's 2 posts
Teresa's:
map
T's Freeview map
terrain
T's terrain plot
waves
T's frequency data
T's Freeview Detailed Coverage
Tuesday, 10 January 2012

Teresa: Leave it as it is. The problem is the weak HD signal and not that your aerial is poor and in need of replacement.

If you pick up the SD channels now, your aerial will likely be fine for all channels after switchover when the strength of them has been boosted.

Dave Lindsay's 5,724 posts
Saturday, 28 January 2012

I have been receiving the 4 freeview HD channels from Crystal Palace transmitter with no problems until a few days ago, now the signal strength is so low the 4 HD chanells are unwatchable! Very disappointing. Is signal strength expected to return soon or will I have to wait till April??

Keith's 1 post
Thursday, 5 April 2012

I have re-tuned and everything works fine, except that the BBC multiplex channels, although received strongly by my freeview box,and are recordable, do not transfer to my TV. Have done all the obvious things like different retuning modes and disconnect of possible sources of interference, but all I get on screen is - nothing except 'no signal' message.

Neville's 1 post
Select more comments
Your comment please