Full Freeview on the Limavady (Northern Ireland) transmitter

Brian Butterworth first published this on - UK Free TV
The symbol shows the location of the Limavady (Northern Ireland) transmitter which serves 45,000 homes. The bright green areas shown where the signal from this transmitter is strong, dark green areas are poorer signals. Those parts shown in yellow may have interference on the same frequency from other masts.
This transmitter has no current reported problems
The BBC and Digital UK report there are no faults or engineering work on the Limavady (Northern Ireland) transmitter.


_______
Which Freeview channels does the Limavady transmitter broadcast?
If you have any kind of Freeview fault, follow this
Freeview reset procedure
first.
Digital television services are broadcast on a multiplexes (or Mux) where many stations occupy a single broadcast frequency, as shown below.
Mux
H/V
Frequency
Height
Mode
Watts

PSB1




BBCA

H max

C41 (634.0MHz)
382m
DTG-3

20,000W


9 BBC Four, 201 CBBC, 202 CBeebies, 231 BBC News, 232 BBC Parliament, 250 BBC Red Button, plus 13 others 700 BBC Radio 1, 701 BBC Radio 1Xtra, 702 BBC Radio 2, 703 BBC Radio 3, 704 BBC Radio 4 (FM), 705 BBC Radio 5 Live, 706 BBC Radio 5 Live Sports Extra, 707 BBC Radio 6 Music, 708 BBC Radio 4 Extra, 709 BBC Asian Network, 710 BBC World Service, 719 BBC Radio Ulster, 720 BBC Radio Foyle,



PSB2




D3+4

H max

C44 (658.0MHz)
382m
DTG-3

20,000W


3 UTV (SD) (UTV), 4 Channel 4 (SD) NI ads, 5 Channel 5 (SD), 6 ITV 2, 10 ITV3, 13 E4, 14 Film4, 15 Channel 4 +1 NI ads, 18 More4, 24 ITV4, 33 UTV +1 (UTV),



PSB3




BBCB

H max

C47 (682.0MHz)
382m
DTG-6

20,000W


103 UTV HD (UTV), 104 Channel 4 HD NI ads, 105 Channel 5 HD, 204 CBBC HD, plus 1 others 65 TBN UK,



COM4




SDN

H -3dB

C40 (626.0MHz)
379m
DTG-8

10,000W


12 Quest, 20 Drama, 21 5USA, 27 ITV2 +1, 30 5STAR, 31 Paramount Network, 34 ITV3 +1, 40 Sony Movies Action, 44 Channel 5 +1, 54 5SELECT, 58 ITVBe +1, 59 ITV4 +1, 63 Blaze, 66 CBS Reality, 70 Horror Channel, 77 TCC, 80 Blaze +1, 203 CITV, 211 Ketchup TV, plus 18 others 16 QVC, 23 Create & Craft, 49 TJC, 85 Hochanda, 252 Kiss Chat & Date, 253 Proud Dating, 261 Racing TV, 263 SonLife, 264 VisionTV, 265 Planet Knowledge, 269 Arise News, 670 ADULT Section (start), 675 ADULT PARTY, 679 ADULT Studio 66, 680 ADULT Xpanded2, 724 Capital, 727 Absolute Radio, 728 Heart,



COM5




ArqA

H -3dB

C43 (650.0MHz)
379m
DTG-8

10,000W


11 pick, 17 Really, 19 Dave, 28 E4 +1, 32 Sony Movies, 38 Quest Red, 41 Food Network, 45 Film4 +1, 46 Challenge, 57 Smithsonian Channel, 76 Quest +1, 78 Now 90s, 88 Together, 233 Sky News, plus 7 others 43 Gems TV, 673 ADULT smileTV3, 678 Xpanded TV, 723 talkSPORT, 730 RNIB Connect, 731 Classic FM, 732 LBC,



COM6




ArqB

H -3dB

C46 (674.0MHz)
379m
DTG-8

10,000W


25 Yesterday, 29 4Music, 37 DMAX, 39 CBS Justice, 42 HGTV, 47 4seven, 71 CBS Drama, 79 Dave ja vu, 81 Talking Pictures TV, 91 PBS America, 234 RT, 235 Aljazeera English, plus 17 others 22 Ideal World, 35 QVC Beauty, 36 QVC Style, 73 Jewellery Maker, 206 Pop, 672 ADULT smileTV2, 674 ADULT Babestn, 699 ADULT Section, 711 Hits Radio, 712 KISS FRESH, 713 KISS, 714 KISSTORY, 715 Magic, 716 heat, 717 Kerrang!, 718 Smooth Radio, 725 Premier Radio,


DTG-3
64QAM 8K 2/3 24.1Mb/s DVB-T MPEG2
DTG-6
256QAM 32KE 2/3 40.2Mb/s DVB-T2 MPEG4
DTG-8
64QAM 8K 3/4 27.1Mb/s DVB-T MPEG2
H/V: aerial position (horizontal or vertical)
Are you trying to watch these 20 Freeview HD channels?


The
Limavady (Northern Ireland)
mast is not one of the
extended Freeview HD
(COM7 and COM8) transmitters, it does not provide these
high definition
(HD) channels: 4seven HD, 5STAR +1, 5USA +1, BBC Four HD, BBC News HD, CBeebies HD, CBS Justice +1, CBS Reality +1, Channel 4+1 HD, Forces TV, FreeSports HD, More4 +1, NOW 80s, Paramount Network +1, PBS America +1, Pick +1, Together TV +1, Quest Red +1, RT HD, Shopping Quarter .
If you want to watch these HD channels, either use Freesat HD, or move your TV aerial must point to one of the 30
Full Freeview HD transmitters
. For more information see the
want to know which transmitters will carry extra Freeview HD?
page.
Which BBC and ITV regional news can I watch from the Limavady transmitter?
BBC Newsline
0.6m homes
2.5%
from
Belfast
BT2 8HQ, 1,051km northeast (51°)
to
BBC Northern Ireland region - 46 masts
.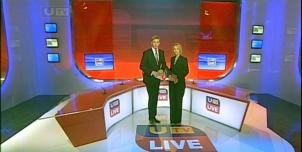 UTV Live
0.6m homes
2.5%
from
Belfast
BT7 1EB, 1,051km northeast (51°)
to
UTV region - 46 masts
.
Are there any self-help relays?
| | | | |
| --- | --- | --- | --- |
| Elliotts Hill | Transposer | 13 km SE Ballymena, Co. Antrim | 90 homes (according to B9 Energy) |
How will the Limavady (Northern Ireland) transmission frequencies change over time?
1984-97
1997-98
1998-2012
2012-13
2013-18
2013-17
4 Sep 2019

C/D

E

C/D

E

C/D

E

C/D

E

T

C/D

E

T

C/D

E

T

B

E

K

T

C40
SDN
C41
BBCA
C43
ArqA
C44
D3+4
C46
ArqB
C47
BBCB
C48
_local
_local
_local
_local
C49tv_off
ArqB
ArqB
ArqB
C50tv_off
BBCA
BBCA
BBCA
C53tv_off
A
C54tv_off
SDN
SDN
SDN
C55tv_off
BBC1waves
BBC1waves
BBC1waves
BBCB
BBCB
BBCB
C57tv_off

-

B
C58tv_off

-

2
ArqA
ArqA
ArqA
C59tv_off
ITVwaves
ITVwaves
ITVwaves
D3+4
D3+4
D3+4
C60tv_off

+

C
C62
BBC2waves
BBC2waves
BBC2waves
C63

+

D
C65
C4waves
C4waves
C4waves
C67
1
tv_off Being removed from Freeview (for 5G use) by 30 June 2020 - more
Table shows multiplexes names see this article;
green background for transmission frequencies
Notes:
+
and
-
denote 166kHz offset;
aerial group
are shown as
A
B
C/D
E
K
W
T
waves
denotes analogue; digital switchover was 10 Oct 12 and 24 Oct 12.
How do the old analogue and currrent digital signal levels compare?
Analogue 1-4

100kW

BBCA

,

D3+4

,

BBCB

(-7dB)

20kW

SDN

,

ARQA

,

ARQB

(-10dB)

10kW

Mux 1*

,

Mux 2*

,

Mux A*

,

Mux B*

,

Mux C*

,

Mux D*

(-21dB)

800W
Which companies have run the Channel 3 services in the Limavady transmitter area
| | |
| --- | --- |
| Oct 1959-May 2006 | Ulster Television |
| May 2006-Dec 2014 | UTV plc |

| | |
| --- | --- |
| Feb 1983-Dec 1992 | TV-am• |
| Jan 1993-Sep 2010 | GMTV• |
| Sep 2010-Dec 2014 | ITV Daybreak• |
• Breakfast ◊ Weekends ♦ Friday night and weekends † Weekdays only. Limavady was not an original Channel 3 VHF 405-line mast: the historical information shown is the details of the company responsible for the transmitter when it began transmitting Channel 3.
Comments
Sunday, 18 August 2019

F Byrne: There is no recent engineering work shown for Limavady, although there are several frequency changes taking place on 4th September. As you're in the Republic of Ireland and therefore don't have a UK postcode, I don't think the Digital UK checker will be much use. Have you checked for any loose or damaged cables or connections behind your TV?

StevensOnln1's 2,777 posts
Monday, 19 August 2019
C
Chris.SE
5:58 AM
Limavady

F Byrne:

As StevensOnln1 says the Digital UK - Coverage checker may not be of any help, but you could try it to see. You are quite a long way from the transmitter and parts of your locale are not (well) covered. Due to the changes coming up there may well have been undocumented transmission dropouts.
If you click on the transmitter postcode BT49 9LJ at the top of this page, it will open the checker at the transmitter site where you can at least see the UHF channel change due on the 4th September. All the multiplexes are moving, you could even try a manual tune for UHF40 to see if the SDN multiplex is already transmitting there (unlikely but some transmitters around the UK have occasionally started a multiplex on the new channel before the switchover date).

Chris.SE's 1,281 posts
Saturday, 24 August 2019

Thanks StevensOnLn1 & Chris.SE for your replies. Hopefully things will improve again after September 4. When the Freeview transmitters were on low power before analogue tv was switched off, we picked up all 6 UK muxes without any problem. Could be that ch 40 is being tested out, as you mention - some days it is perfect, other days unwatchable.

Now, I recently repointed my DAB antenna to point at Divis to pick up ch 11A .. I haven't tried moving it again to see if it is causing issues on ch 40, even if the DAB antenna isn't meant to pick up past ch 13 (the signals are combined into one aerial cable for the tv / radio ports in the house.

Thanks again!

F Byrne's 6 posts
Wednesday, 4 September 2019

Ok, I did the retune today. Even with my old yagi wideband antenna from 2009, all channels came in. Interestingly, the weakest channels are those on COM6 (Yesterday, CBS Drama, ...) On ch 46. Signal strength is 20% lower than the other commercial muxes. Same as before switchover - that mux is the weakest, even though your guide indicates it is the same strength as the other 2?

Either way .. no new / narrower aerial is required .. for now, anyway. My TV is too old to pick up the BBC HD mux, so can't test that at the moment

Question: is my 4G filter any use now to be kept plugged in, now that all the channels have shifted down? I'm assuming I'm losing a little gain with it inline but was not sure.

F Byrne's 6 posts
Thursday, 5 September 2019

F Byrne:

You can check your predicted reception by using the coverage checker Digital UK - Coverage checker if you have a UK postcode.

There will be some insertion loss from the 4G filter but it's likely to be very small, try it without and see if it makes any difference. The disadvantage of not using it may be that if you have any very strong 4G signals they may saturate your TV front end reducing the sensitivity hence reducing signal level of other received channels.

Chris.SE's 1,281 posts

Thanks, Chris, for your reply! I live in Letterkenny, in Co Donegal. I'll leave the 4G filter in for now and see how it goes with the weakest mux. It was slightly damaged so if I unplug it, I might not get it back in, should it be necessary! If it wasn't for the fact my aerial is on the roof of a two-storey house, I'd be tempted to upgrade it to a K band aerial, since it cost EUR150 last time for installation..

Btw - thanks also for all the info you have on your website!

F Byrne's 6 posts
Monday, 4 November 2019

Hi, back again! A few weeks on, ch 46 is so weak that it is frequently unwatchable, such as this evening. I tried looking up your coverage maps but they do not appear to be updated yet post-5G changeover?

C46 (674.0MHz) after switchover | free and easy

The above does not show any channels from Limavady.

I've noticed that ch 43 can be unwatchable at times (mornings in particular) and then without any errors the rest of the day. Definitely far more interference since the latest changeover...

Ch 43 is stronger than ch 46 yet their apparent transmission power is the same.

(I'm in Letterkenny, at a high enough point where one time, I used to get ch21 from Divis, showing Channel 4).


Francis Byrne's 6 posts
Select more comments
Your comment please