UTV +1
The heart of popular culture, +1
Main TV standard-definiton channels
How to Watch: UTV +1
Below is a list of all the television and radio channels that you can watch in the UK using one of the free services: DAB (for radio), Freeview, Sky No Card - Sky without a viewing card (Freesat from Sky (or fSfS)) and Freesat.. Where a channel can be watched for free, the channel number is listed below. In addition, if you can watch (or listen) immediately online, press the button in the "web" column.

As some channels are exclusive to one service alone, you may need to get receive more than one service to get all the channels you want. The coverage for Freeview differs too - those channels not provided by the public service "Freeview Light" transmitters the current coverage shown thus

(54%)

, taken from Connected Nations Report 2017: Data analysis' Key: wb_sunny daytime; watch_later nighttime; account_box funded from the TV License; flags show Freeview channel limits.
Main TV standard-definiton channels
Regional content
: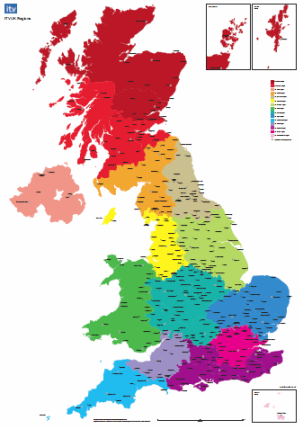 Channel 3 network for adverts and regional news. See
ITV, UTV and STV regions - overview map - interactive maps
. .
media.info
: For full details of broadcaster contacts, see the
media.info UTV +1 page
.
Official site
: See the
UTV +1 website
.
From Wikipedia
: UTV was the last of the ITV stations to cease broadcasting on analogue transmitters. The station was the last in the ITV network to begin 24-hour transmission in 1988. UTV's ident at this time did not animate and was not accompanied by a jingle. - en.wikipedia.org
read more about UTV +1 on wikipedia
(summary by
Clipped
).
Freeview multiplex
: UTV +1 is on
multiplex PSB2
in
.
Comments
Thursday, 10 May 2012

Any word on UTV+1 returning to satellite ?

I assume this will happen at some stage since the recent signing of the agreement with ITV on the UTV HD issue. I think UTV+1 on satellite was also part of the agreement.


Peter Henderson's 240 posts
Tuesday, 15 May 2012

I can't find any new references to UTV+1 on Lyngsat, KingofSat, Flysat or DigitalSpy, but I'll keep a lookout. Thanks for the info. about eh ITV/UTV deal.

Radan's 3 posts
Radan's: ...

UTV HD on satellite (both Sky and Freesat) is supposedly going to start at DSO, which I assume means the 24th October Radan.

I can't see any reason why both couldn't start earlier (i.e now) unless it has something to do with the agreement coming into force at DSO,

I assume ITV1 +1 is availible on Satellite (i.e. both the Sky and Freesat EPGs) in England, Wales, and those parts of Southern Scotland that carry ITV1 Border Scotland ?

I would also assume that UTV HD and UTV +1 will be available on satellite sometime before the official launch under the other channels option.

Peter Henderson's 240 posts
Thursday, 28 April 2016
M
Mykhaylo (Mikhail) Kryzhanovsky
11:03 AM

"Hillary Clinton, a Superspy, or How to Recruit and Eliminate the U.S. Presidents"Read full story online: http://yapishu.net/book/7095By Mykhaylo (Mikhail) Kryzhanovsky, a former KGB spy and anti-terror "Nabat' group sniper, CIA, FBI and Secret Service "Filament".e-mail : mikhail.kryzhanovsky@mail.ru
tel. 585-456-7836
New York


Mykhaylo (Mikhail) Kryzhanovsky's 1 post
Select more comments
Your comment please