Full Freeview on the Divis (Northern Ireland) transmitter

Brian Butterworth first published this on - UK Free TV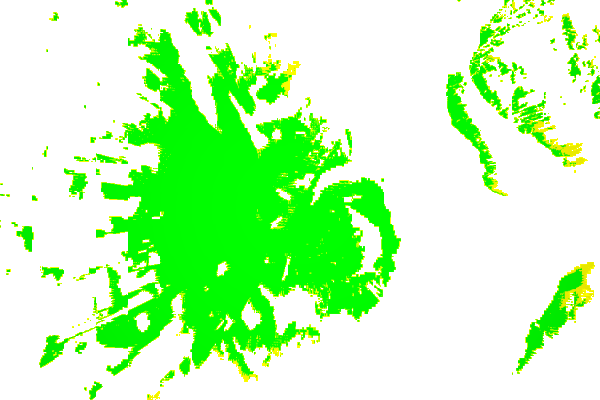 The symbol shows the location of the Divis (Northern Ireland) transmitter which serves 440,000 homes. The bright green areas shown where the signal from this transmitter is strong, dark green areas are poorer signals. Those parts shown in yellow may have interference on the same frequency from other masts.
This transmitter has no current reported problems
The BBC and Digital UK report there are no faults or engineering work on the Divis (Northern Ireland) transmitter.


_______
Which Freeview channels does the Divis transmitter broadcast?
If you have any kind of Freeview fault, follow this
Freeview reset procedure
first.
Digital television services are broadcast on a multiplexes (or Mux) where many stations occupy a single broadcast frequency, as shown below.
Mux
H/V
Frequency
Height
Mode
Watts

PSB1




BBCA

H max

C27 (522.0MHz)
551m
DTG-3

100,000W


1 BBC One (SD) Northern Ireland, 2 BBC Two Northern Ireland, 9 BBC Four, 201 CBBC, 202 CBeebies, 231 BBC News, 232 BBC Parliament, 601 BBC Red Button, plus 13 others 700 BBC Radio 1, 701 BBC Radio 1Xtra, 702 BBC Radio 2, 703 BBC Radio 3, 704 BBC Radio 4 (FM), 705 BBC Radio 5 Live, 706 BBC Radio 5 Live Sports Extra, 707 BBC Radio 6 Music, 708 BBC Radio 4 Extra, 709 BBC Asian Network, 710 BBC World Service, 719 BBC Radio Ulster, 720 BBC Radio Foyle,



PSB2




D3+4

H max

C21+ (474.2MHz)
551m
DTG-3

100,000W


3 UTV (SD) (UTV), 4 Channel 4 (SD) NI ads, 5 Channel 5, 6 ITV 2, 10 ITV3, 13 E4, 14 Film4, 15 Channel 4 +1 NI ads, 18 More4, 24 ITV4, 33 UTV +1 (UTV),



PSB3




BBCB

H max

C24 (498.0MHz)
551m
DTG-6

100,000W


74 Shopping Quarter , 101 BBC One HD Northern Ireland, 102 BBC Two HD (England), 103 UTV HD (UTV), 104 Channel 4 HD NI ads, 105 Channel 5 HD, 204 CBBC HD, plus 1 others 65 TBN UK,



COM4




SDN

H -3dB

C23 (490.0MHz)
551m
DTG-8

50,000W


12 Quest, 20 Drama, 21 5USA, 23 CCXTV, 27 ITV2 +1, 30 5STAR, 31 Paramount Network, 40 Sony Movies Action, 44 Channel 5 +1, 54 5SELECT, 58 ITV3 +1, 59 ITV4 +1, 63 Blaze, 66 CBS Reality, 70 Horror Channel, 77 TCC, 80 Blaze +1, 97 ITVBe +1, 203 CITV, 211 Ketchup, plus 15 others 16 QVC, 49 TJC, 95 Create & Craft, 252 Kiss Chat & Date, 253 Proud Dating, 261 Racing TV, 263 SonLife, 264 VisionTV, 265 On Demand 365, 269 Arise News, 670 ADULT Section (start), 680 ADULT Xpanded2, 724 Capital, 727 Absolute Radio, 728 Heart,



COM5




ArqA

H -3dB

C26 (514.0MHz)
528m
DTG-8

50,000W


11 Sky Arts, 17 Really, 19 Dave, 28 E4 +1, 29 4Music, 34 pick, 38 Quest Red, 41 Food Network, 45 Film4 +1, 46 Challenge, 47 4seven, 56 Smithsonian Channel, 75 Yesterday +1, 76 Quest +1, 87 Together TV, 233 Sky News, plus 9 others 43 Gems TV, 85 Hochanda, 673 ADULT smileTV3, 678 Xpanded TV, 723 talkSPORT, 730 RNIB Connect, 731 Classic FM, 732 LBC, 733 Trans World Radio,



COM6




ArqB

H -3dB

C30 (546.0MHz)
528m
DTG-8

50,000W


25 Yesterday, 32 Sony Movies, 37 DMAX, 39 CBS Justice, 42 HGTV, 67 CBS Drama, 79 Dave ja vu, 81 Talking Pictures TV, 91 PBS America, 234 RT, 235 Aljazeera English, plus 18 others ADULT smileTV2, 22 Ideal World, 35 QVC Beauty, 36 QVC Style, 73 Jewellery Maker, 206 Pop, 674 ADULT Babestn, 679 ADULT Studio 66, 699 ADULT Section, 711 Hits Radio, 712 KISS FRESH, 713 KISS, 714 KISSTORY, 715 Magic, 716 Greatest Hits Radio, 717 Kerrang!, 718 Smooth Radio, 725 Premier Radio,



LBT




H -13dB

C30 (546.0MHz)
528m
DTG-12

5,000W


from 29th September 2014: 7 NvTv,



com7




H -9.1dB

C55 (746.0MHz)
551m
DTG-6

12,400W


34 Merit, 64 FreeSports, 72 Quest Red +1, 83 NOW 80s, 86 More4 +1, 88 Together TV +1, 93 PBS America +1, 96 Forces TV, 106 BBC Four HD, 107 BBC News HD, 113 RT HD, 114 Quest HD, 205 CBeebies HD, plus 2 others 111 QVC HD, 112 QVC Beauty HD,



NIMM




H -40dB

C48 (690.0MHz)
551m
DTG-

10W


from 4th September 2019: 51 TG4, 52 RTÉ One, 53 RTÉ Two,


DTG-3
64QAM 8K 2/3 24.1Mb/s DVB-T MPEG2
DTG-6
256QAM 32KE 2/3 40.2Mb/s DVB-T2 MPEG4
DTG-8
64QAM 8K 3/4 27.1Mb/s DVB-T MPEG2
DTG-12
QSPK 8K 3/4 8.0Mb/s DVB-T MPEG2
H/V: aerial position (horizontal or vertical)
Which BBC and ITV regional news can I watch from the Divis transmitter?
BBC Newsline
0.6m homes
2.5%
from
Belfast
BT2 8HQ, 1,044km northeast (51°)
to
BBC Northern Ireland region - 46 masts
.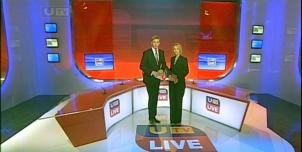 UTV Live
0.6m homes
2.5%
from
Belfast
BT7 1EB, 1,044km northeast (51°)
to
UTV region - 46 masts
.
Are there any self-help relays?
| | | | |
| --- | --- | --- | --- |
| Chapel Fields | Transposer | Central Belfast | 61 homes |
How will the Divis (Northern Ireland) transmission frequencies change over time?
1950s-80s
1984-97
1997-98
1998-2012
2012-13
4 Mar 2020
VHF

A

K

T

A

K

T

A

K

T

K

T

W

T

C1

BBCtvwaves
C21
C4waves
C4waves
C4waves

+

D3+4
D3+4
C23
SDN
SDN
C24
ITVwaves
ITVwaves
ITVwaves
BBCB
BBCB
C26
ArqA
ArqA
C27
BBC2waves
BBC2waves
BBC2waves
BBCA
BBCA
C29
ArqB
C30
LBT
C31
BBC1waves
BBC1waves
BBC1waves
C33
com7
C34
com8
C36
_local
C48
NIMM
NIMM
C55tv_off
com7tv_off
C56tv_off
COM8tv_off
tv_off Being removed from Freeview (for 5G use) after November 2020 - more
Table shows multiplexes names see this article;
green background for transmission frequencies
Notes:
+
and
-
denote 166kHz offset;
aerial group
are shown as
A
B
C/D
E
K
W
T
waves
denotes analogue; digital switchover was 10 Oct 12 and 24 Oct 12.
How do the old analogue and currrent digital signal levels compare?
Analogue 1-4

500kW

BBCA

,

D3+4

,

BBCB

(-7dB)

100kW

SDN

,

ARQA

,

ARQB

(-10dB)

50kW

com8

(-16dB)

12.7kW

com7

(-16.1dB)

12.4kW

LBT

(-20dB)

5kW

Mux 1*

,

Mux 2*

,

Mux A*

,

Mux B*

(-23.4dB)

2.3kW

Mux C*

(-24dB)

2kW

Mux D*

(-24.9dB)

1.6kW

NIMM

(-47dB)

10W
Which companies have run the Channel 3 services in the Divis transmitter area
| | |
| --- | --- |
| Oct 1959-May 2006 | Ulster Television |
| May 2006-Dec 2014 | UTV plc |

| | |
| --- | --- |
| Feb 1983-Dec 1992 | TV-am• |
| Jan 1993-Sep 2010 | GMTV• |
| Sep 2010-Dec 2014 | ITV Daybreak• |
• Breakfast ◊ Weekends ♦ Friday night and weekends † Weekdays only. Divis was not an original Channel 3 VHF 405-line mast: the historical information shown is the details of the company responsible for the transmitter when it began transmitting Channel 3.
Comments
Thursday, 24 September 2020

Will camlough mountain transmitter ever broadcast bbc4 in HD as I am unable to pick it up from divis

john cunningham's 1 post

john cunningham:

The short answer is no. Until such time as the current SD multiplexes are converted to T2 (HD) transmission - not likely in the foreseeable future due to the economic climate - then there is no space available. On 25 main UK transmitters it is currently broadcast on COM7 which is a temporary multiplex which is due to close by June 2022 at the latest. We live in hopes (some say cloud cuckoo land) that Arqiva might start by converting one of it's other COM multiplexes to T2, but this would no doubt take place progressively on the 80+ main transmitters that currently broadcast COM multiplexes. Freeview Light transmitters which only broadcast the 3 PSB multiplexes are likely to be last to be done and would probably require some government funding.
To put the whole thing into context for you, there are over 1100 TV transmitters in the UK!

Chris.SE's 1,834 posts
Saturday, 10 October 2020

Why is Divis not transmitting channel 50? It's listed on some sites as available but it is clearly not.
Is there any way of accessing this channel from another transmitter?
I live in the North Armagh area.

OWEN MC's 1 post

OWEN MC: Sony Movies Classic is on the Local TV multiplex, which is broadcast from both Divis (at low power) and the nearby Black Mountain transmitter, however the signal is targeted at Belfast and you are likely too far away to receive it. I don't believe there are any other transmitters carrying a Local TV multiplex in Northern Ireland.

StevensOnln1's 2,920 posts
Monday, 26 October 2020

I am in Lisburn but am unable to receive channel 50 which is now the Sony Christmas channel. Is there any way to get this channel?

Jonny's 1 post

Jonny: Sony Christmas Channel is carried on the local TV multiplex, which is only available in areas where there is a local TV station on Freeview channel 7 or 8. In Northern Ireland this is only available to viewers in the Belfast area who are able to receive either the Black Mountain or Divis transmitters.

StevensOnln1's 2,920 posts
Thursday, 5 November 2020

I was receiving com 7 in Mallusk from Divis but today none of the com 7 channels are working?
Is the transmitter using lower power?

ROBERT MCDONNELLL's 1 post

ROBERT MCDONNELLL:

I can't find any reports of Transmitter issues, and it's not currently listed for Planned Engineering.
It depends where you are, a full postcode would be needed to look at the predicted reception. Not all your area is well covered due to the terrain. If your COM7 signal is marginal then reception at present is not going to be helped by some predicted "Tropospheric Ducting" around with the current high pressure which may result in interference from distant transmitters in Europe or the UK. This can affect some (not always all) of the multiplexes at varying times! (see https://www.radioandtvhelp.co.uk/help-guides/television/effect-of-tropospheric-ducting-on-freeview for a simplistic explanation).

If your set does automatic retuning, it's possible that if it lost signal (eg.due to interference) and retuned when there was no decodable signal it may well have just cleared the correct tuning.
I always recommend turning off any automatic retuning to avoid such problems and only retuning when there's been a change to channels that require it (these days that should only happen if broadcasters alter their programme channels and services provided as 700MHz clearance has been completed).

Try a manual tune for COM7 C55. You might have to try several times if interference is still present.
Have a look in your TV tuning section for the Signal Strength and Quality. High signal and low quality are frequently a sign of interference.

Chris.SE's 1,834 posts
Select more comments
Your comment please