BBC One (SD)
Aims to speak to everyone in the UK through programming that celebrates the richness and diversity of life in new and surprising ways.
Main TV standard-definiton channels
How to Watch: BBC One (SD)
Below is a list of all the television and radio channels that you can watch in the UK using one of the free services: DAB (for radio), Freeview, Sky No Card - Sky without a viewing card (Freesat from Sky (or fSfS)) and Freesat.. Where a channel can be watched for free, the channel number is listed below. In addition, if you can watch (or listen) immediately online, press the button in the "web" column.

As some channels are exclusive to one service alone, you may need to get receive more than one service to get all the channels you want. The coverage for Freeview differs too - those channels not provided by the public service "Freeview Light" transmitters the current coverage shown thus

(54%)

, taken from Connected Nations Report 2017: Data analysis' Key: wb_sunny daytime; watch_later nighttime; account_box funded from the TV License; flags show Freeview channel limits.
Main TV standard-definiton channels
Regional content
: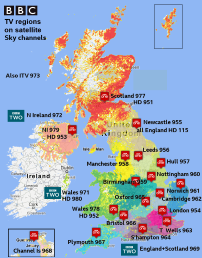 BBC nations and regions TV network - 14 English regions plus Wales, Scotland and Northern Ireland - for regional news. See
BBC nations and regions - overview map - interactive maps
. .
media.info
: For full details of broadcaster contacts, see the
media.info BBC One (SD) page
.
Official site
: See the
BBC One (SD) website
.
From Wikipedia
: The channel's annual budget for 2011/12 is 1,166.6 million.3 Along with the BBC's other domestic television stations, and many European broadcasters and some in Asia, it is funded principally by the television licence fee, and therefore shows uninterrupted programming with no commercial advertising at any time. It is currently the most watched television channel in the United Kingdom, ahead of its traditional rival for ratings leadership, ITV1. This system used a vertically-scanned image of 30 lines just enough resolution for a close-up of one person, and with a bandwidth low enough to use existing radio transmitters. - en.wikipedia.org
read more about BBC One (SD) on wikipedia
(summary by
Clipped
).
Freeview multiplex
: BBC One (SD) is on
multiplex PSB1
in
.
About BBC One (SD)
Free channel of the day: BBC One

Brian Butterworth published on UK Free TV
How is the free channel paid for?
The £1,402m BBC One budget is funded by the £3,596m Television Licence Fee, and represents 39% of all BBC spending - that's about £1.11 per week per person.
Is the channel live, pre-recorded, new content or repeats?
BBC One has live presentation, and both national and regional are broadcast live. In addition the daily The One Show (7pm) is live, as are sporting events. All other programmes are pre-recorded and are almost always commissioned by the BBC and having their first showing.
What's the channel's unique selling point?
The
channel
is customized for viewers in Scotland,
Wales
and Northern
Ireland
, as to a lesser extent in the English regions, and has the most extensive television regional news service in the UK.
The programme schedule highlights
Weekdays has national news from 6am-9am, 1pm, 6pm and 10pm and regional news at 1:30pm and 6:30pm. There's a daily soap, Doctors at 1:45pm, and EastEnders (Mon/Fri 8pm, Tue/Thurs 7:30pm) and Holby City (Wed 8pm).
The rest of the schedule is mixed, with factual (Mon 7:30pm, 8:30pm) and entertainment and factual/entertainment mix shows (such as Motorway Cops). Thursday night has politics from 10:35pm onwards, Friday night being entertainment only.
The bits to avoid
The morning schedule of Cash In The Attic, 11:30am and Bargain Hunt, 12:15pm are formalistic.
This channel carries a subtitles service for the deaf, hard of hearing and quiet environments.
Comments
Tuesday, 3 January 2012

We get no signal in all BBC 1 2 7 9 when it rains,the aerial is reasonable new. What is the problem,most of the dwellings adjacent to us are on Sky do you think this may cause the problems

crowley's 1 post
Monday, 9 January 2012

crowley: Check that the terminal chamber on the element is not open and letting in water

Barrie's 1 post
Sunday, 29 January 2012

I live at postcode NR21. Since the digital switch over I have to retune my freeview every time I turn the TV on as it doesn't retain all channels (for a couple of months didn't retain any channels!). In the past week when I have retuned I get BBC Look North instead of Look East - what can I do about this as I am in the Look East area.

Thanks for your help

M Greeves's 1 post
Monday, 30 January 2012

M Greeves: Please do My Freeview box has no EPG, is blank on FIVE, ITV3, ITV4, ITV2+1, has no sound or the channel line up is wrong | ukfree.tv - independent free digital TV advice to your set, and also see Digital Region Overlap | ukfree.tv - independent free digital TV advice .

Briantist's 38,899 posts

M Greeves: Perhaps it doesn't remember the channels because the memory isn't big enough.

Fear not (hopefully!)!

What happens is that (sometimes unbeknownst the user), the channels from other transmitters (that serve other areas) are picked up and stored in the memory, thereby hogging the space. Because the scan that happens during automatic tuning starts at low frequency and goes upwards, it stores the lower ones first. In your case, the ones you want are at high frequency and therefore don't get stored.

Do as Briantist suggests and wipe the memory by carrying out the procedure outlined here:

My Freeview box has no EPG, is blank on FIVE, ITV3, ITV4, ITV2+1, has no sound or the channel line up is wrong | ukfree.tv - independent free digital TV advice

Then manually tune the channels from Tacolneston (assuming your TV allows manual tuning).

They are:

BBC=55
ITV/C4 etc=59
HD=62
ITV3 etc=42
Pick TV etc=45
Yesterday etc=50

Note that HD channels will move to 50 and Yesterday etc will move to 39 some time in 2013.


Let me know if you get this working or if you would like further help.

Dave Lindsay's 5,724 posts
Tuesday, 31 January 2012
J
jenny.delgado
11:55 AM
Crawley

I live in Bramble Close Copthorne and the freeview reception in our area is treadful. All channels up to Channel 13 are especially bad even to the point that we do not get a signal for days at a time. It can't be our aerial as I have checked with neighbours and they are experiencing the same problems. Please can you tell me if things will improve when the analogue is switched off in April as we won't be able to watch television if things don't get better

jenny.delgado's 2 posts
jenny.delgado's:
map
J's Freeview map
terrain
J's terrain plot
waves
J's frequency data
J's Freeview Detailed Coverage

Why on the orginal post is there no number for Cable?
Also 108 on Freesat not given.

David's 306 posts

David: You have to pay for cable, this site is for free services only.

Freesat 108 is given on the correct page, BBC One HD | ukfree.tv - independent free digital TV advice .

Briantist's 38,899 posts

jenny.delgado: The situation on reception from Reigate should improve slightly from March 7th as far as ITV1 is concerned, but its not until April 18th that you will get the full benefit of all 6 multiplexes involved having switched to high power operation.



jb38's 7,179 posts
Wednesday, 1 February 2012

jenny.delgado: Looking at some of the large trees in front of some of the buildings in your close, there is little wonder that there may be issues.

There are also some pointing at Crystal Palace, so it is a possibility that receivers will tune to the wrong one (i.e. to the transmitter to which the aerial does NOT face).

Dave Lindsay's 5,724 posts
Select more comments
Your comment please